Four lovely books
Sunday, August 31st, 2014
I love a good sewing book – they're a great source of advice and inspiration. Rammed full of techniques and top tips, it always a good idea to have one or two on hand to offer a bit of help if you get stuck with something. Here are four I really like (a lot!)
The Great British Sewing Bee, Sew Your Own Wardrobe by Tessa Evelegh with a forward from Patrick Grant and May Martin. £12 from Amazon.
I love this book as it really brings the programme to life by tackling some of the patterns and techniques seen on the show with pictures of the contestants throughout too. The instructions are clear and most topics are covered. With the book you also get five full size pattern sheets – the pattern pieces are overlaid so you'll need to trace off the ones you want to use. This is a great book for those just starting out in dressmaking.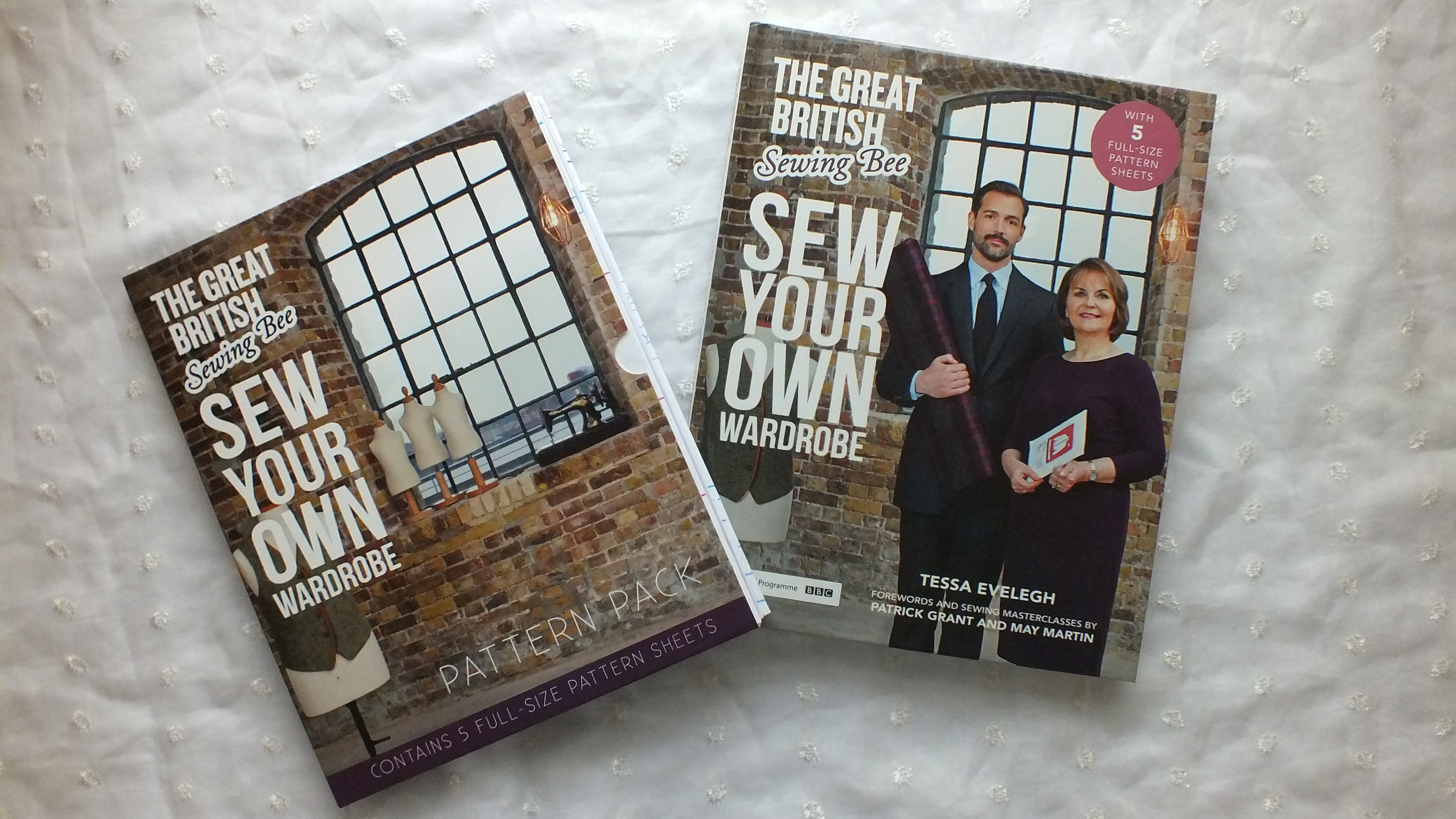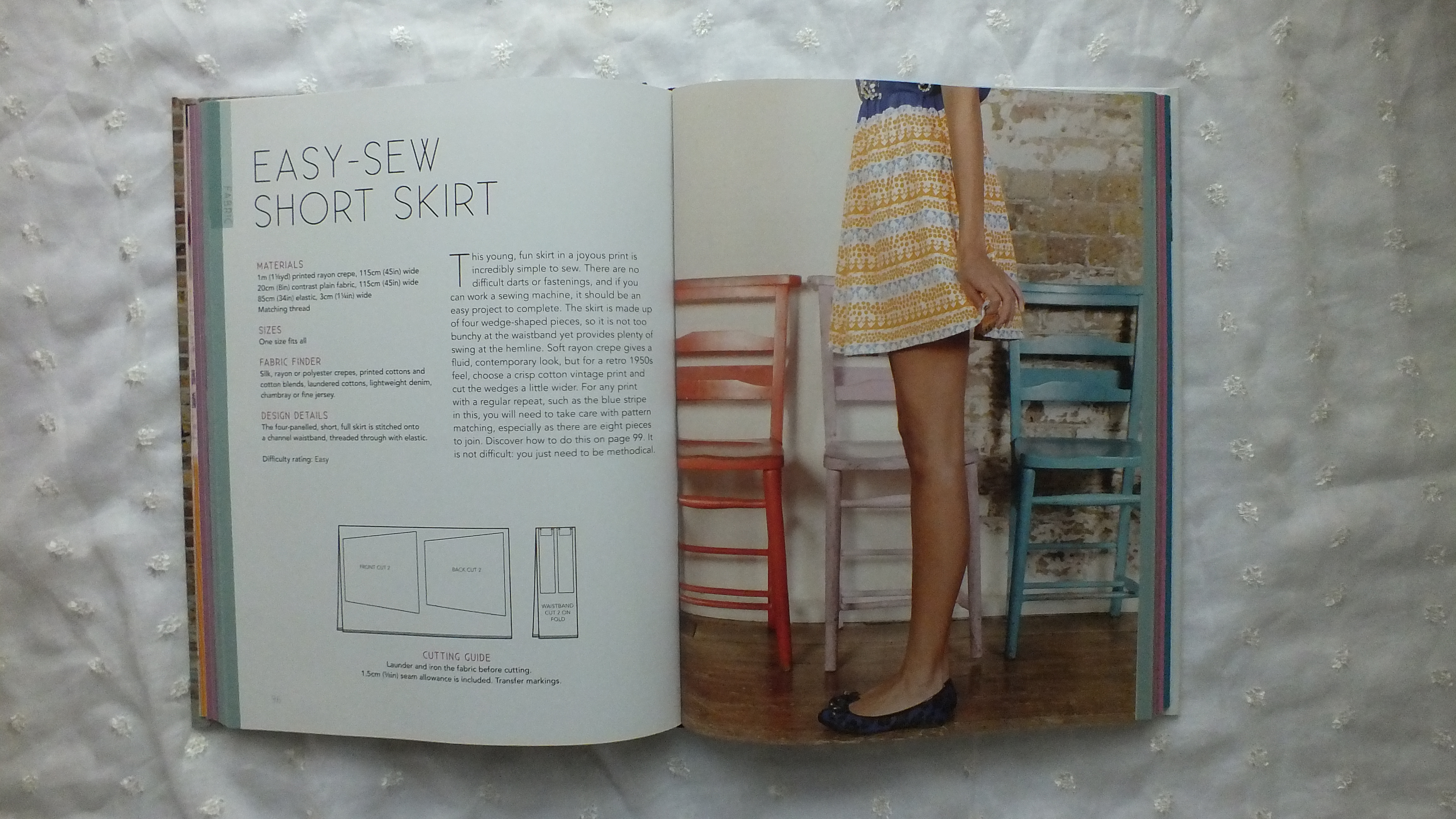 The Collette Guide to Sewing Knits by Alyson Clair. £15 from Amazon
I bought this book about eight months ago when I first decided to make something out of a knit rather than woven fabric. Knits can by tricky if you don't know the correct techniques to use but once mastered, sewing with knits is very satisfying and opens up a whole different option for your wardrobe. This little book takes you right from the basics (understanding and choosing the fabric, needles to use, useful tools etc) right through to the more advanced techniques such as using an overlocker and installing a stretch lace edge. Nothing is left to chance – if you're new to knits, this book will tell you everything you need to know in an easy to understand way.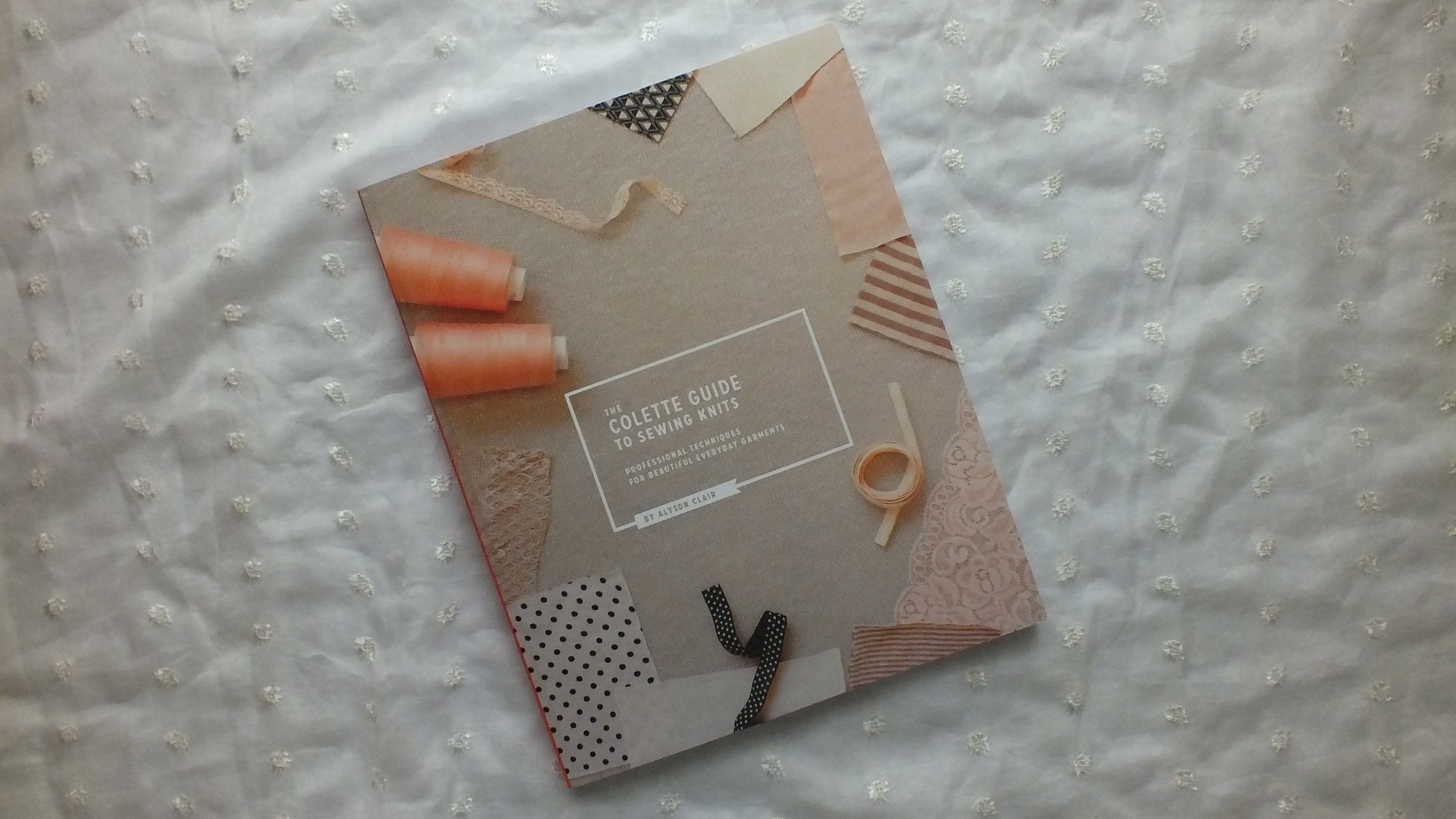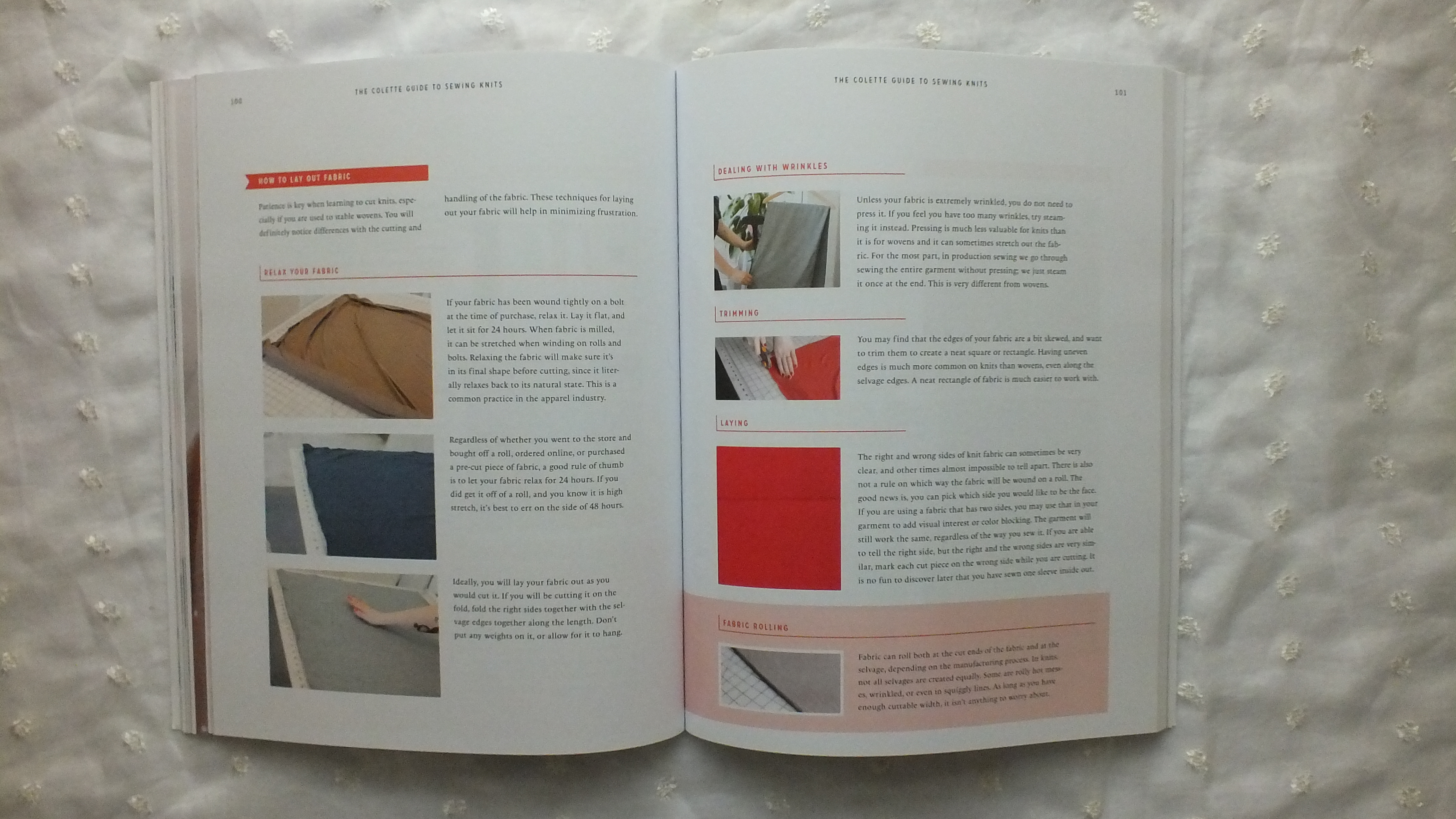 Sew Over It – Sew It, Wear It, Love It by Lisa Comfort. £12 from Amazon
I love giving old clothes a new lease of life by adding embellishments, changing the shape, adding or taking off sleeves etc. Sometimes I lack a bit of inspiration though and struggle to see what I can do to make something fab again. Enter this book. Dedicated to customising, adapting and updating vintage clothes, it highlights all sorts of techniques and ideas to do just that. It's a lovely dip in and out of book with a vintage feel and is one of those that you learn something new from every time you look through it.  It also includes how to make accessories to match or compliment your outfit.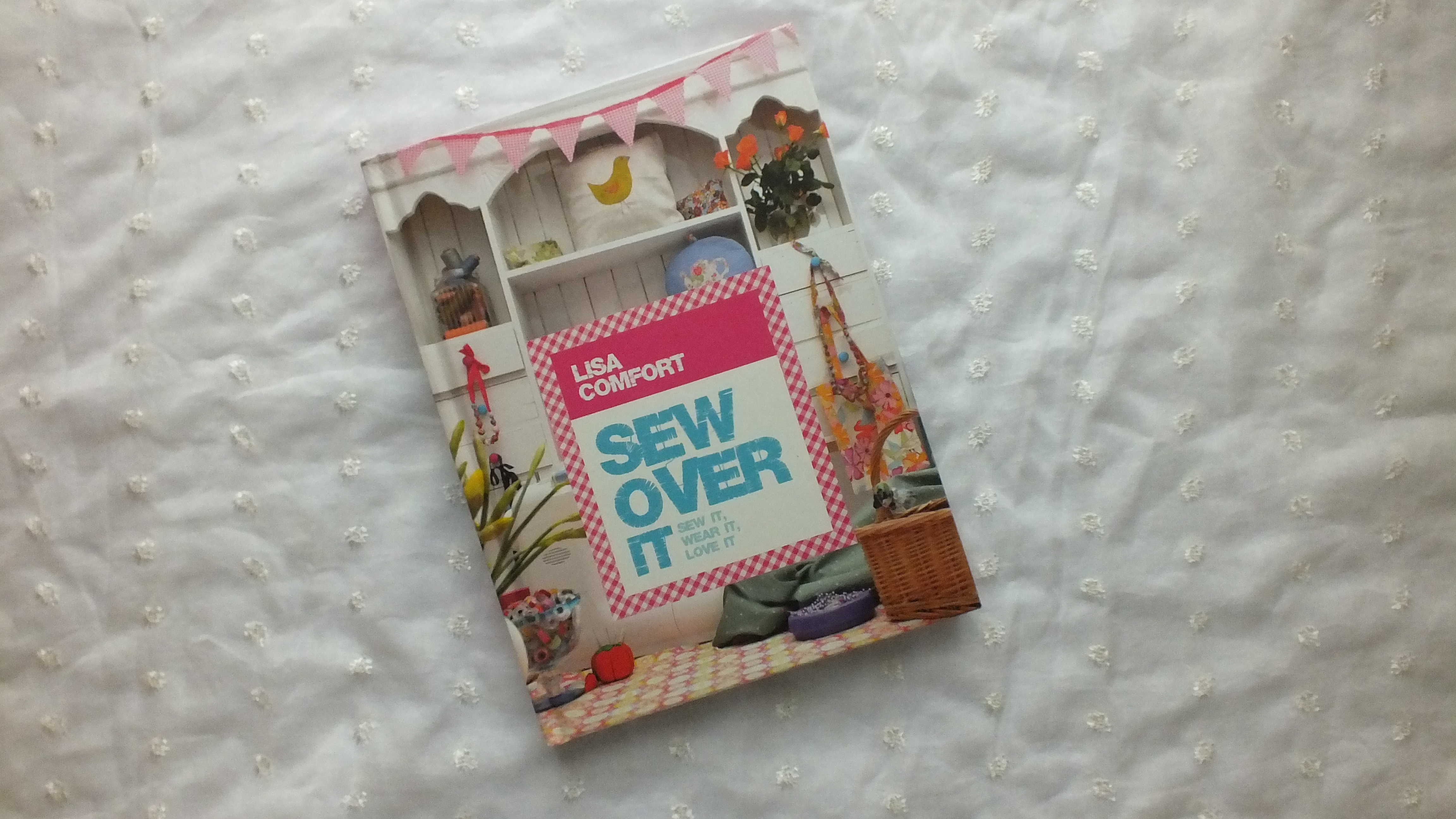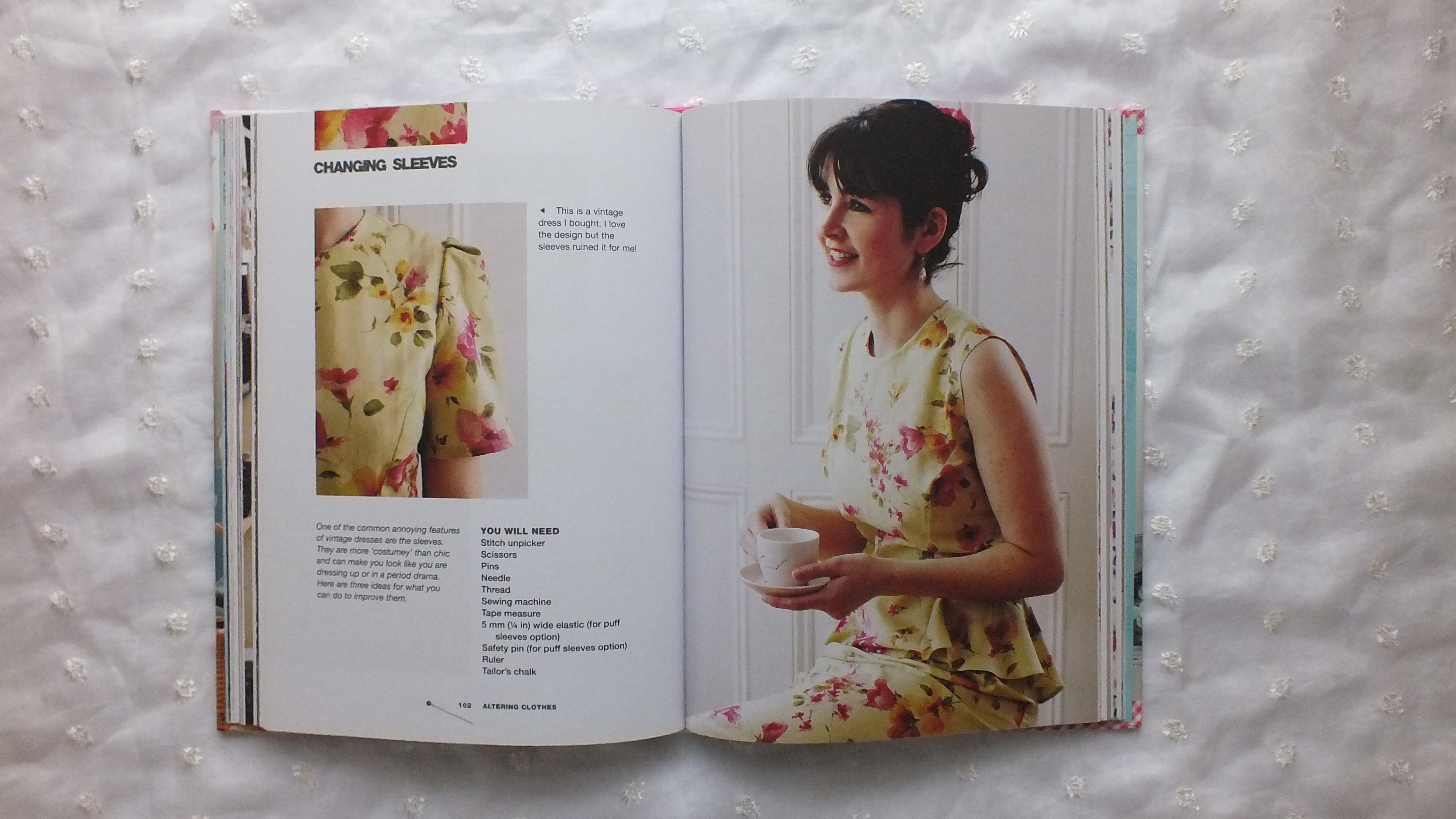 101 Great Ways to Sew a Metre by Rebecca Yaker and Patricia Hoskins. £11.50 from Amazon
This is a very useful addition to any sewers bookshelf. I often buy a metre of fabric not knowing what I'll so with it. Or if it's a particularly expensive piece of cloth I may only be able to justify buying a small amount. So this book is great for these occasions as it is crammed with projects that take under a metre of fabric to make. It includes clothes for women and children and accessories too. It includes all the patterns you need although some of the projects are made using measurements alone and don't call for a pattern. Instructions are clear and many of the projects are ideal for those sewers still gaining experience and confidence.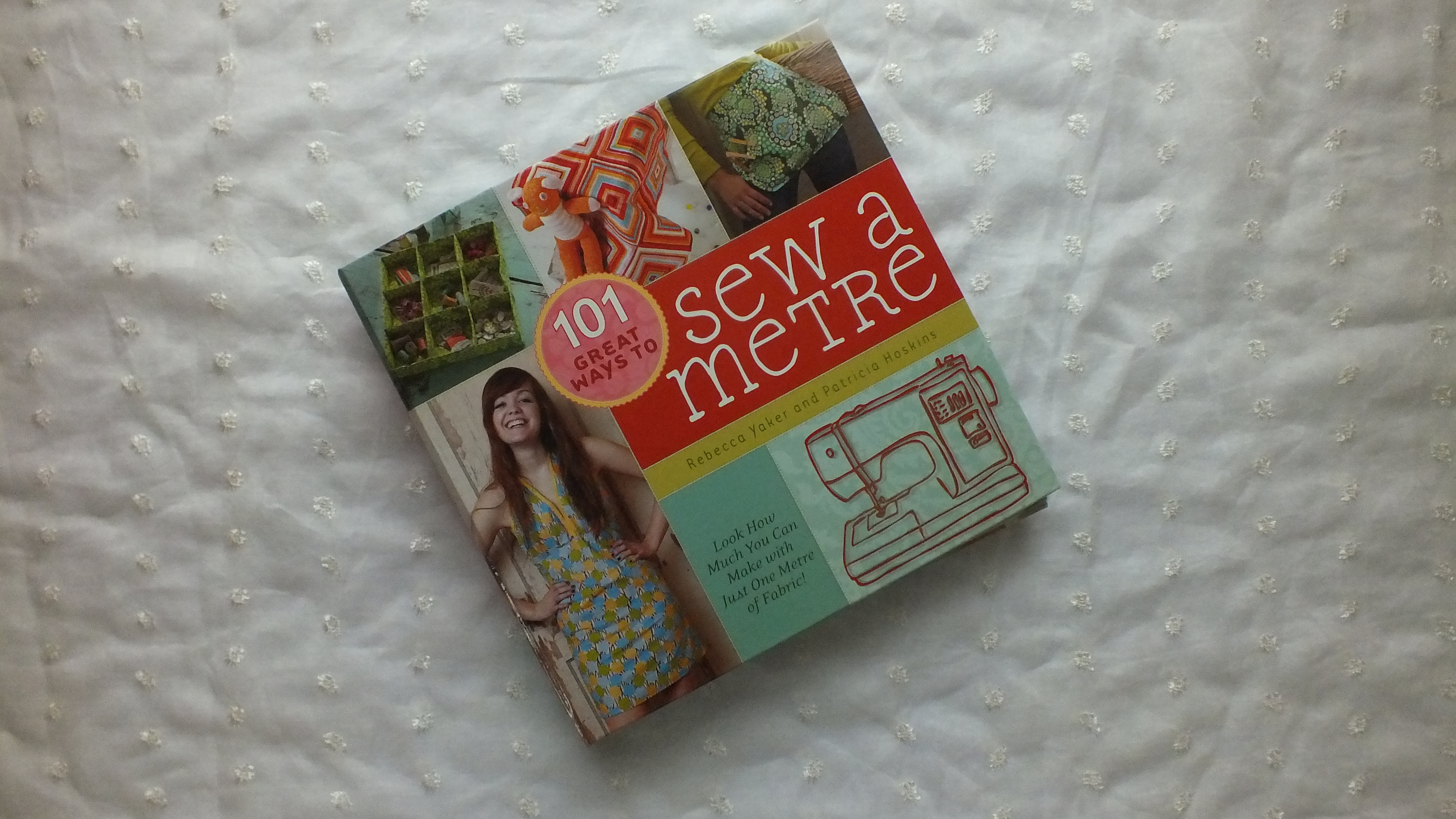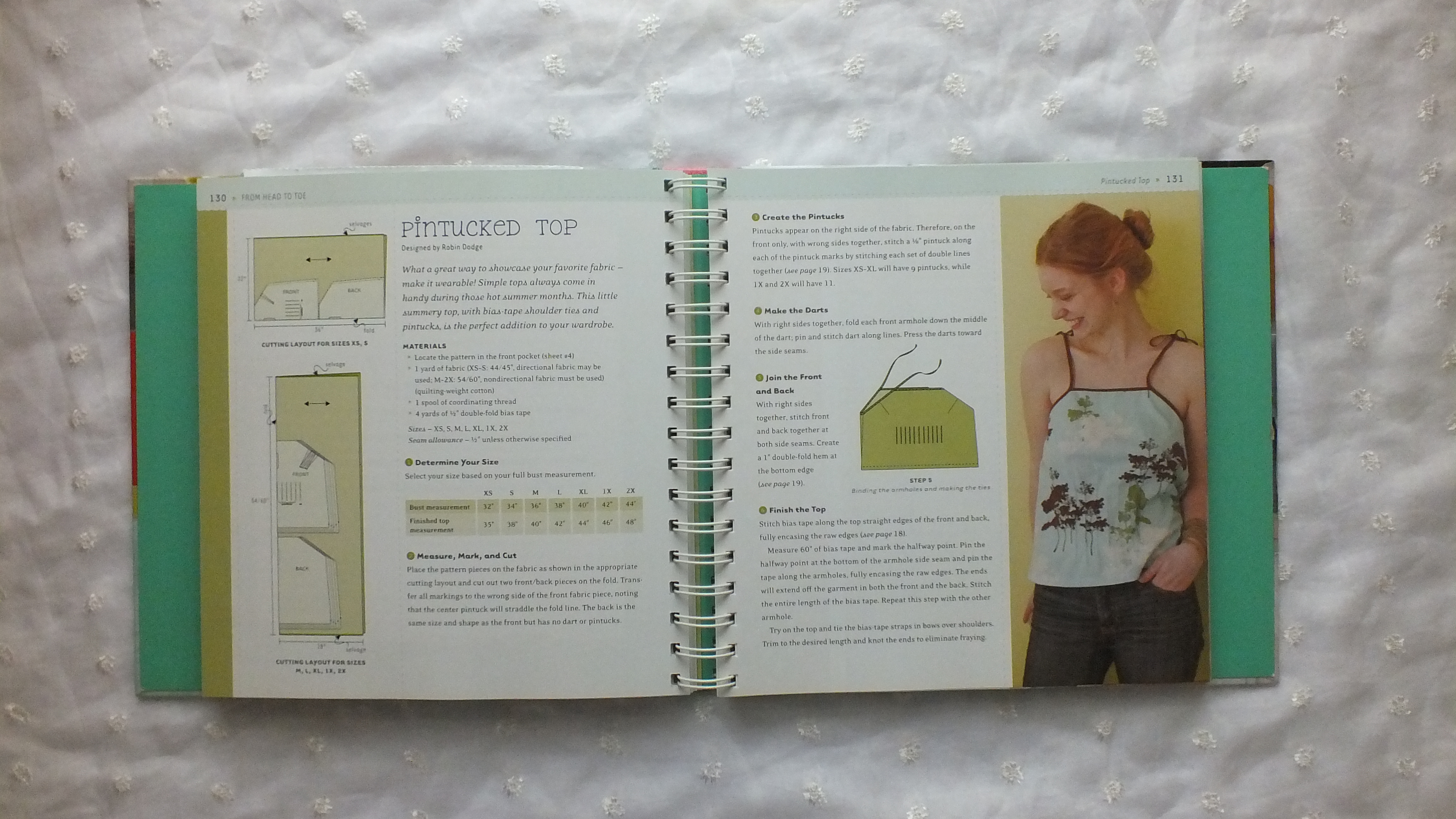 Friday pattern pick
Friday, August 29th, 2014
Today's pattern pick is a firm favourite of mine – it's Lisette 2059 for Simplicity. The pictures on the front don't do this pattern any justice so try to think of the garments being made in your favourite fabric or colour – this often helps to visualise how they could look once made up.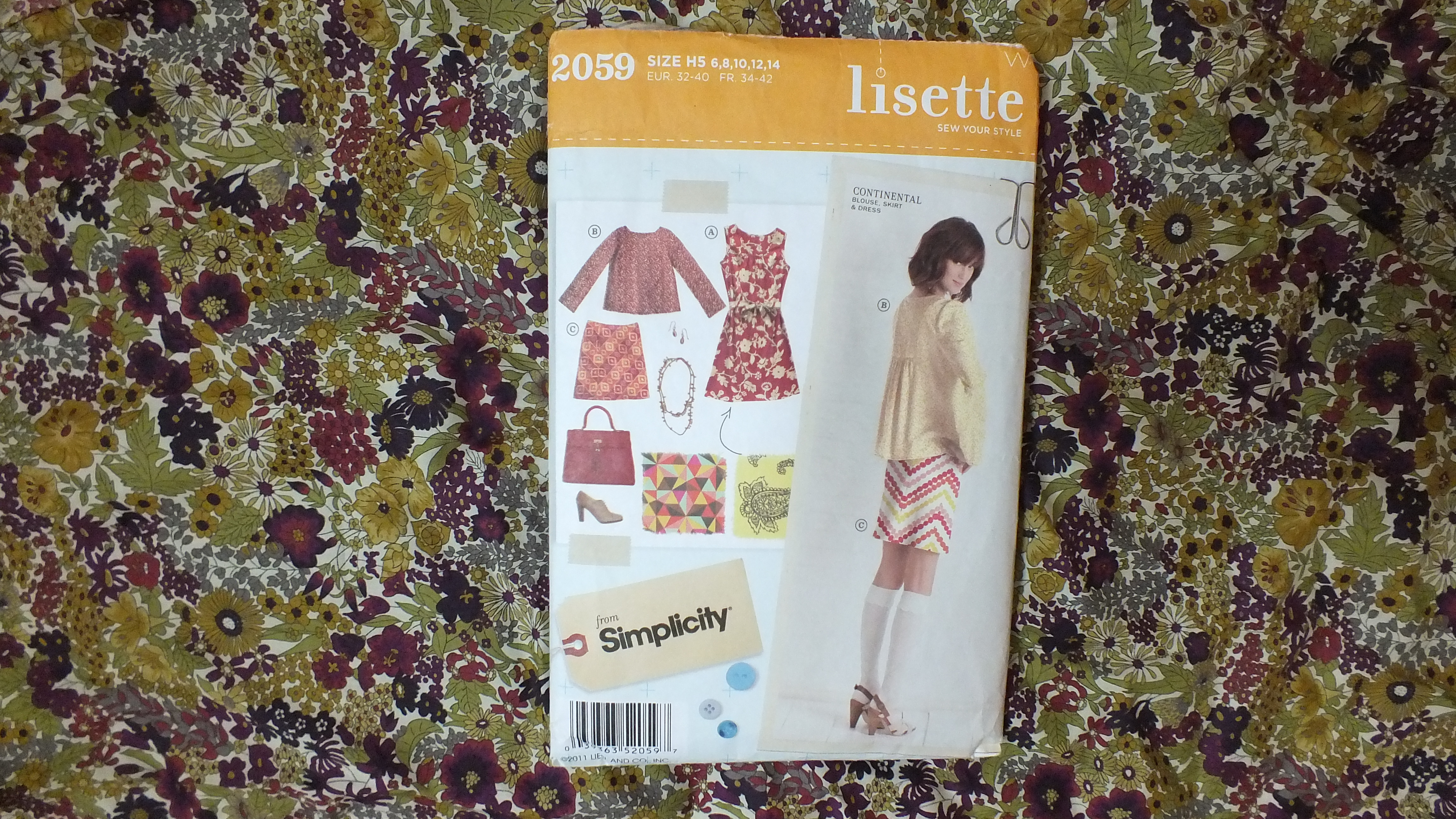 I've made four versions of the blouse now (view B) and all have turned out lovely. It's an easy to wear, loose, pull on style with gathers at the back – seems to suit all shapes. I just love the ahem, simplicity of it. I made one version in brown, vintage floral fabric bought from Ditto Fabrics in Brighton and the style of the blouse seems to really suit this genre. Or you could go for 70's retro with a bright, large pattern. It's so simple that it will really suit any fabric – be as adventurous as you like. Or go for plain colours – you could then jazz it up with lace, sequins or ribbons. It's not difficult to make, having only seven pieces to fathom out with one of those being the neck binding – you could try shop bought binding instead to add a bit of colour or texture.
I've also made the skirt (view C) – just one in a blue batik fabric. The style is A line (doesn't really show that too much on the pattern) and is bias cut. I like it most when I'm wearing it with thick tights and boots, but bare legs for the summer would look great too – it is rather short so measure well before you cut. It's another easy make consisting of only two pieces. It has a zipper to do but nothing more complicated than that – and zips aren't complicated once you've done one or two – if you're unsure, do a practice zip first using scraps of fabric and an old zip taken out of something you no longer need.
What are your favourite patterns – go on, spill the beans!
Shabby cheeks
Tuesday, August 26th, 2014
Well the chinos are finished and mightily pleased I am with them too! These are made with a pattern called Alpi which is from the company Named (you can make them as shorts too). Not the most straightforward of patterns, and the instructions were a little on the loose side too but, given the finished result I would definitely give patterns from these guys another go.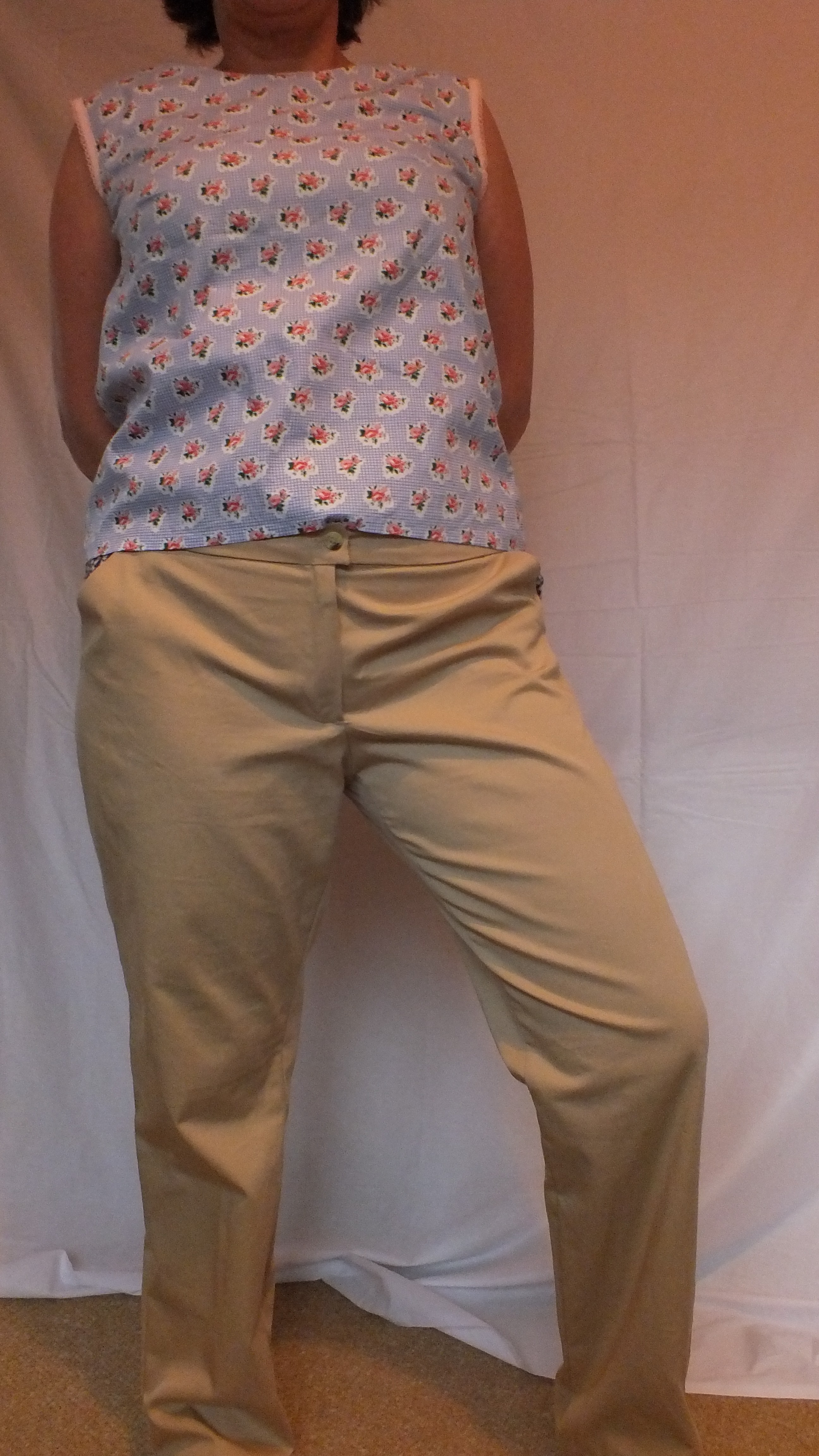 The biggest obstacle I came across was the sizing. I measured myself pretty well, traced and cut out the appropriate size, but these still made up far too big – a lot was chopped off the side seams and I took the back seam in a little too. They are still a bit loose, but to be honest I'd much prefer that to something tight. I will of course remember to cut a smaller size next time!
Also, if you look closely, one back pocket is slightly higher than the other. But I'm sure no-one will notice!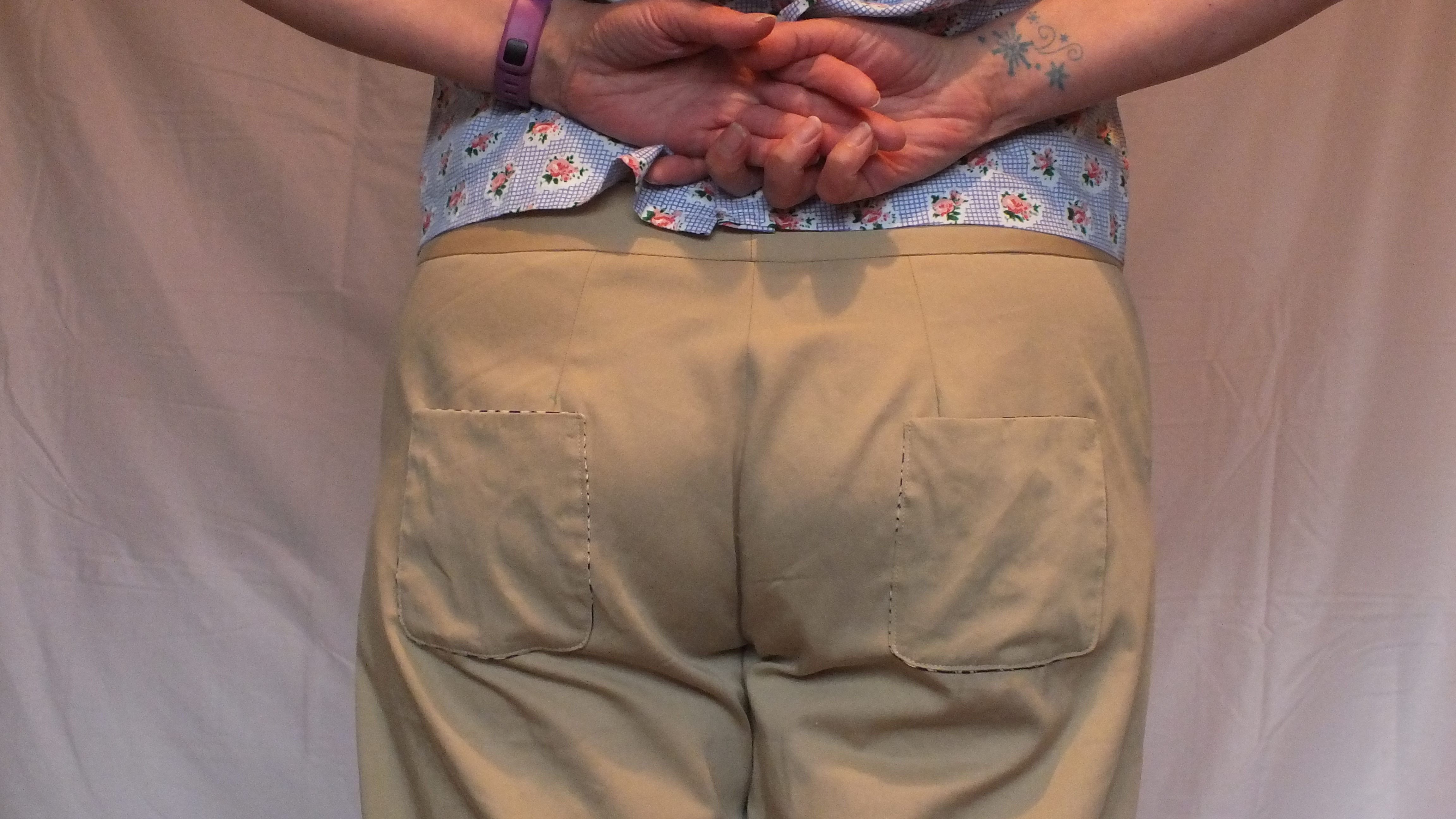 I used a bit of Liberty print on the front and back pockets and on the inside of the waistband too, which I think adds just a little bit of interest in what is otherwise a pretty plain (although very nice) fabric.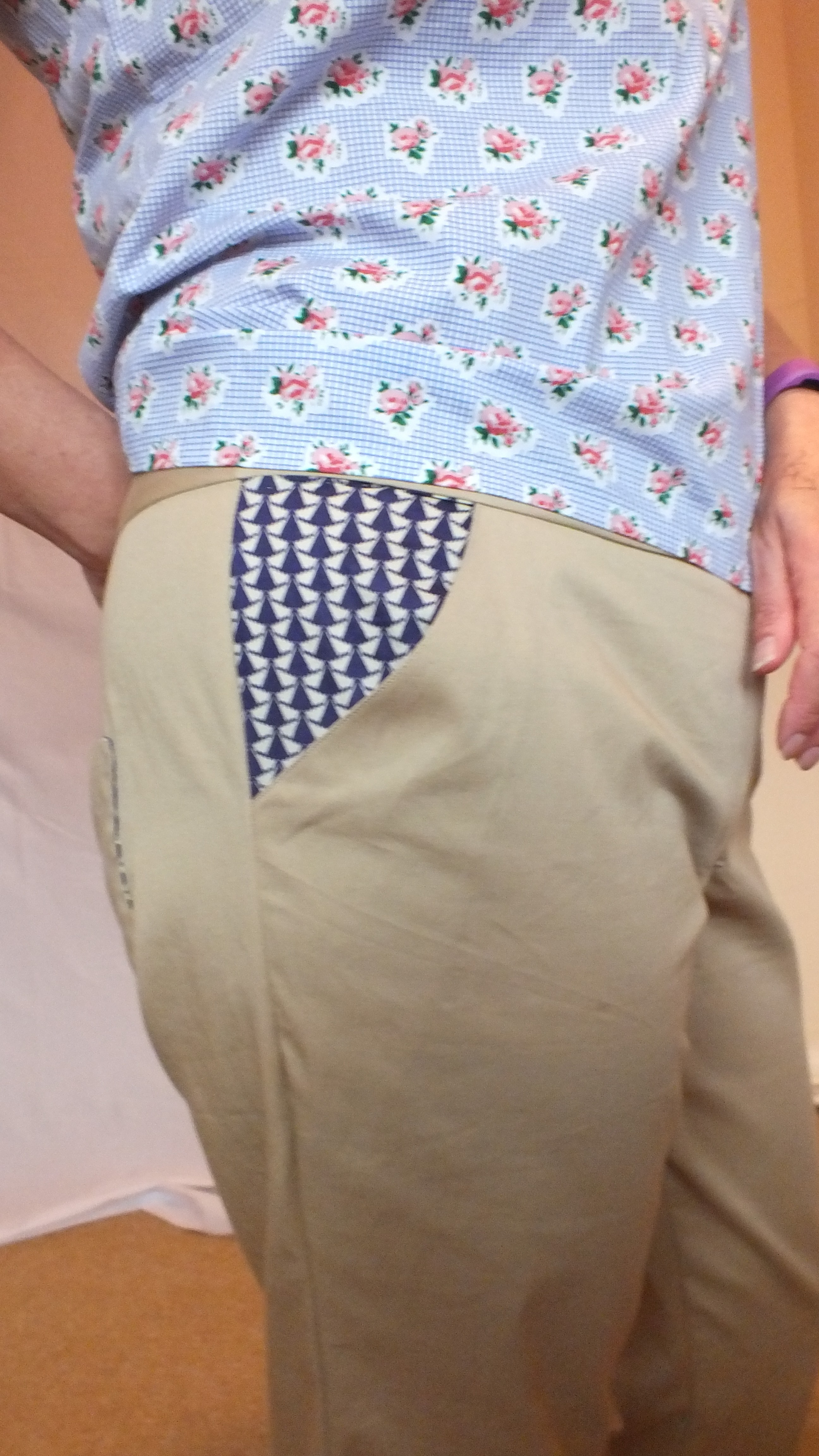 What they cost:
1.5m of cotton drill = £6.50
0.5m of Liberty print = £11 (not really needed – I used it as I had it left over from something else)
Pattern = £14.50 (not a one off use)
Haberdashery (metal tooth zip, interfacing, button, cotton) = £5.10
Grand total: £37.10
So it might seem a lot but next time I won't need to buy the pattern and I won't use Liberty print so the cost will be nearer to £12 – bargain.
Friday pattern pick
Friday, August 22nd, 2014
From now on, let's try and make Friday into 'pattern day'. I'll try and remember to put up my pattern pick of the week and, hopefully, others will post about theirs too in the comments box at the bottom. It could be a pattern well used and loved, a vintage number, one bought a while back but not yet used or even one spotted but not yet bought. Either way, hopefully they will serve as inspiration for others to seek out and give em a whirl.
So first off we've got a pattern by the company Sewaholic which is based in Canada although its patterns are available worldwide. It's called The Belcarra Blouse.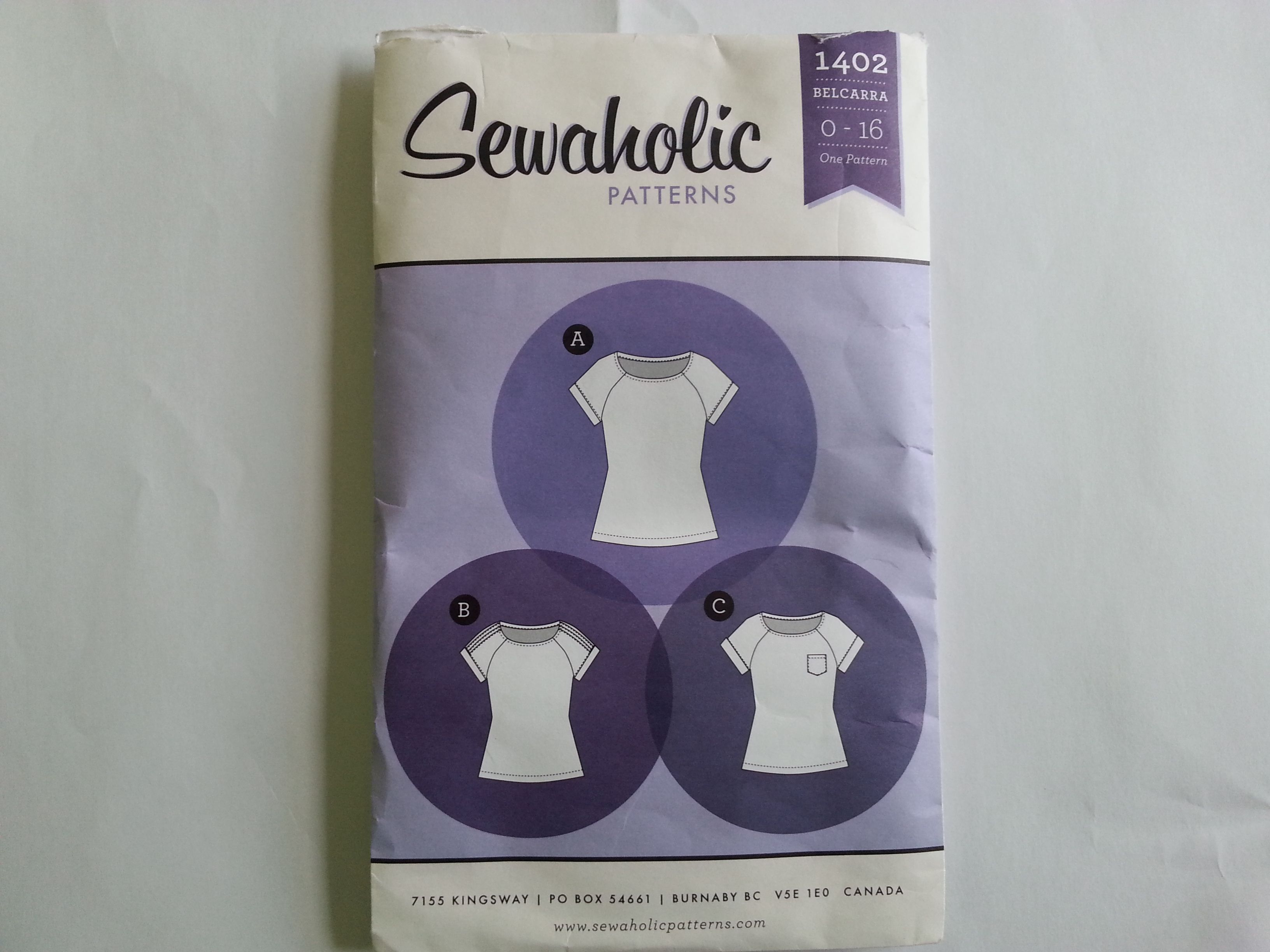 I've made three of these summer blouses now and they are super simple but look great. If you opt for version A then you've got nothing tricky to deal with – no tucks, darts, pockets – nothing. Version B adds pin tucks at the shoulders which are so cute and version C gives you a little breast pocket. So far all mine are version A as I wanted them to be a really quick evening make. One I was still sewing on the morning of a long weekend break while Mr Sassy stood nearby tapping his watch. I whipped it together in double quick time and didn't make us late leaving by even a minute. Version A has only six pieces, B has seven with C having nine. One of mine I finished with bought in bias binding around the sleeve and neck edges which made it even quicker than ever.
The blouse is very flattering, just coming in slightly at the waist. Be careful of the neck though – mine are all a little big on me even though I'd made the correct size, so I'm going to adjust the pattern a little next time I make one (and there will be a next time).
The simplicity of this pattern allows you to make it in almost any fabric. I have one in a Liberty print lawn, one in a stiffer cotton and, my favourite, one made out of a Japanese double gauze. They're all lovely and all so simple.
First fly zipper done
Tuesday, August 19th, 2014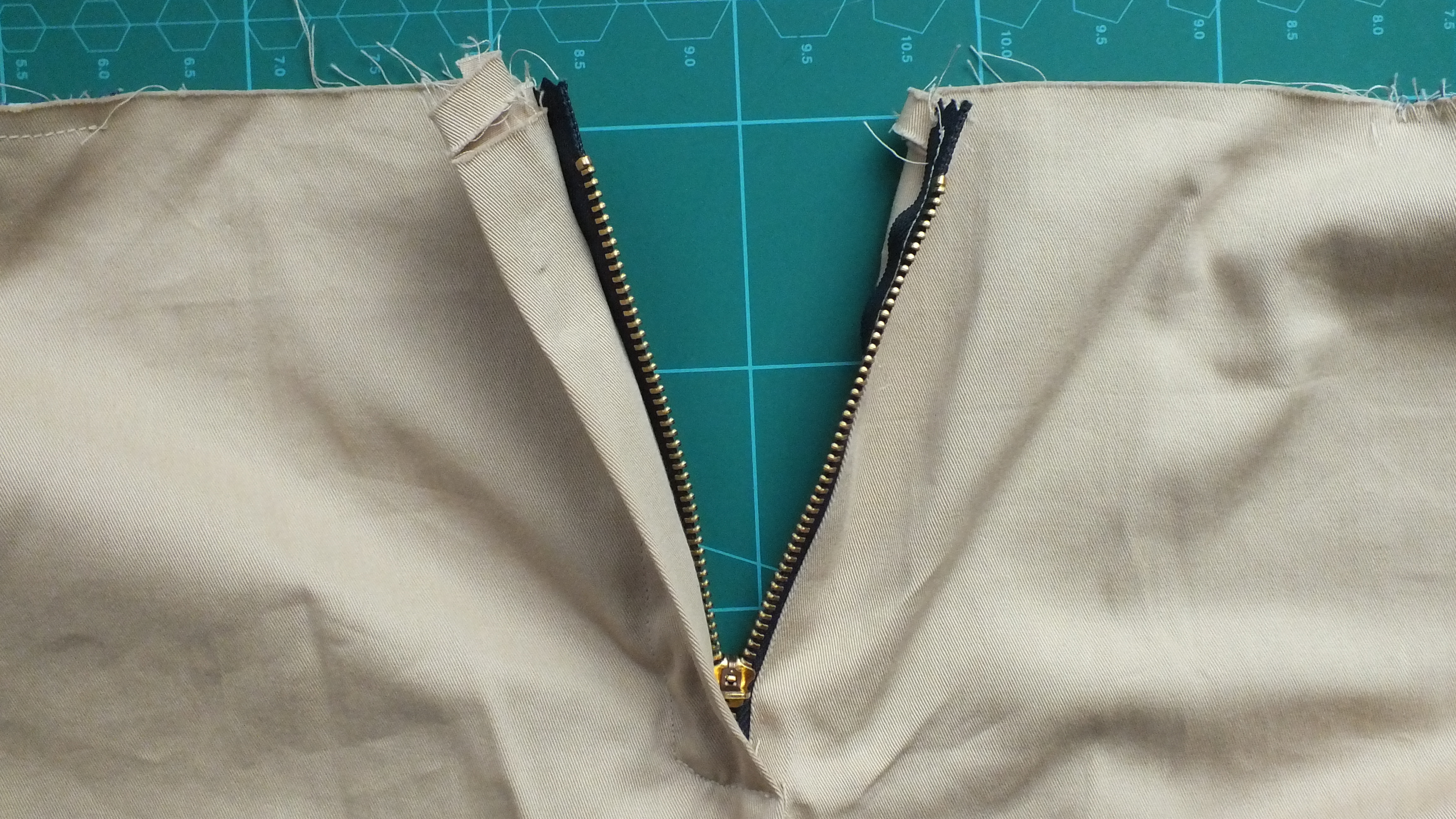 The chinos are coming on well and will be finished this week – just have the waistband and hem to sew. They've been a little tricky, mostly because the pattern instructions aren't very clear (in the end I've just winged it a bit) but I'm over the moon with the fly zipper. This is the first time I've tried one and I was a tad worried that it would be difficult, but it's not at all. I did get a bit of a wobble on when I was sewing around the curve at the bottom,probably because I rushed it a bit but, unless someone is getting very personal, I don't think it'll be noticeable once I've got them on. I've still got the bar tack to do – this is just to reinforce the stitching across the seam to make it robust during repeated use, and then it's done. I'll be making loads of trousers now I've mastered this technique.
Watch out for my tutorial on sewing a fly – coming soon over on the Sassy 'ssentials page.
I've bought an Overlocker!
Sunday, August 17th, 2014
Today I took delivery of a Brother 1034D overlocker. I've never used an overlocker before but felt it was time to get to grips with this often confusing aspect of sewing. We have an industrial one at the sewing class I attend but attendees are not allowed to use it –  I've had a good look though and boy does it look complicated! But I'm not going to be put off – I love a challenge.
This is the Brother straight out of the box: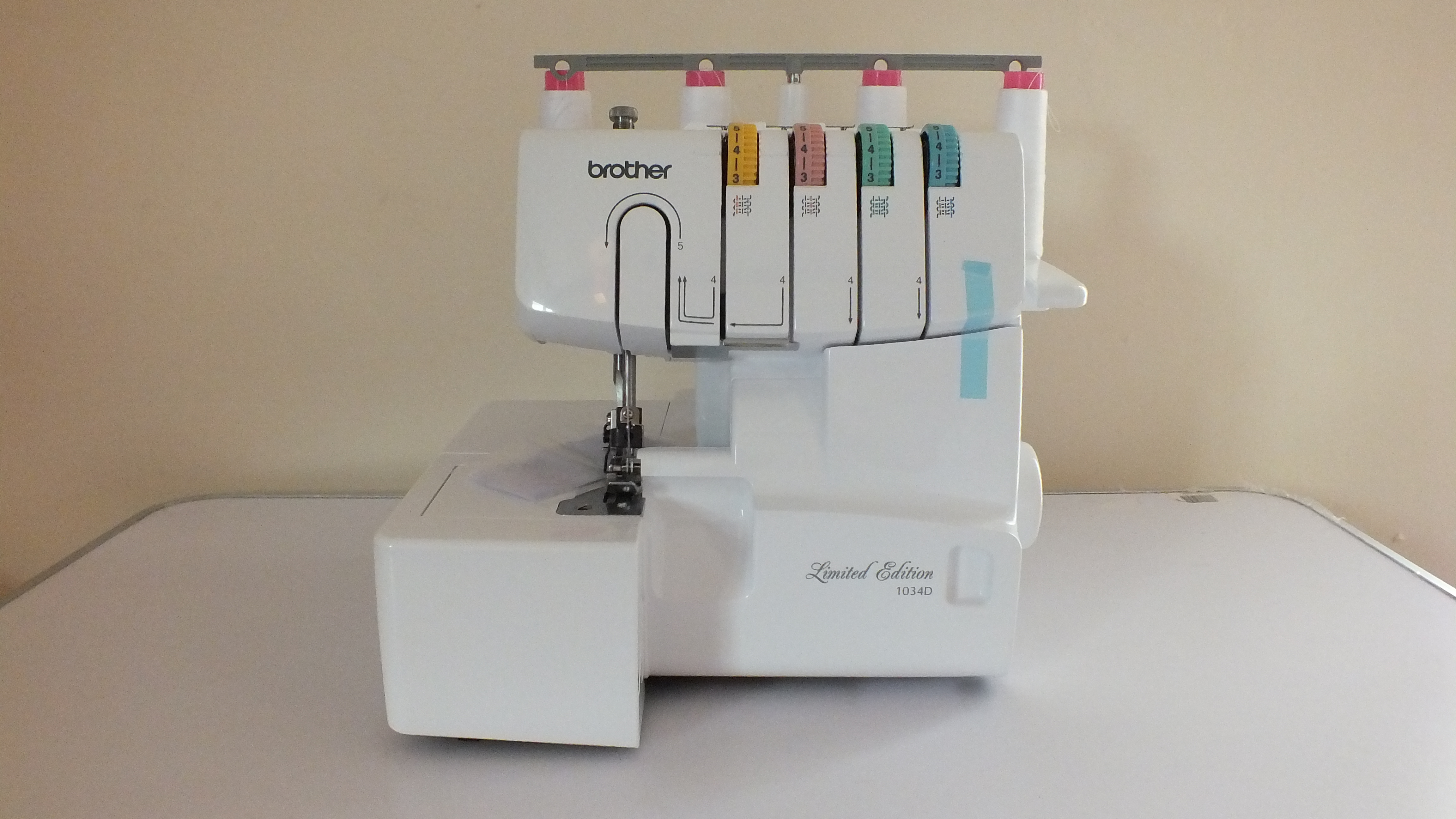 And this is what it came with: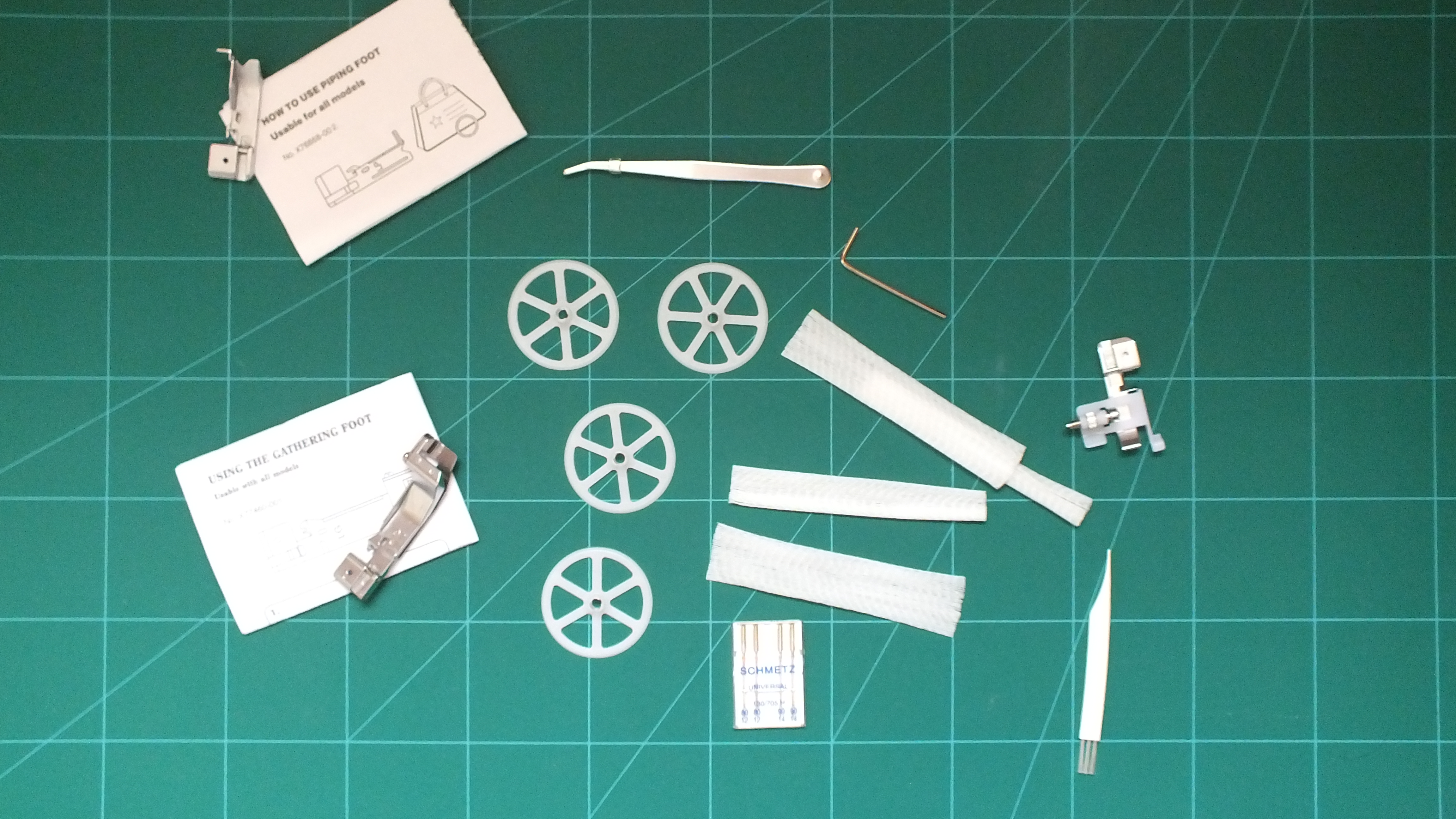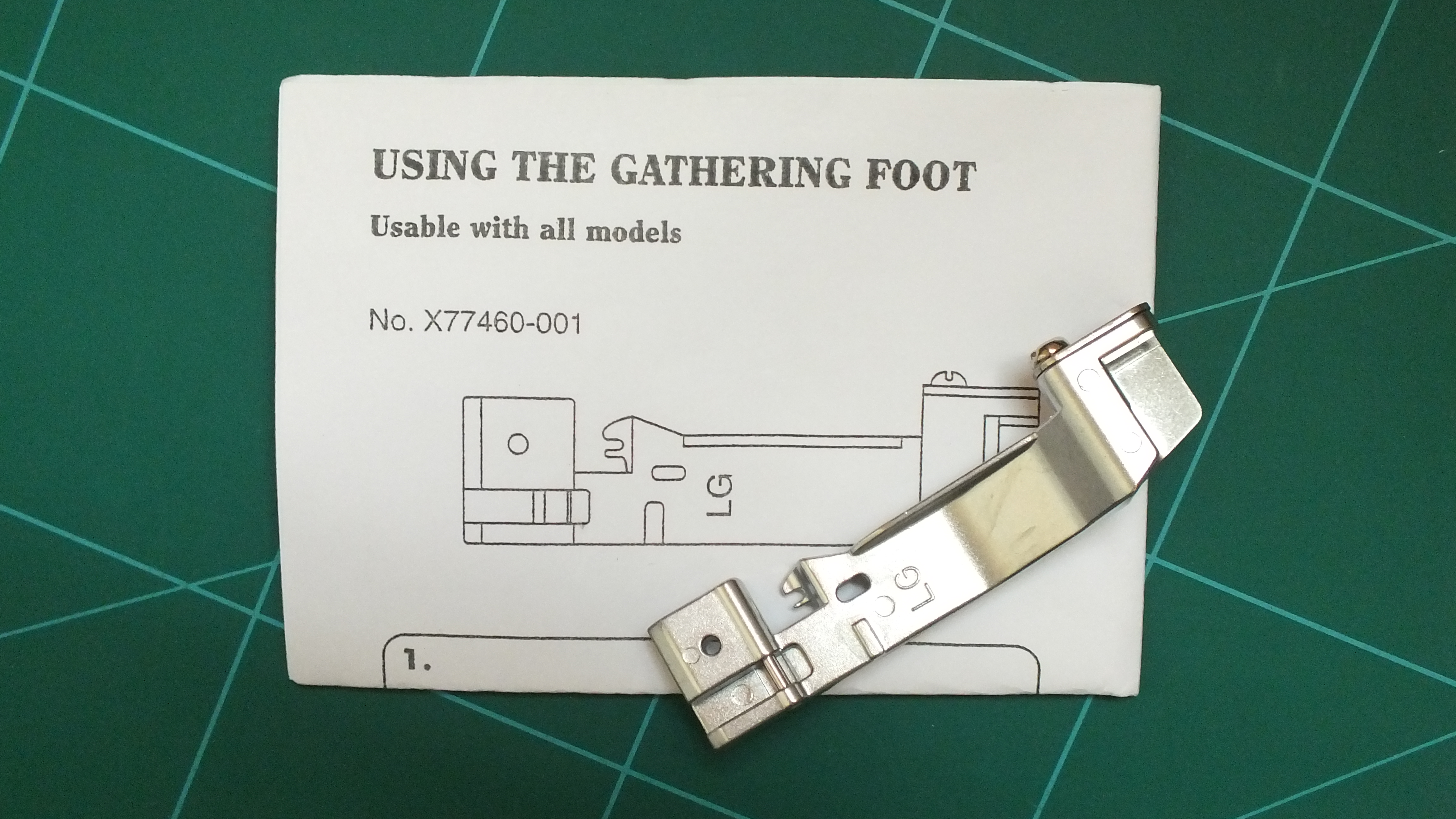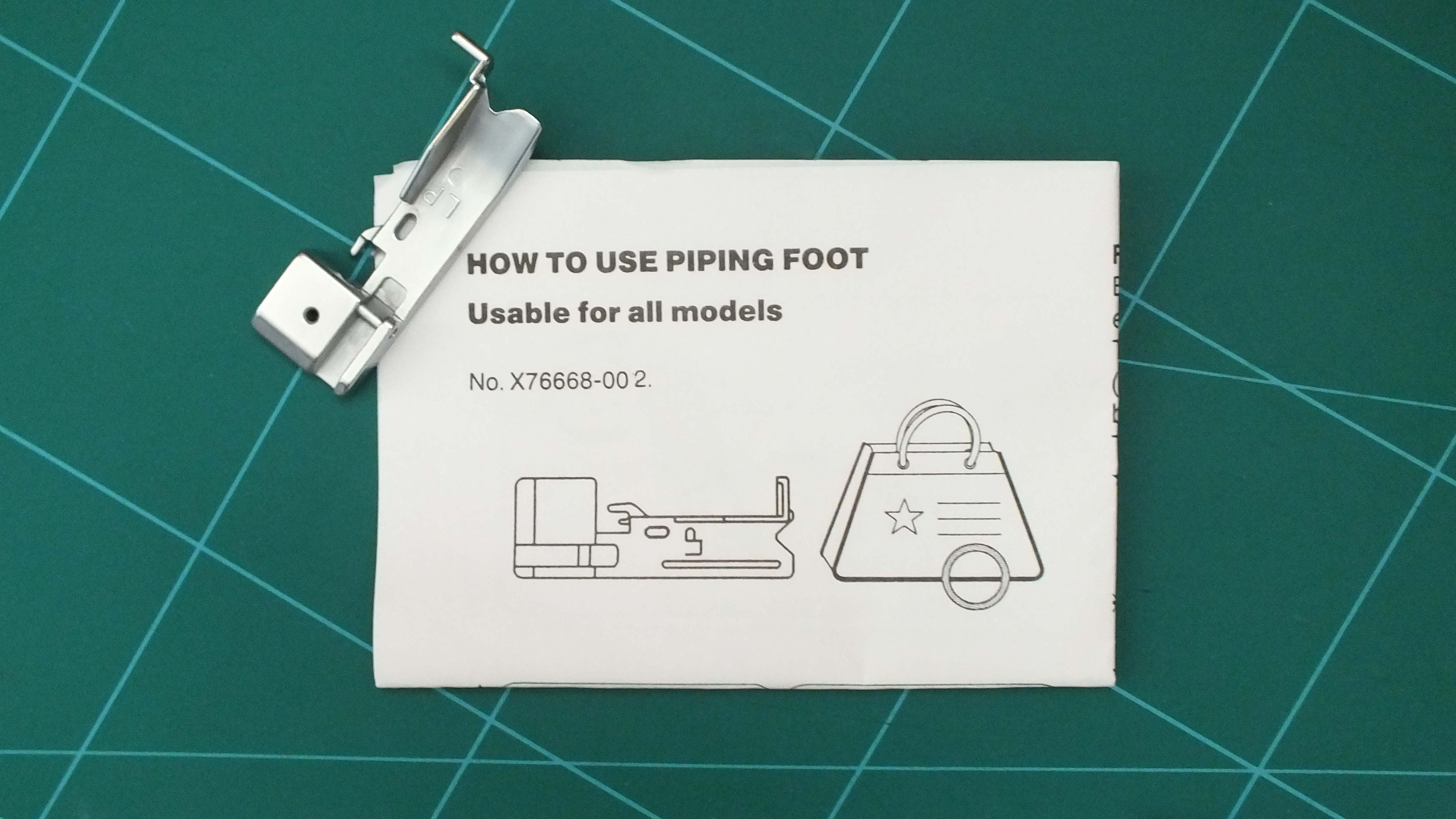 Overlockers have got many uses, the most common being to finish edges of your garments in a professional manner and for sewing with knits (you don't need an overlocker to have success with knits, it just makes it easier). It was while making a dress with a knit fabric called Ponte Roma that I began to wonder about using an overlocker. About a week later an episode of The Sewing Bee had the contestants using one and at that point I started to plan my purchase.
Choosing new kit can sometimes seem a bit daunting but there's no reason to panic anymore – there is so much information on the Internet these days that it's easier than ever to make the right choice. Some of my favourite bloggers use this machine and a quick read of the reviews on Amazon convinced me to give it a go. Most said it was easy to thread and use and very few had anything bad to say about it.
Mine cost £189 from Amazon. Normally, I'd always try to support my local sewing shop but when you live out in the sticky bits of the sticks like we do, there are some things you can't just go and see in action first, so I took a chance online. But if you can get to a shop for a bit of a test ride, I would highly recommend it as you never really know if you're going to gel with something until you've used it.
As I am a overlocker virgin I've enrolled on an online video course called 'Beginner Serging- machine basics and techniques' (serger being the American name for an overlocker). The course, run by craftsy.com and costing £22 starts right at the beginning with what the machine is about and which bit is what, right through to helping you make three items – a zipper bag, an apron and a knit scarf.The machine itself comes with full instructions and a DVD to watch, so hopefully it won't take too long to get to grips with it.
Tomorrow I'm going to get started – check back later for my first thoughts on this machine. I can't tell you excited I am.
Window shopping (in very expensive windows)
Thursday, August 14th, 2014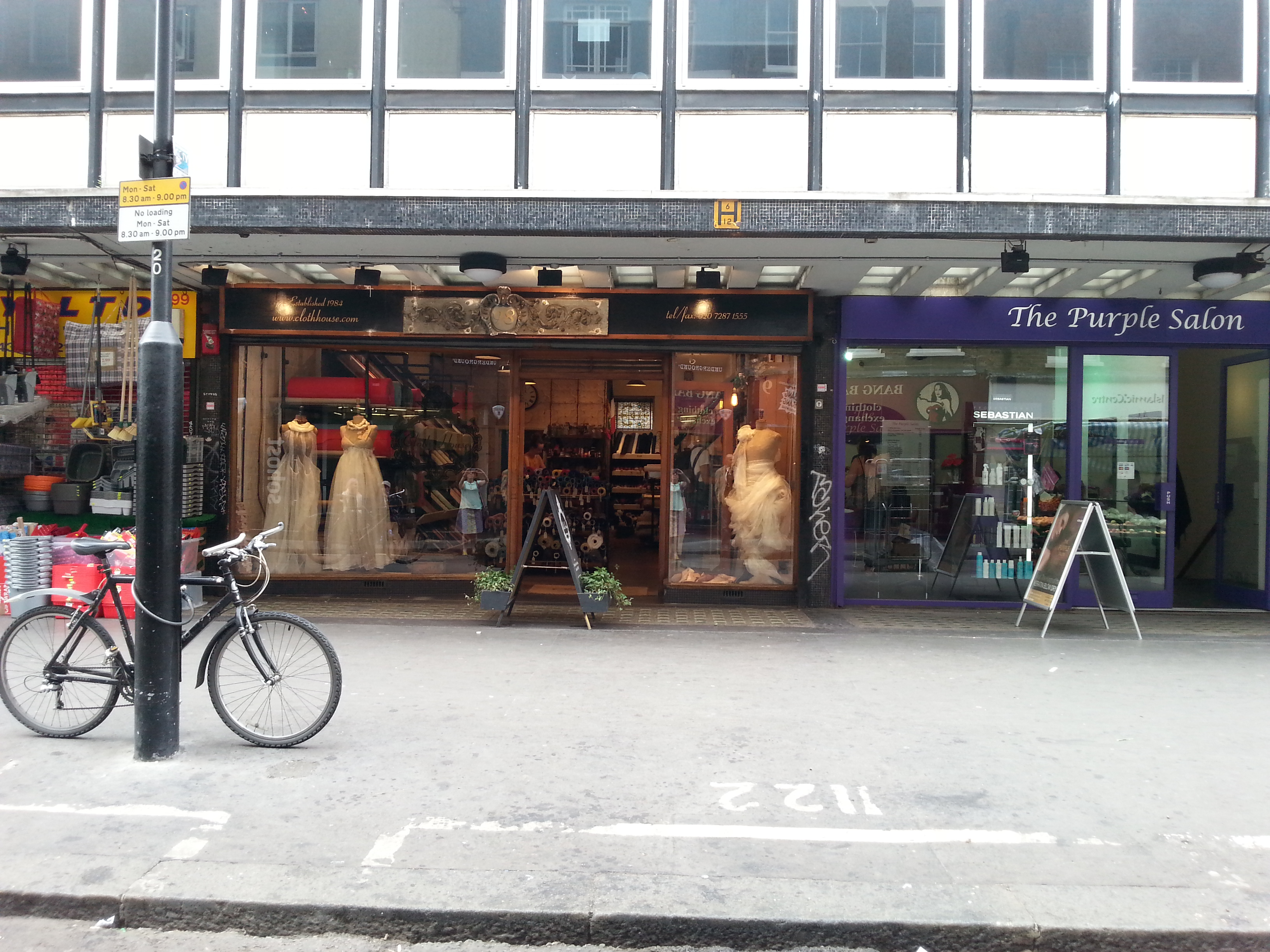 Away for the weekend celebrating Mr Sassy's rather big birthday. He might have been expecting to spend a weekend road testing drum kits, somehow we wound up touring the fabric shops of London and Brighton.
What a very different experience to our local sewing shop. And yet, in some ways, not so different after all. Berwick St in Soho is certainly a life experience. At one end are the sex shops – straight ones, gay ones, not-quite-sure ones. None of them are especially seedy or threatening – more like 'carry-on pretending' than anything to worry about. At the other end is Oxford St. Chain stores, gift stores, the planet's biggest jumble sale (Primark) and more people per square feet moving at so many different speeds it needs a PHD in chaos theory simply to stay upright.
And, in between are around a dozen top class fabric shops. The best shopping street in dressmaking Britain? Maybe. But you'll need to know what you want. It could be all too easy to spend a lot of money in a very short space of time.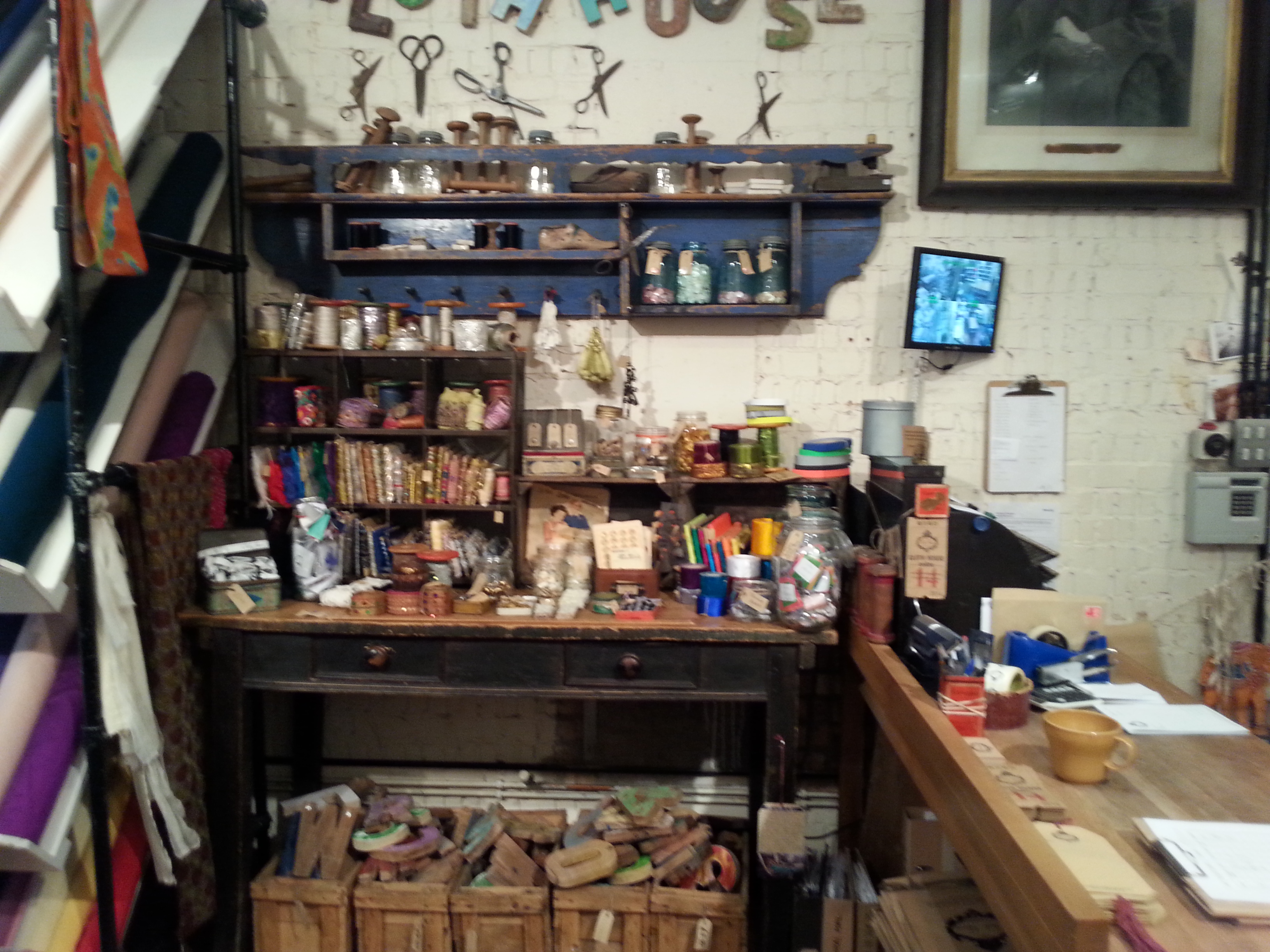 If you need some lace at £150 per metre, you'll have a choice of ten in just one store. Fancy browsing through 1781 bolts of cloth (my little drummer boy counted them) in one anonymous-looking store? OK, make that two different shops (the second one actually had more), you'll find them next door-but one.
My favourite was the Cloth House. They have two stores – one at either end of Berwick St. Both are laid out in such a way as to make fabric shopping fun. Both have a good selection of cotton, accessories, binding and buttons and both have staff keen to make you feel welcome. I could have spent hours in there
As an experience, Berwick St is something very special, but it feels like a different world. Many of the shops just sell cloth – massively expensive cloth and nothing else. My guess is that their customers are buying for a bespoke outfit. Taken to a tailor or carried to a couture-ist craftsman to be transformed into something wonderful.
24 hours later and a complete about-face. Fabric Land in Brighton is like Primark for value-hunting seamstri(what is the collective noun for seamstresses?) The prices are great, quality seems OK but it always somehow falls short of being an enjoyable experience. There are a few too many grumpy notices about what you can't do and an absence of special-ness. Fab' Land does however have Gingham check for £2.50 a metre. Yesterday in Soho I almost paid ten times that amount.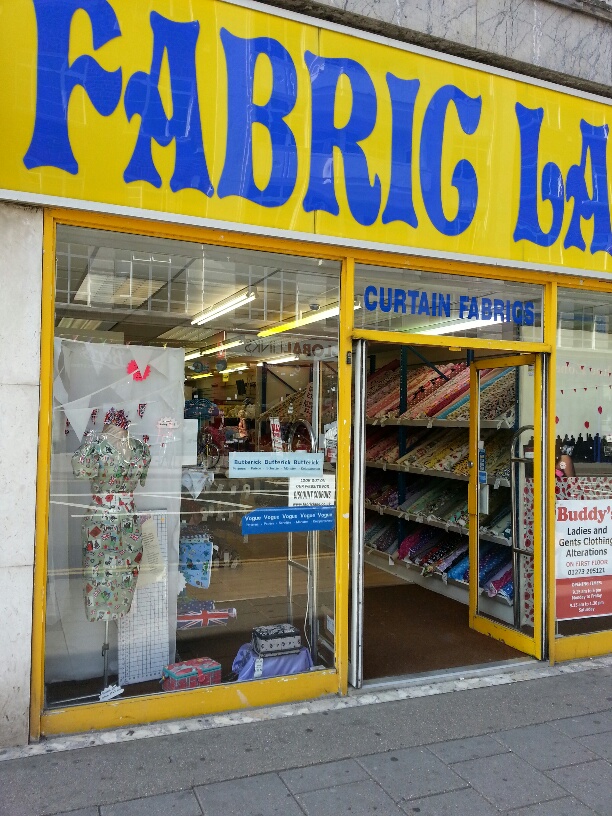 And here's the challenge. I can't easily spot the difference. It can't be the same quality and I'm sure that, side-by-side, the two fabrics will each show their individual values, but no one in either shop seems to know how to do it and instead, they leave us, the customer to try and fathom it out. If anyone out there can explain how to tell the difference, I'd love to know.
Crikey, you could have someone's eye out with that!
Tuesday, August 12th, 2014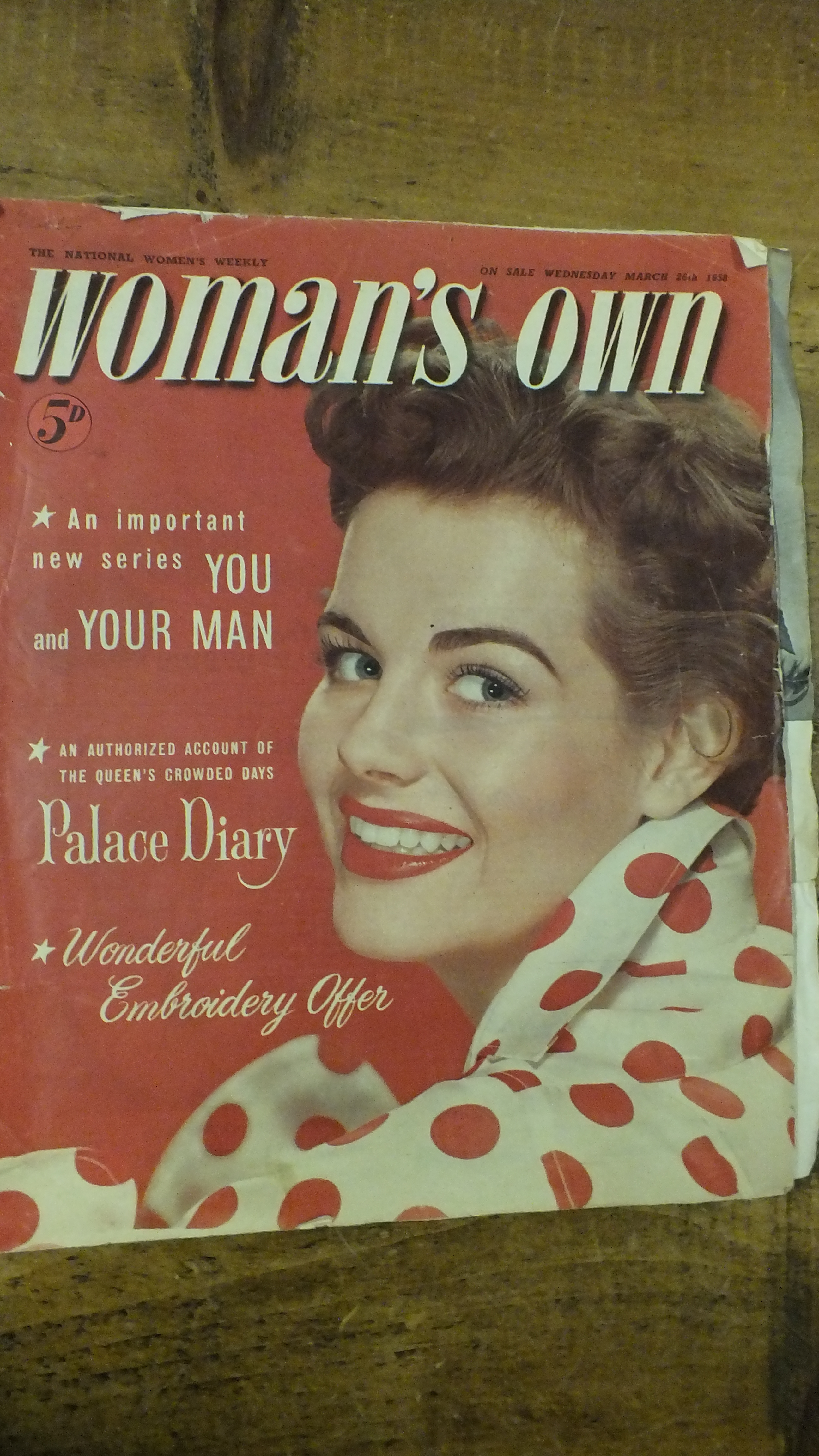 Hunting for retro patterns in a flea market last weekend I came across these ancient women's magazines from 1959. That's, er, 55 years old from a world before the Beatles, before the mini skirt and when good Queen Lizzie was a long way off celebrating even ten years in the hot seat.
The contents are charming and only slightly patronising. Like modern magazines they are full of fashion tips, lifestyle advice and useful hints on 'how to please your man' although these latter ones are more to do with polishing a skirting board properly than anything involving being within three feet of said square-jawed smoking hunk.
Not that you'd want to get that close wearing one of the dozens of deadly pointed brassieres advertised throughout the mags. Mr Sassy's wisdom on the matter was 'how do you fit those into there?' He's so romantic.
There's not as much sewing stuff as I'd hoped – obviously the late 50s was for knitting, not stitching, but there's a good chunk of homeliness in each edition. The biggest difference to modern magazines is an almost complete lack of celebrity…unless it's royalty (obviously, someone was missing a trick by not advertising…'Playtex, the mammary manager of our amazing monarch'.
Strangely, the biggest similarities are the brands we buy. Washing powders, chocolates and all manner of everyday goods that I could nip out and buy today. And the more I read, the more I like these innocent reminders of the world our parents grew up in. Wouldn't you love to see how they managed the swinging sixties? I'm heading back to the junk shops.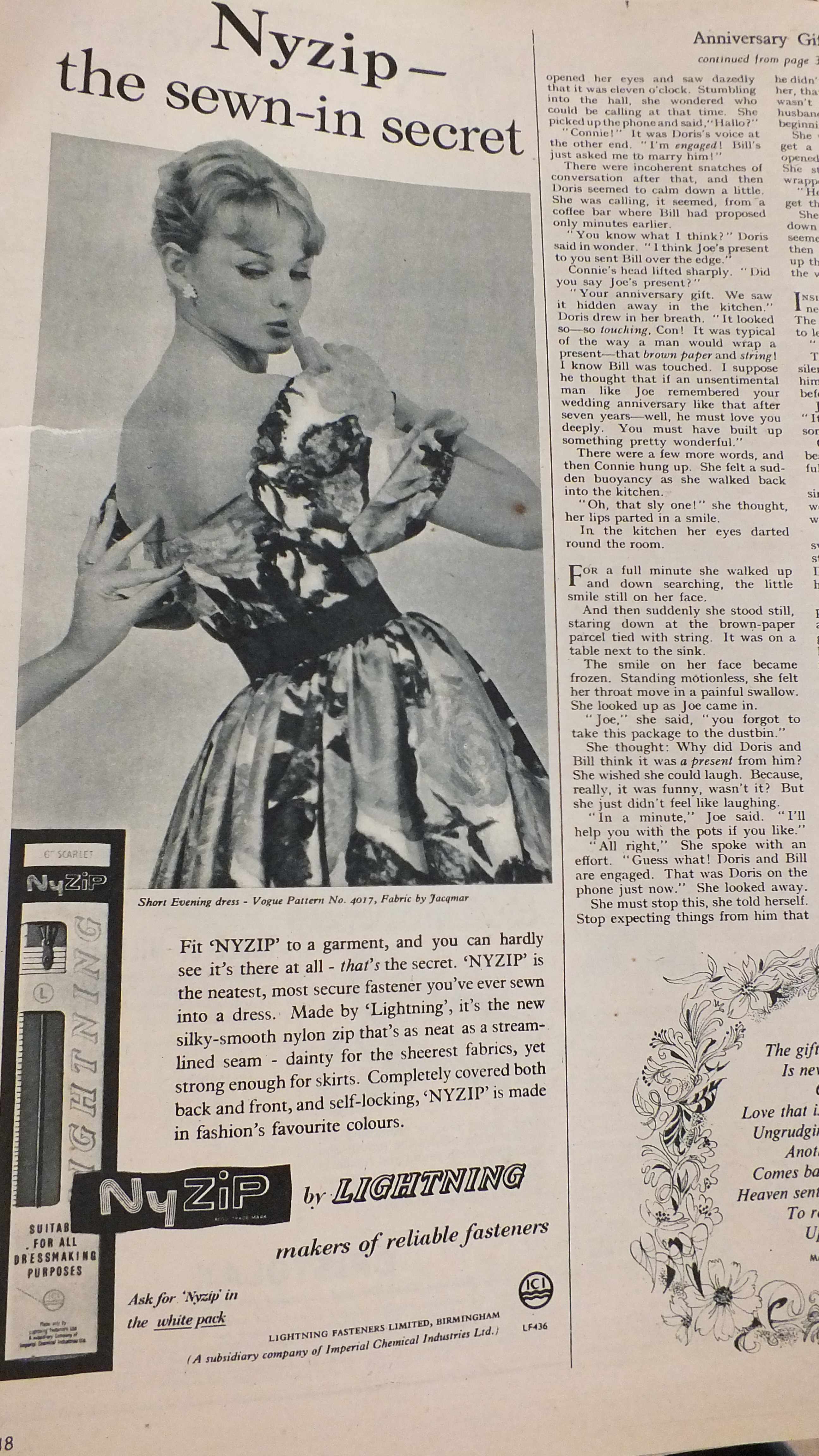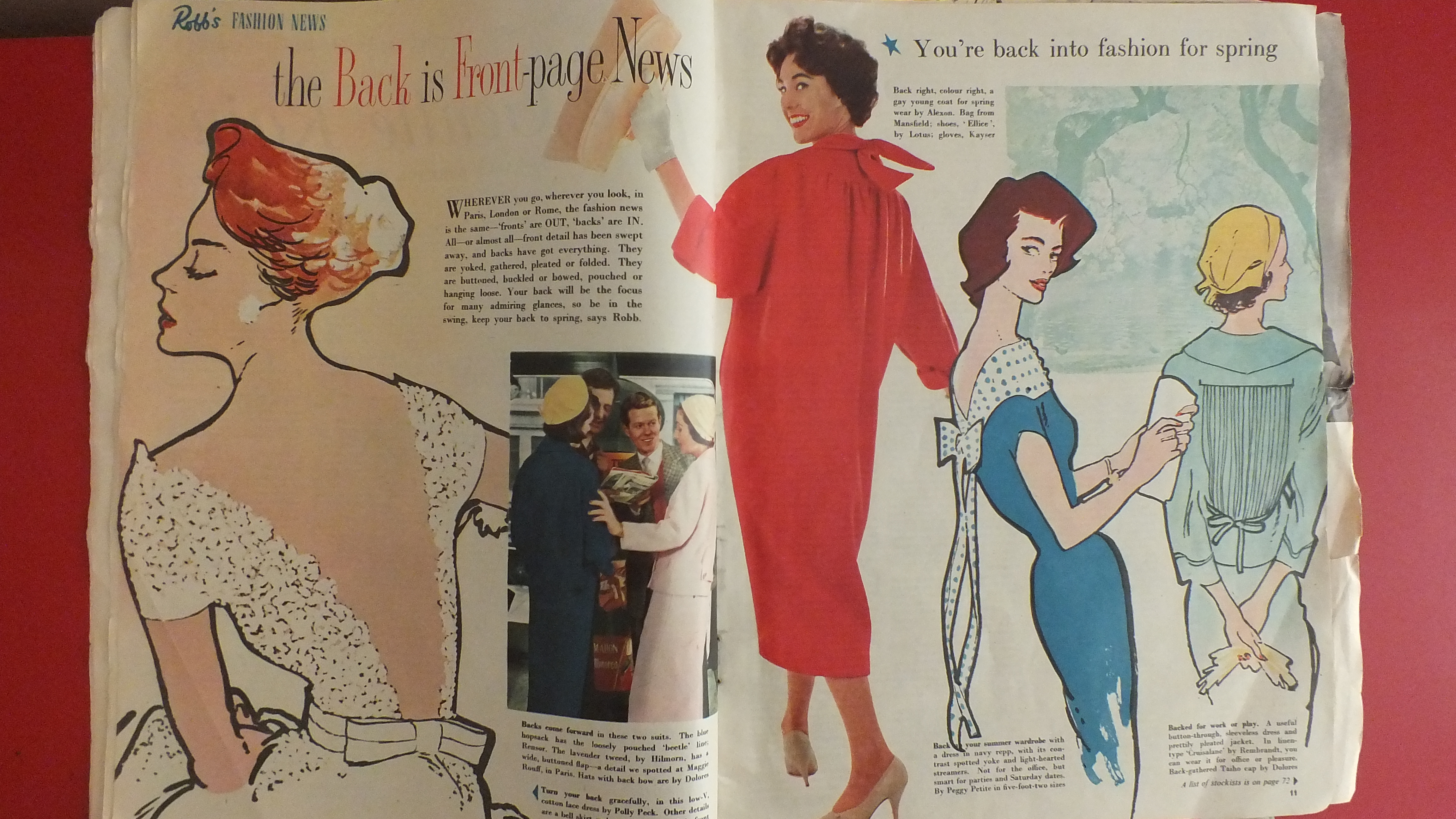 Choosing scissors
Sunday, August 10th, 2014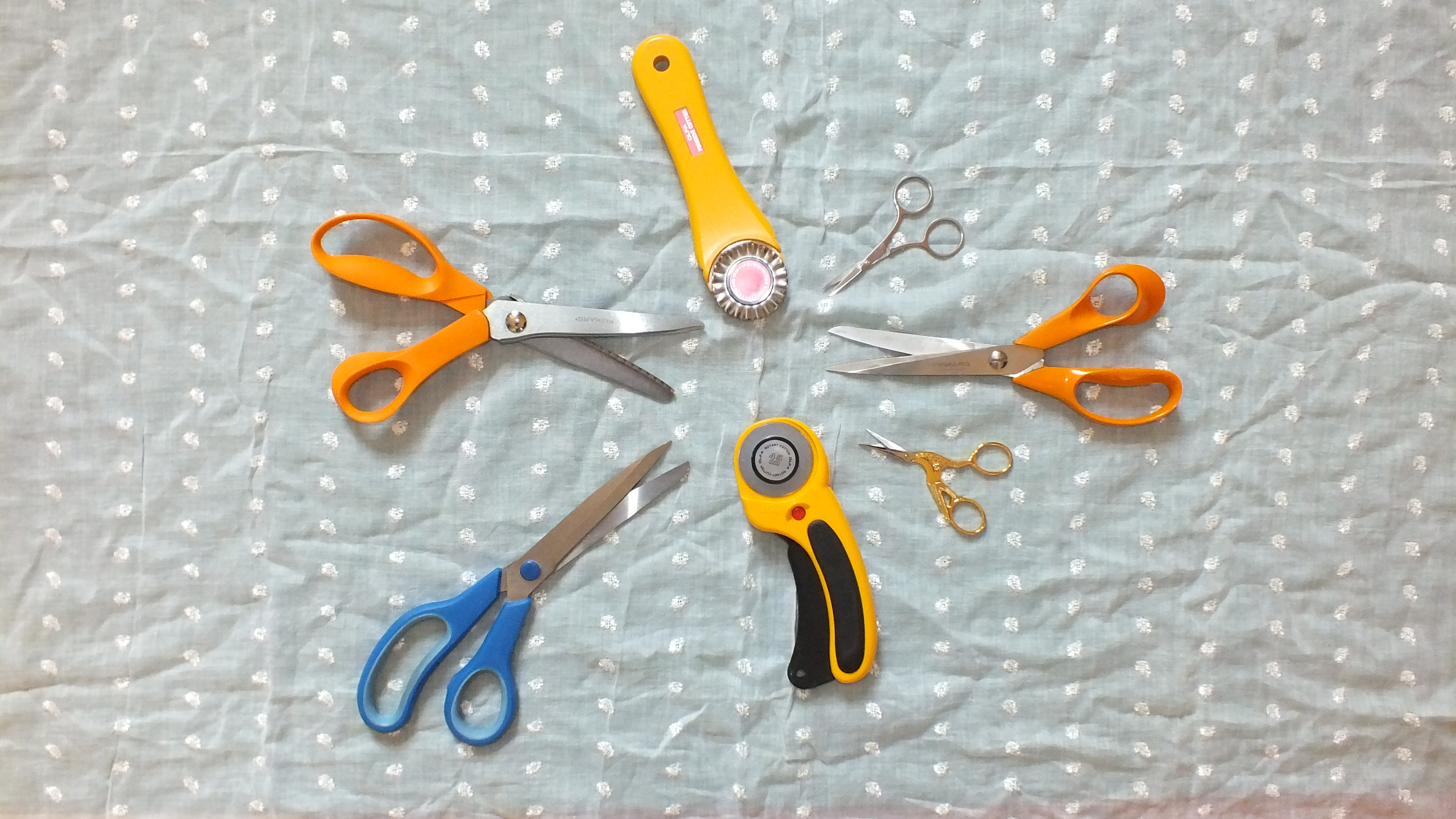 The best in sewing starts with the right cut. Forget the dog, forget chocolate too, scissors are a girl's best friend. Like the car mechanic who guards their 'special tools', like the painter who has a favourite brush, the accuracy and precision of your snips and snicks might just make the difference between perfection and making do. Did that sound a bit serious? Ok, sorry, this is supposed to be fun after all. But the fact remains that a few extra pounds spent on some proper sewing scissors will make all of this even more fun. It's easy to think that all scissors are alike. Not true. Some have noticeably heavier top blades giving more power for cutting thick or multi-layered materials, others have tapered blades that follow the direction of your hand more closely, and those different shaped and sized finger holes aren't there by accident. A bigger hole gives more cutting power, while a smaller one allows more accuracy.The terminology is simple. Scissors are a tool where the blades are shorter and both handle-holes are the same size. Shears have two sizes of hole and the blades are usually longer. Most sewers use the word scissors to describe both which can be a little confusing. Rotary cutters? We'll come to them in a moment.
I would recommend at least two pairs. One with long blades for cutting fabric and another, smaller pair to trim and cut thread. What follows is a quick and simple guide to the common types of cutting tools available. Hope you find it useful.
Dressmaking shears
They look unusual because the shape allows these scissors to sit flat to the fabric, which means you can keep the fabric flatter as you cut it. Some types, known as soft-touch scissors operate by a spring rather than a hinge, meaning they need less pressure to make the cut. Perfect if you're making a longer number.

Pinking shears
The exaggerated serrated edge makes pinking shears look a little weird, but for working with fabric, these are your new best friend. The zig-zag pattern they create prevents your fabric fraying. Pick a pair from a good manufacturer and look after them.
Rotary cutter
Rotary cutters are like pizza cutters for fabric. Sort of. They are perfect for cutting long pieces of fabric accurately. They do take a bit of practice on awkward shapes. If you fancy giving one a go you'll need a cutting mat too unless you want to cut into your table/carpet etc. and probably a ruler to keep you on the straight and narrow. One downside is that the blades can't be sharpened so will need replacing when they get blunt. Don't worry though – it'll be a long time before that happens. You can also get pinking rotary cutters which serrate the edge just like the shears of the same name.
Paper scissors
Don't forget that you'll also need a sharp and accurate, well-balanced pair of paper scissors too because if the pattern isn't cut right, you're on a loser from the off. Don't use your fabric ones as you'll blunt them quickly on paper – in fact it's worth labelling them 'for fabric only' to keep you from being tempted into short cuts.
Embroidery scissors
These are small scissors that many sewers (me included) use for cutting threads – saves your fabric scissors for fabric only. I have a gold plated stork pair which I think are pretty cute – see pic.
How much to pay?
A good set of pinking shears will cost between £20 and £40, which seems expensive, but if you look after them, they'll last for years. And you get what you pay for. High performance steel blades, contoured handles and proper build quality making cutting even wools and denims a pleasure with a good set of shears.
Dressmaking scissors are vary greatly in cost – typically, most sewers pay around £15-£25 but some well-known brands will be more expensive than this (some, like Ernest Wright, much more expensive). Soft touch scissors cost about the same as decent dressmaking scissors.
Buy the best you can afford and ones that feel 'right' in your hands.

Size matters
The bigger the blade, the more leverage you have and the easier it will be to cut through thick fabric or multiple layers. Most sewers compromise with shears of around nine inches.
Looking after them
Three things wreck scissors; dust (lint from the fabric), drying-out and being used to cut anything other than fabric. Keep yours away from the rest of the family, keep them in a holder, give them a wipe down on a regular basis and apply a drop of light machine oil to the blades' screw every now and then, followed by a few imaginary snips to get it flowing and keep the mechanism lubricated. Don't forget to wipe off the excess oil and make your first cut afterwards on some spare fabric that you can afford to get stained.
Shopping mania
Wednesday, August 6th, 2014
I've just had a long weekend of joy. Shopping in sewing shops – there's nothing like it. London and Brighton were my stomping grounds and I was there to spend money. I didn't have any particular pattern, fabric or notions in my head – I just wanted to buy what I fancied. And it turned out that I fancied a lot!
First up is a vintage style dress pattern – Simplicity 1356 which consists of three pieces only. No zips, no buttons, no fastenings either – a really quick make. It's a wraparound affair and I'll be fascinated to see how it comes together. I chose a lovely pink textured medium weight cotton for this which seemed to fit the pattern beautifully.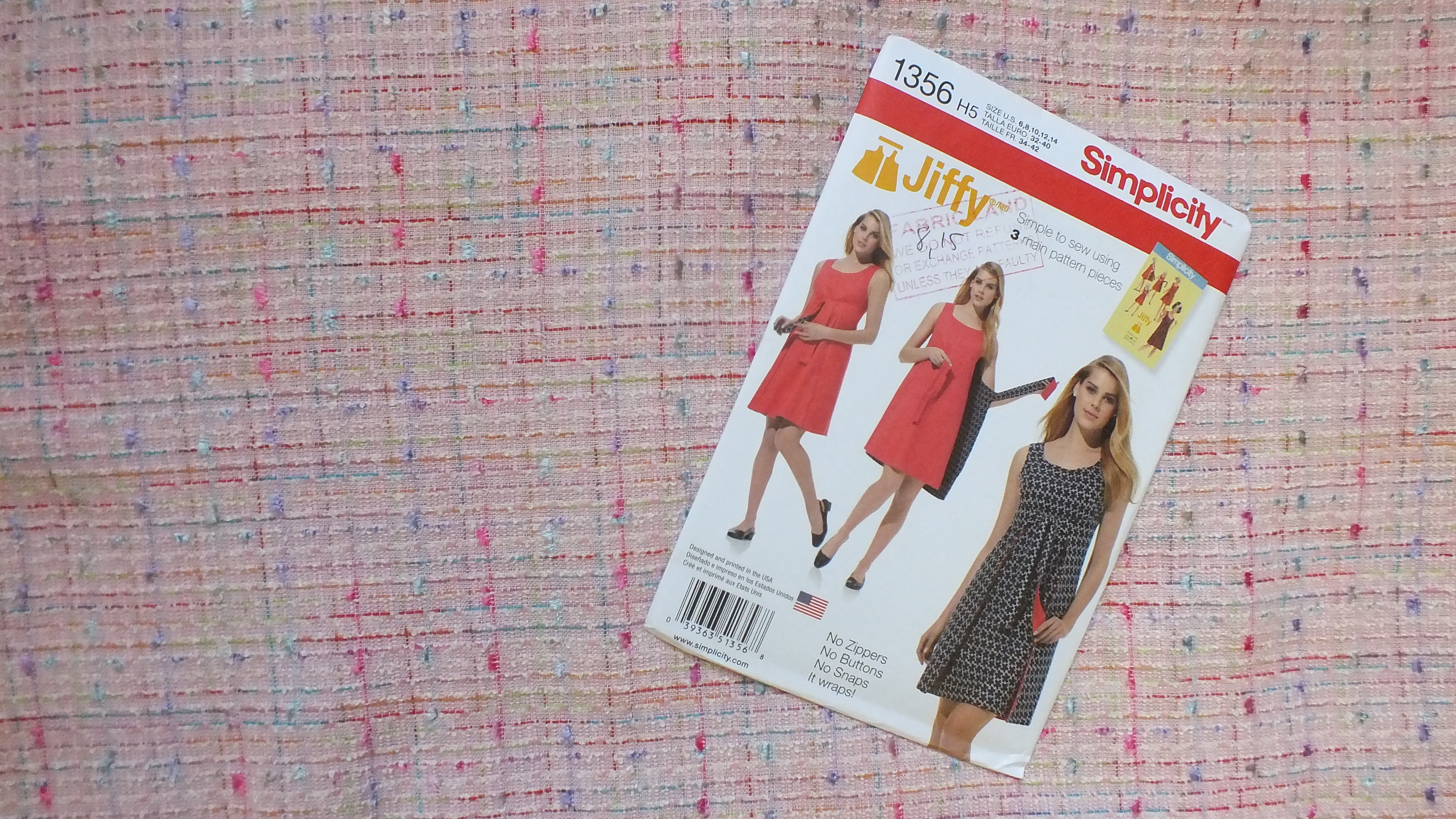 Next was another vintage style pattern, this time for a 1940's style blouse – Simplicity 1692.  I'm making the pink version in this lovely purple cotton mix which drapes beautifully. And I love the bird print – I've been after something like this for ages.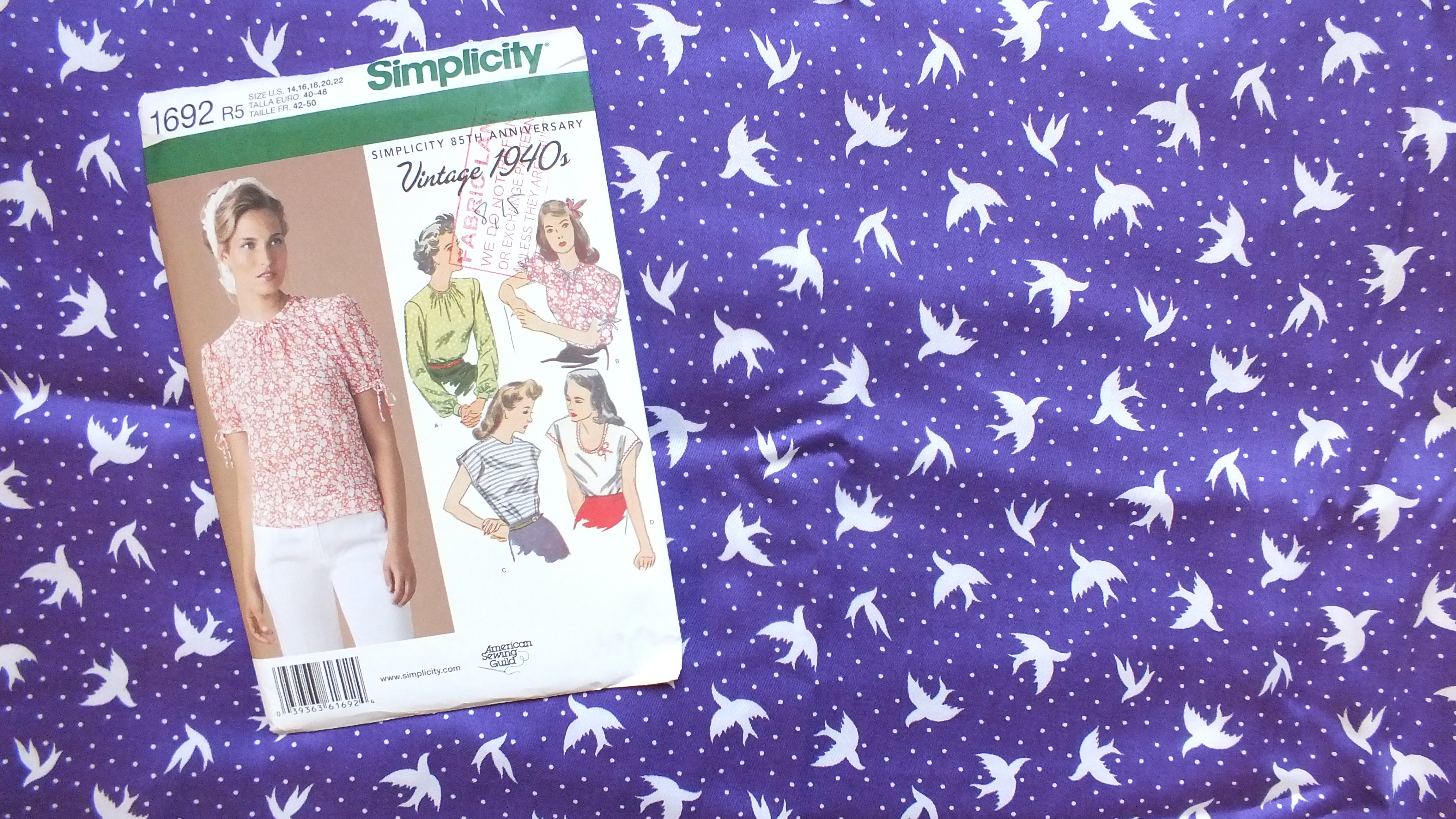 And what about this! Something really different (for me anyway).  A pattern for a vintage style bra top (yes vintage does seem to be a bit of a theme here!) – it's Simplicity 1426. Not sure what I'll make this out of or where I'll wear it but I just couldn't leave it behind. I'll definitely let you see this little beauty when it's made up.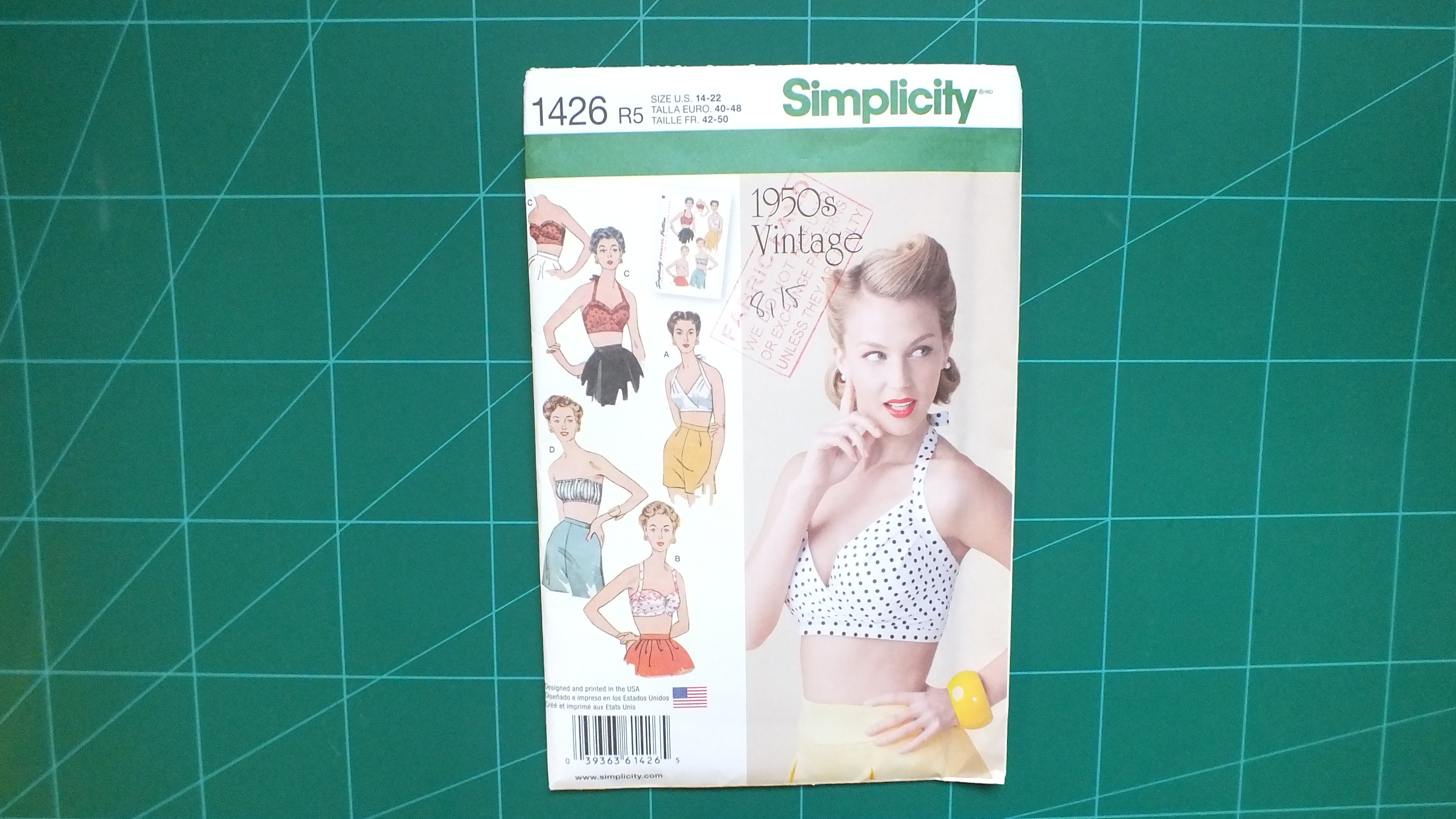 Then I just went a little bonkers and choose three more fabrics for no other reason than I liked them. They're all cottons. The yellow and grey polka dot is probably destined to be a blouse, the green and yellow a dress (this has a beautiful velvety feel to it) and the white is going to form a yoke on a dress with the rest of the material being something very different – this isn't planned out yet.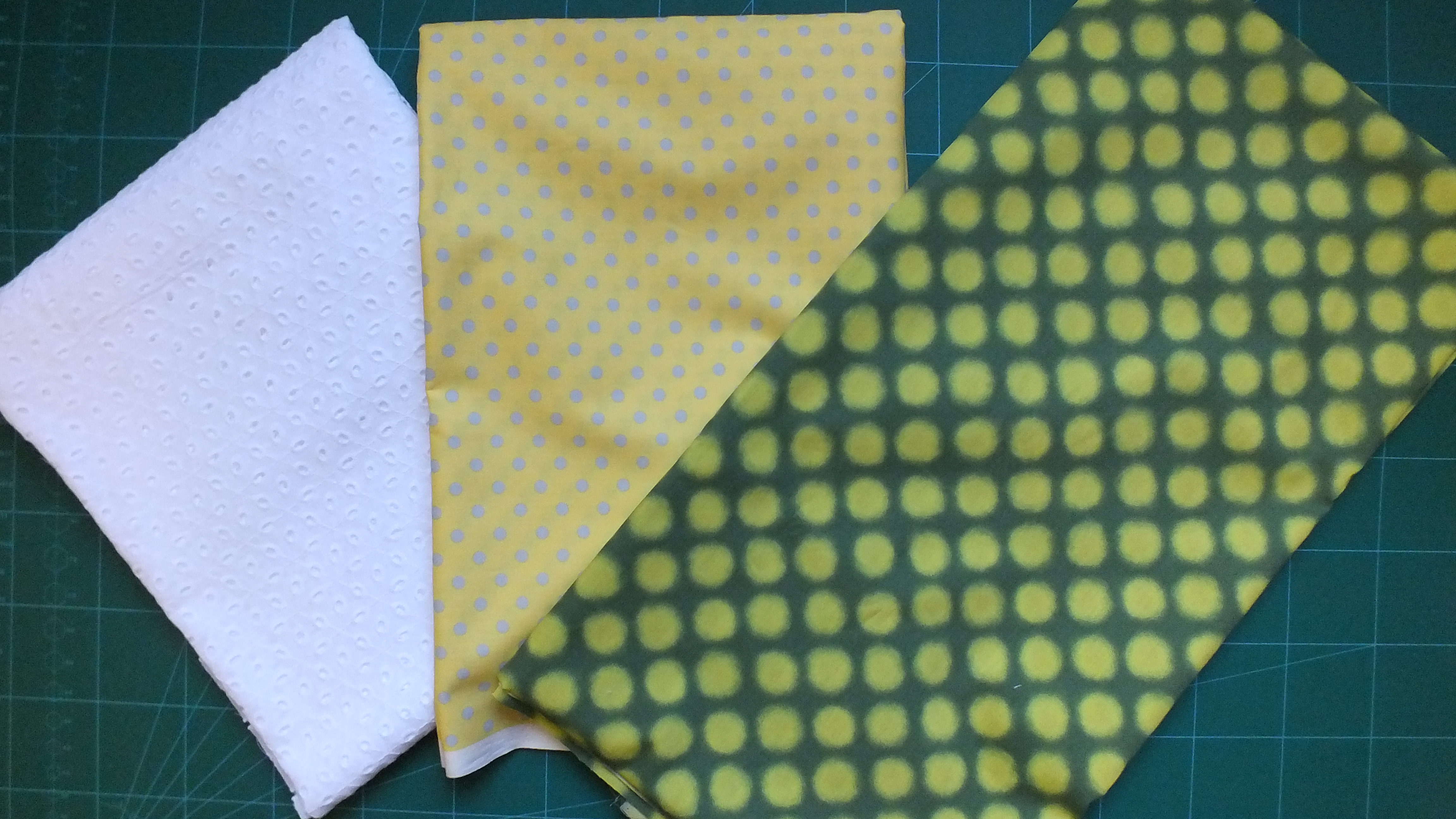 Next I found myself in Liberty in London. If you've never been, then you really should. A lot of their stuff is a bit pricey for me, but every now and then some Liberty print makes a lovely treat. I bought this wonderful retro print, which is slightly thicker than the Liberty I normally buy, with six red and six yellow buttons in two different sizes. £24.95 a metre is twice what I usually seem to spend, but I only bought one metre and whatever I make in this lovely fabric will be special enough to justify the price. As yet, I have no plans for it but I'm not in a rush – it's not like I haven't got other things to get going with!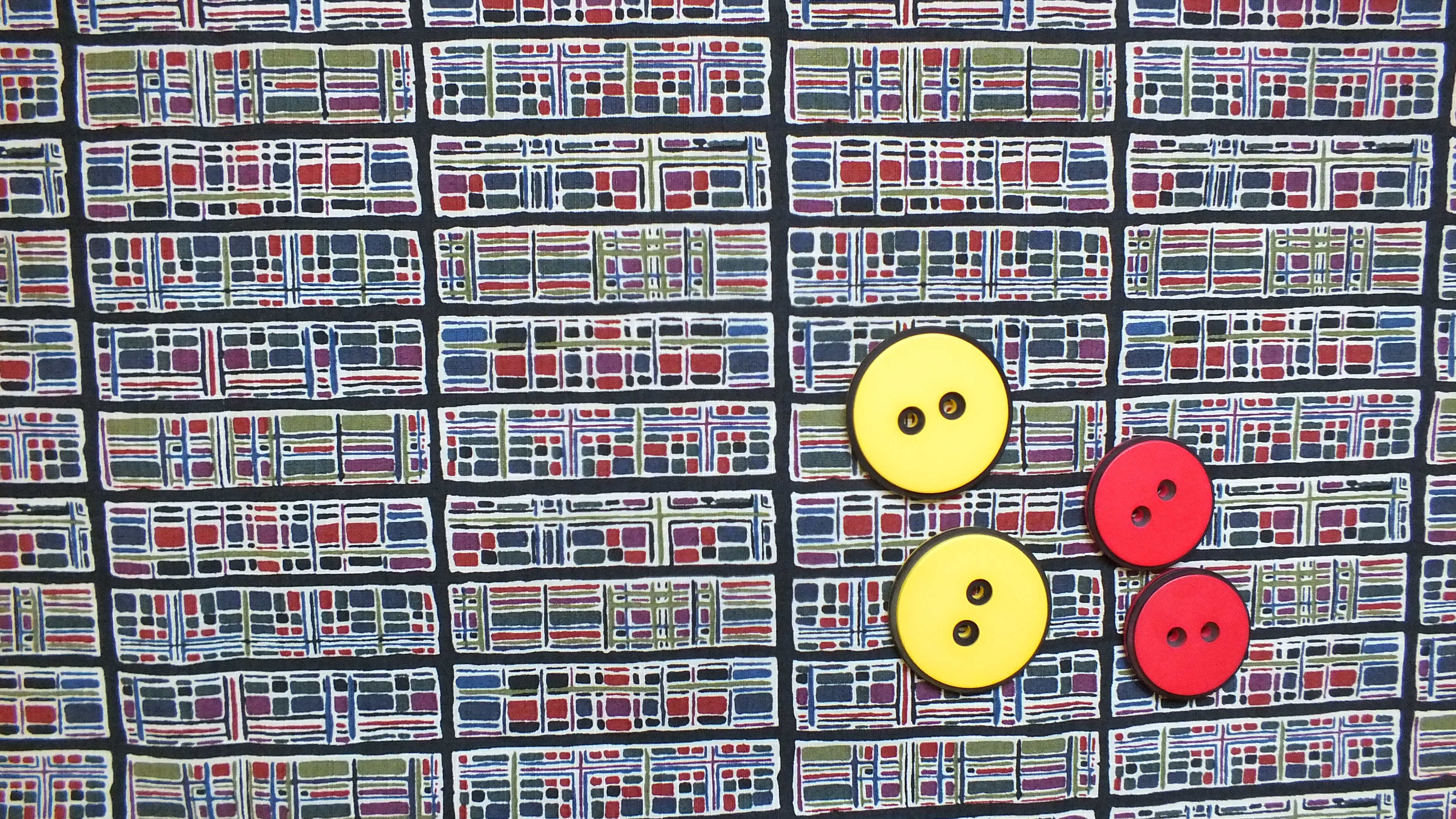 ---