Sewing Bee Inspiration
Friday, February 20th, 2015
So how many of you watched The Sewing Bee last night? I loved it. All that vintage loveliness – just my kind of thing. I was particularly impressed with the Walkaway Dress and was busy imagining me twirling and whirling around (like you do) in my very own version. And then I started thinking that I'd seen something like this before. One quick Google search later (how many of you were also doing this) and a Butterick pattern was adorning my screen and guess what? I've got it! It's pattern number B4790 and is part of their Retro range. It's been sitting in my pattern stash for nearly two years now awaiting it's turn to be taken out and used. How lucky am I? I was drawn to it as I love those fifties style dresses but as I hadn't yet looked at the instructions I had no idea how it went together – what an ingenious idea though. And starting it at breakfast and finishing for lunch – that's my kind of make (but I bet it doesn't quite work out like that when I give it a go).
So of course I'm now all inspired and the dress is next on my 'to do' list. I'm going to cut it out tomorrow and see if I can finish it on Sunday. There are only three pattern pieces, and it says it's 'fast and easy' so I live in hope. You need a lot of material though – my size is going to need anything between nearly four and nearly five metres depending on the width. You also need a lot of bias binding as that's how all the edges are finished. It says to use broadcloth or linen or taffeta fabric but I'll just have a browse and see what takes my fancy – probably one of the lovely printed cottons I have in the shop.
I'll let you know how I get on – hopefully by Monday I'll have a beautiful fifties style dress to swish about it – check back and find out!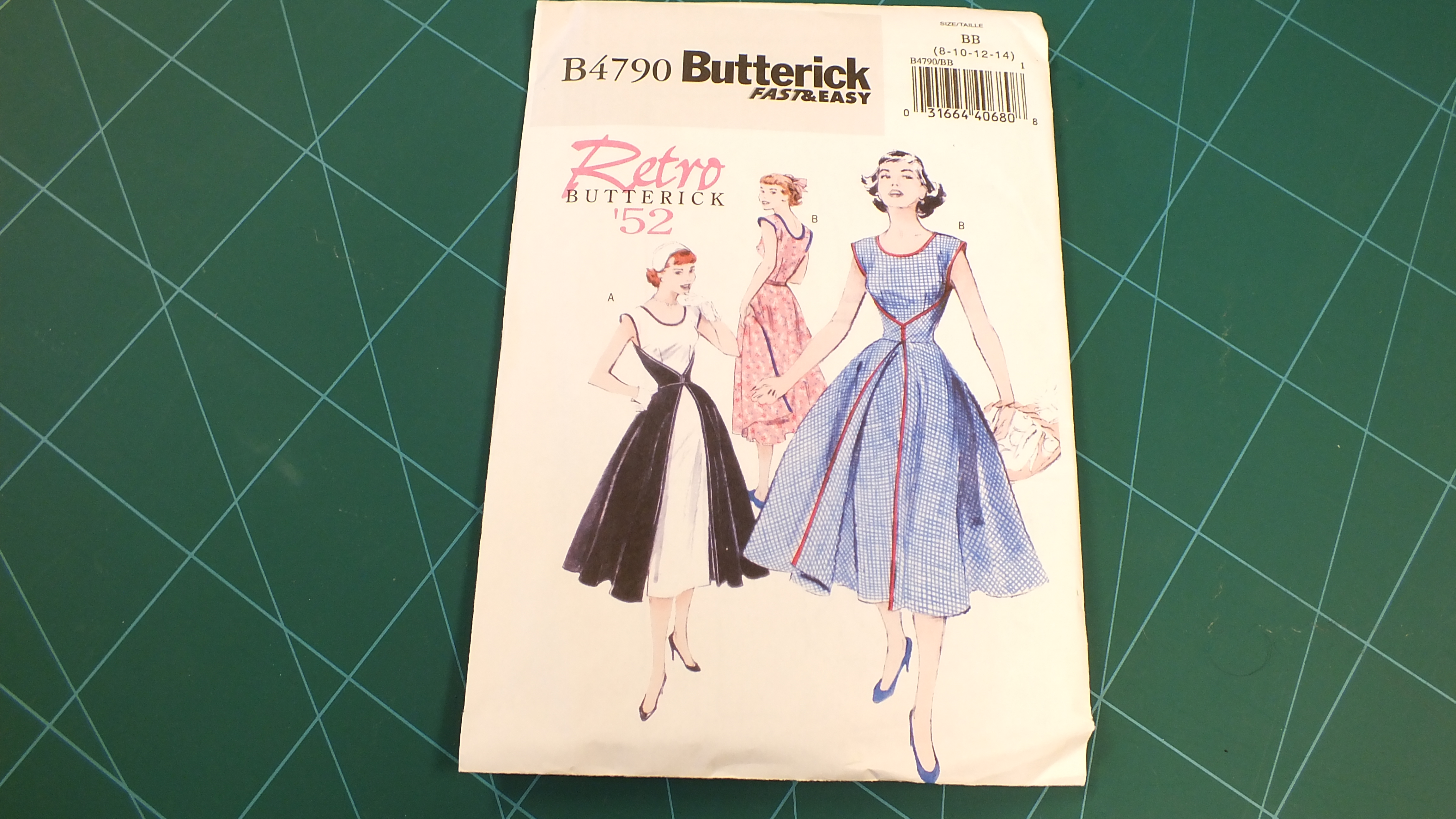 The Sewaholic Granville Shirt pattern – it's fab!
Saturday, February 14th, 2015
This pattern had just hit the shop and is flying off the rack already. The Granville is a fitted button-front shirt with optional front pockets, and long sleeves with tailored plackets and cuffs. Front darts add subtle shaping, and the back princess seams are designed to fit the curve of your lower back in an extremely flattering way. The yoke is self-lined, and the two-piece collar will look great under a jacket or sweater. It's particularly good for those with a small bust and waist but larger hips.
This shirt would look fab in a whole variety of fabrics, and I think my first attempt will be in a light cotton lawn for spring – I can't wait to get going with it. Although I also think it would look great in a retro affair like the beautiful print below designed by Beth Studley for Makower Fabrics. Maybe I'll go for that first – just so much choice!
These patterns are selling out  fast, so if you want to get your hands on one, you'll need to get a rush on! Enjoy.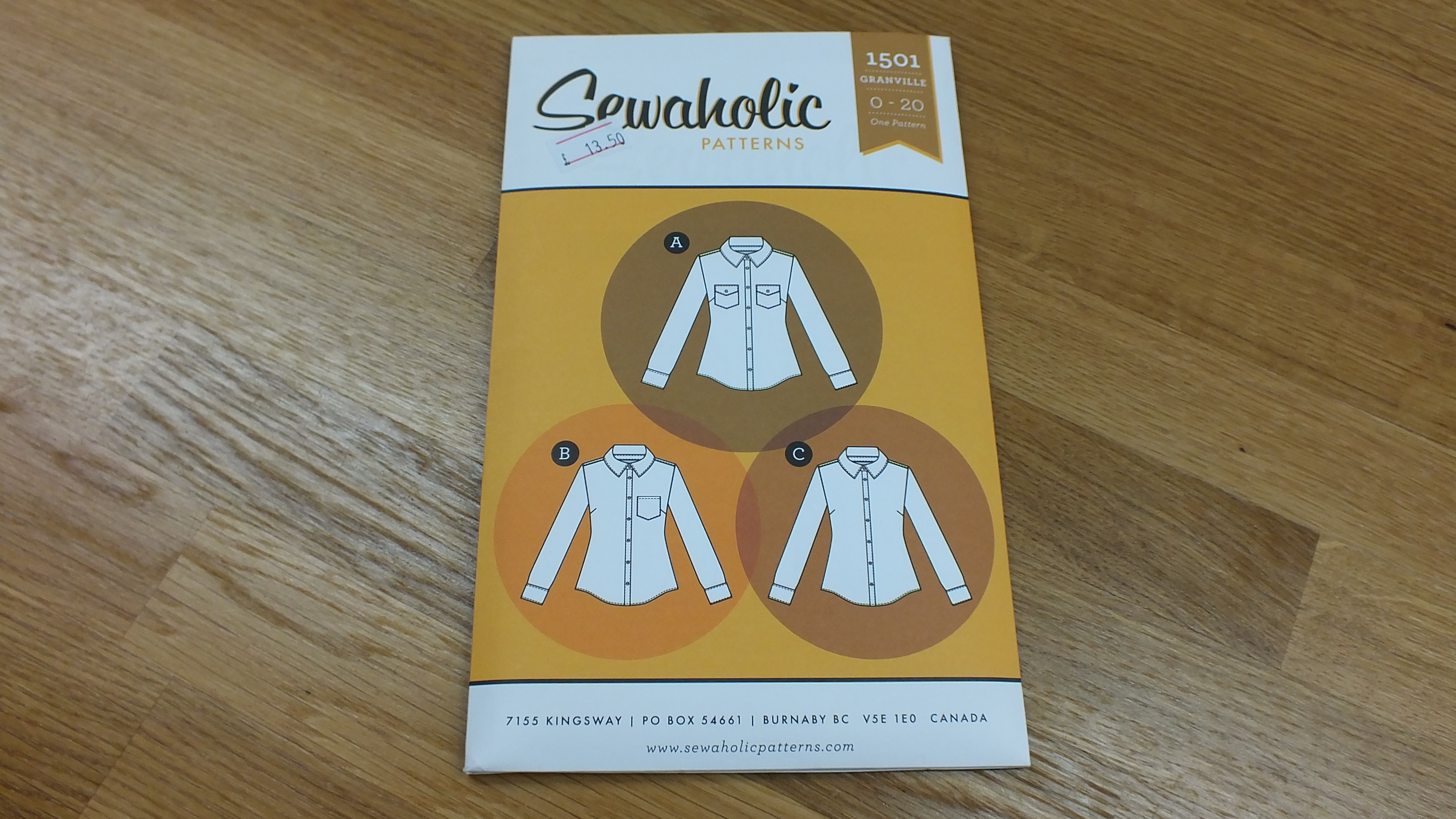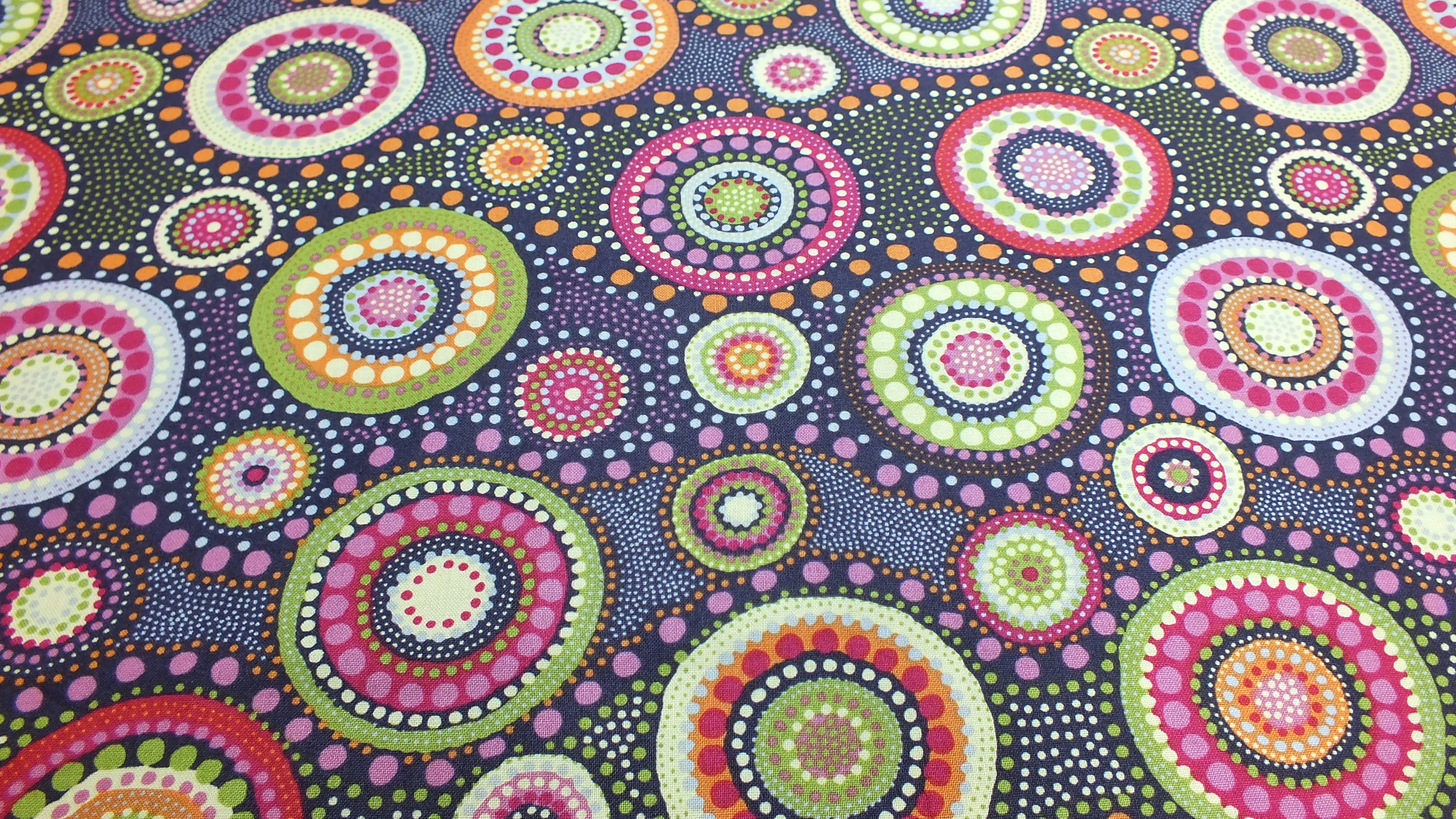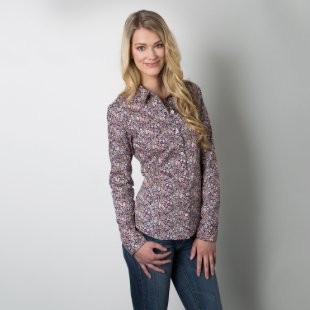 It's time to….make lingerie
Thursday, February 5th, 2015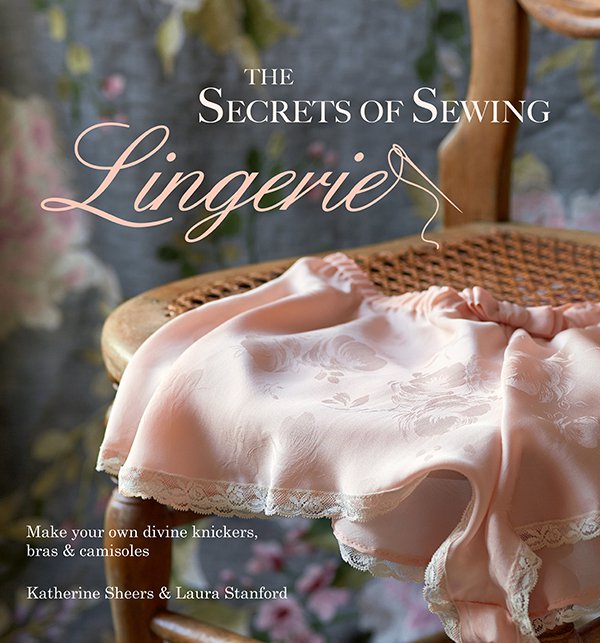 I love making clothes – dresses, jackets, skirts, trousers, shirts – I've had a go at most things (best not to ask about the shirt!) The one thing I've never tackled though is lingerie – it's never really crossed my mind before that this is something I could or would do. But of course my 2015 challenge is well underway now and because I'm not allowed to buy any clothes this year, I thought I'd better get on and find out how to make some underwear before all mine drops to pieces from overuse.
I came across the book Secrets of Sewing Lingerie on another blog and thought two things – this could be really useful and also how beautiful it looked. So off I went and ordered a copy.
I was right, it is a very beautiful (almost whimsical) book but don't be fooled by this as it is packed full of useful advice and inspiration. They leave nothing to chance – fabric choices, how to sew with elastic, fitting, all about gussets, how to care for your lingerie etc. – it's all in here. The instructions are clear and the colour illustrations really do help.
They advise you start with their Pretty as PicNic Cotton Mini's which are a lovely pair of knickers – and given that I haven't got a clue how to make lingerie I think I'll do as I'm told and make these first. I'll probably go for a nice cotton lawn for these – Liberty perhaps? All the patterns needed to make the garments come with the book so it's pretty good value at £15.99.
My favourite project from my first look through this book is the Sugar Darlin' Sweetheart set – a silk and lace flimsy bra and pants (they call them Brazilians!) so I'm looking forward to progressing my skills so I can have a go at these.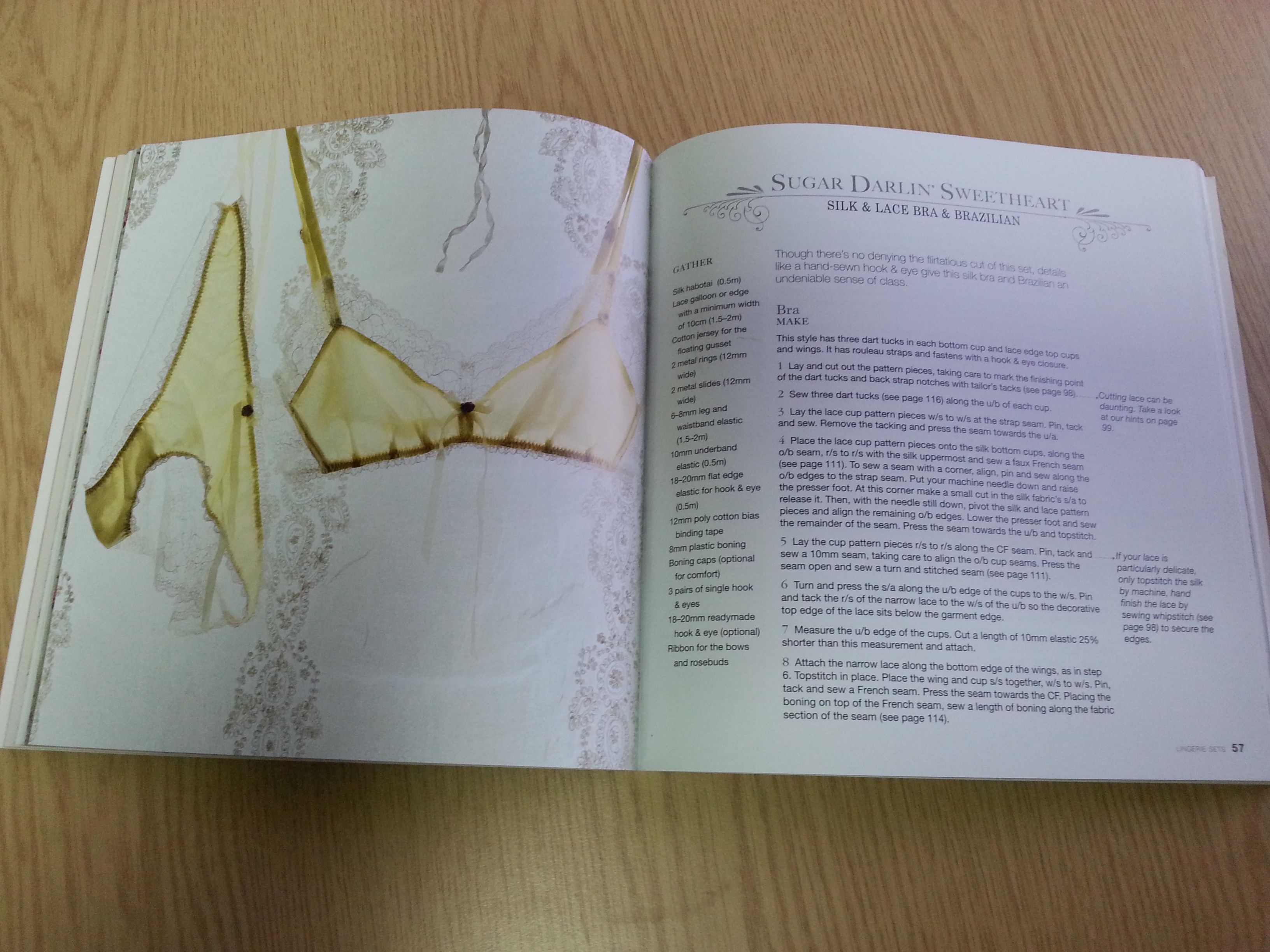 Now, if you're the sort of person who likes a little more support in the bra department you will be disappointed as the offerings in this book are all non-padded, non-wired, teeny tiny things. However don't let that put you off buying it as there are so many other lovely projects to try – including suspenders! And also the techniques they teach will come in useful for other, non-lingerie related projects too. So all in all a good find – I can't wait to get started. I'll let you have a look at my makes but don't worry, I'll put them on the mannequin rather than modelling them in person – don't want to put you off!
---