New sewing machine nerves
Monday, April 27th, 2015
Is there a medieval term for 'fear of a new sewing machine'? I'd like to think so. Something In Latin perhaps; scarycat dom brothernatious? I'm not actually scared of my new sooper-doper Brother computerised machine, it's just that I know my faithful Janome so well that I can just get on it and go. This new one has an instruction book thicker than a builder's buttie and more functions than a boxful of TV remote controls and smartphones.
I love it, of course…at least I will when I can find the time to really get to know it. Until then we've been playing a game of cat and mouse. I approach it, switch on, get set and then, er, find something else to do. I thought at first maybe it was feelings of infidelity towards my old faithful, but then I glanced across at Mr Sassy picking his toenails and realised that a newer model is always more appealing.
Funnily enough it was the same when I bought my overlocker. That took me almost a month, I'm determined to crack this one before the 30 day money back warranty runs out.
So any suggestions are very welcome. Hypnosis maybe, counselling? I tried Googling 'fear of a new sewing machine' and a surprising number of pages come up including one on Mumsnet that suggests I am not alone. One post-ee said it had been 10 months and she still hadn't plucked up courage.
Maybe there's an opportunity for a workshop – group therapy…. 'My name is Julie and I'm afraid of my computerised Brother' might even get on Jeremy Kyle if that one goes viral.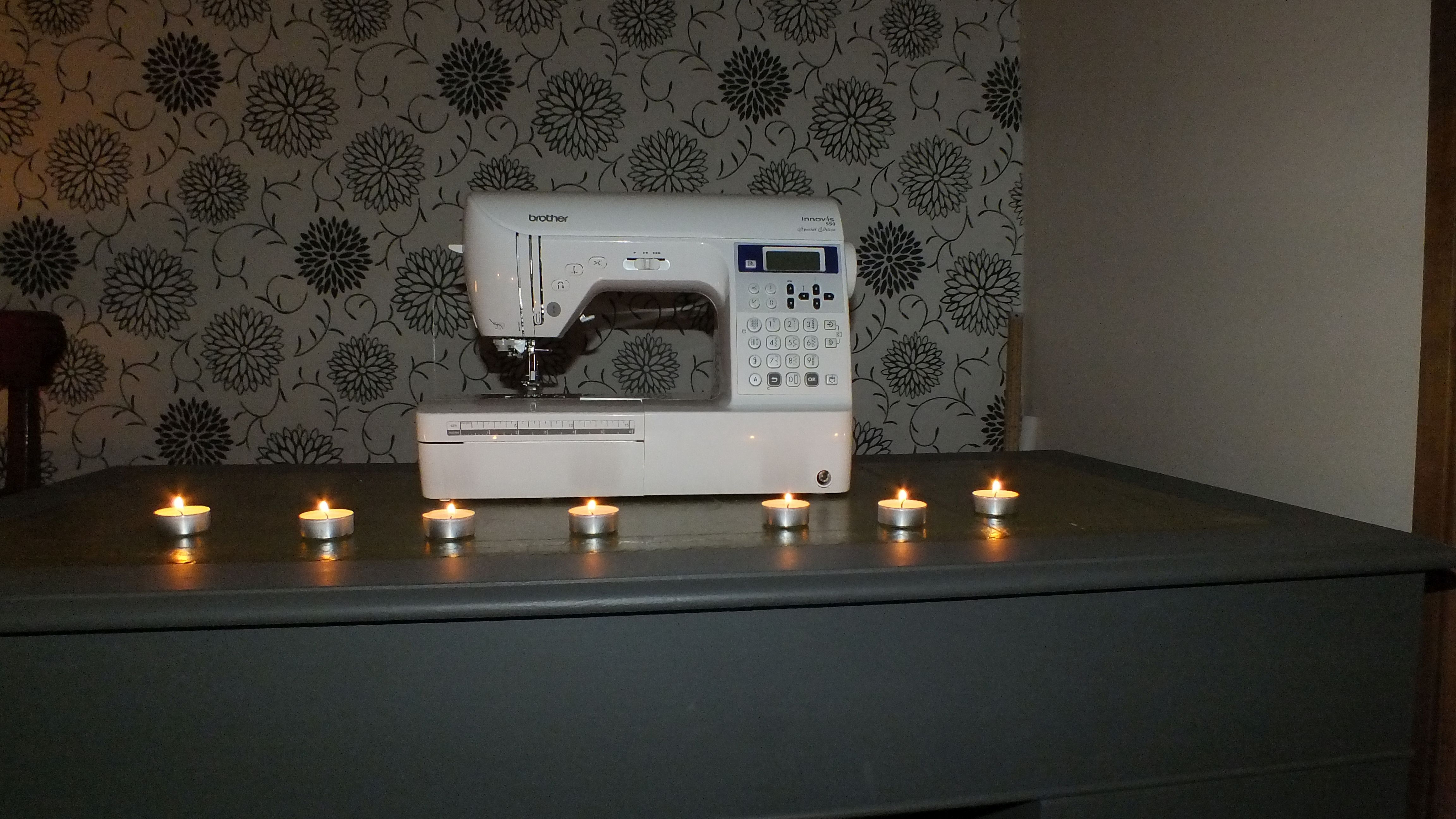 It's our anniversary!
Sunday, April 19th, 2015
Today is six months since Sassy Sewing went from being one of those 'what if' ideas passed through the 'why not?' stage and finally opened its doors as a proper grown-up business. In those 183 days we've made a whole load of new friends, inspired at least a dozen people to timidly cross the threshold and either take up or re-discover sewing, had 102 people come along to our workshops and built a little shop that's brought some lovely comments and feedback from everyone who's come to say hello.
Mr Sassy, who might be slightly too fascinated with numbers tells me that there are now more than three miles of fabric running through the sewing machines of Lincolnshire that used to be on our shelves. Along with a half dozen miles of thread, 34 miles of wool, almost 250 patterns and enough haberdashery to cover a small car (not sure how he worked that one out, but it keeps him occupied)
But more importantly, Sassy Sewing has become part of the, er, fabric of our lovely town and we look forward to every day meeting a whole load of new and old friends. So, thank you all for your support and kind words, thank you too for all your suggestions for future workshops. The latest list of workshops can be found elsewhere on this website, have a look and let us know if there's anything you'd like to see.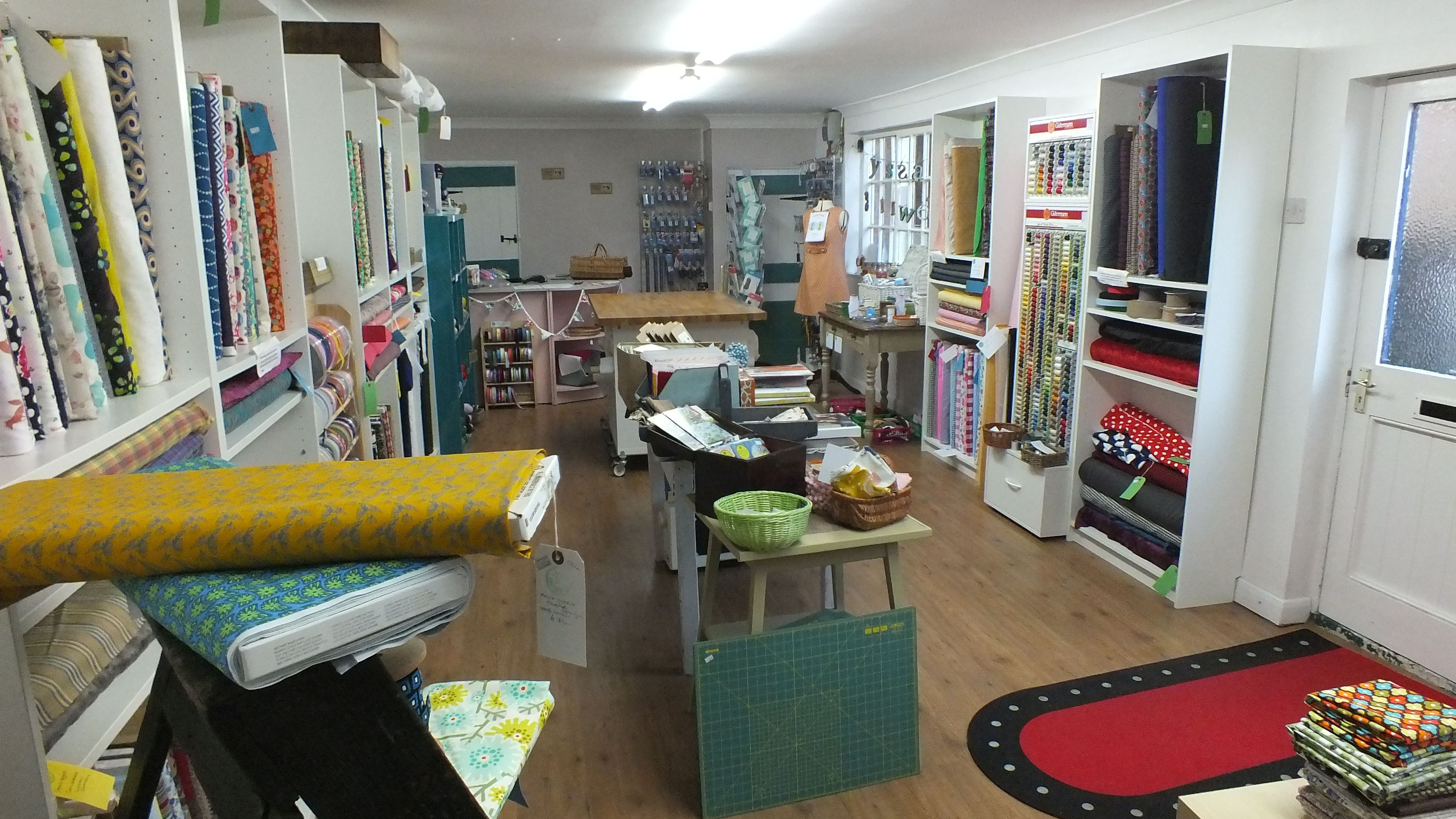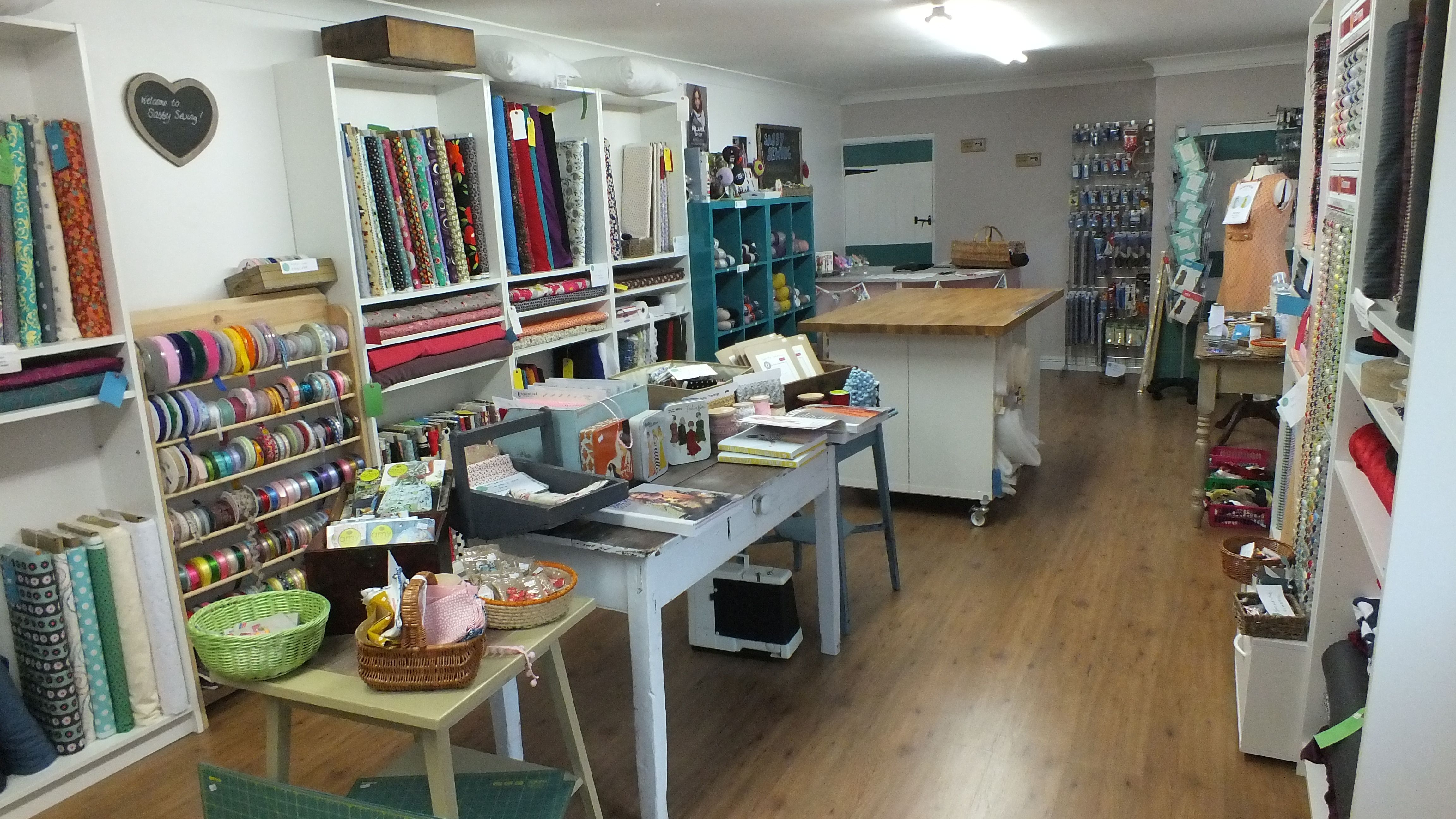 I'm turning Japanese!
Saturday, April 18th, 2015
How exciting, a parcel from Japan. My friend Caroline, who was my inspiration for getting back into sewing moved there a couple of years ago and every now and then she sends a package of local goodies. This one is very special – a Japanese sewing magazine, full of patterns and some gorgeous chocolate brown printed cotton fabric to go with it (the picture does it no justice at all – it's beautiful).
I love Japanese magazines even if I can't understand a word. The paper and the design always makes them feel truly special and I like the fact that you have to read from the back. This one is called Boutique (I think) and has 43 different garments inside to make. Like all Japanese magazines there are phrases in English scattered through it and the clothes are really pretty.
So this week's (OK, maybe next week, there's a still quite a pile of unfinished stuff in the sewing room) challenge is to dive in and give it a go. It might be another language, but there's still a pattern to follow – what could possibly go wrong?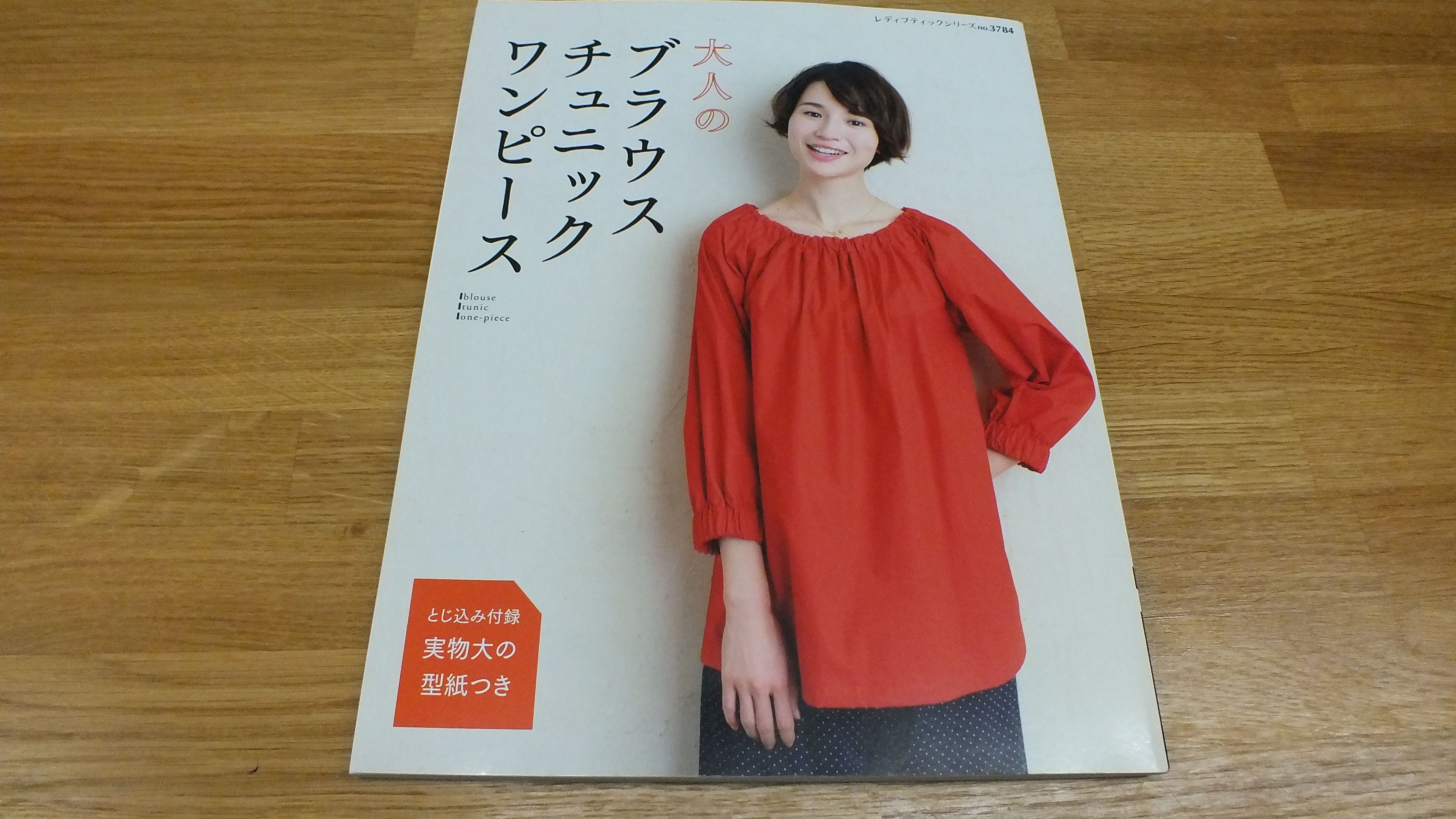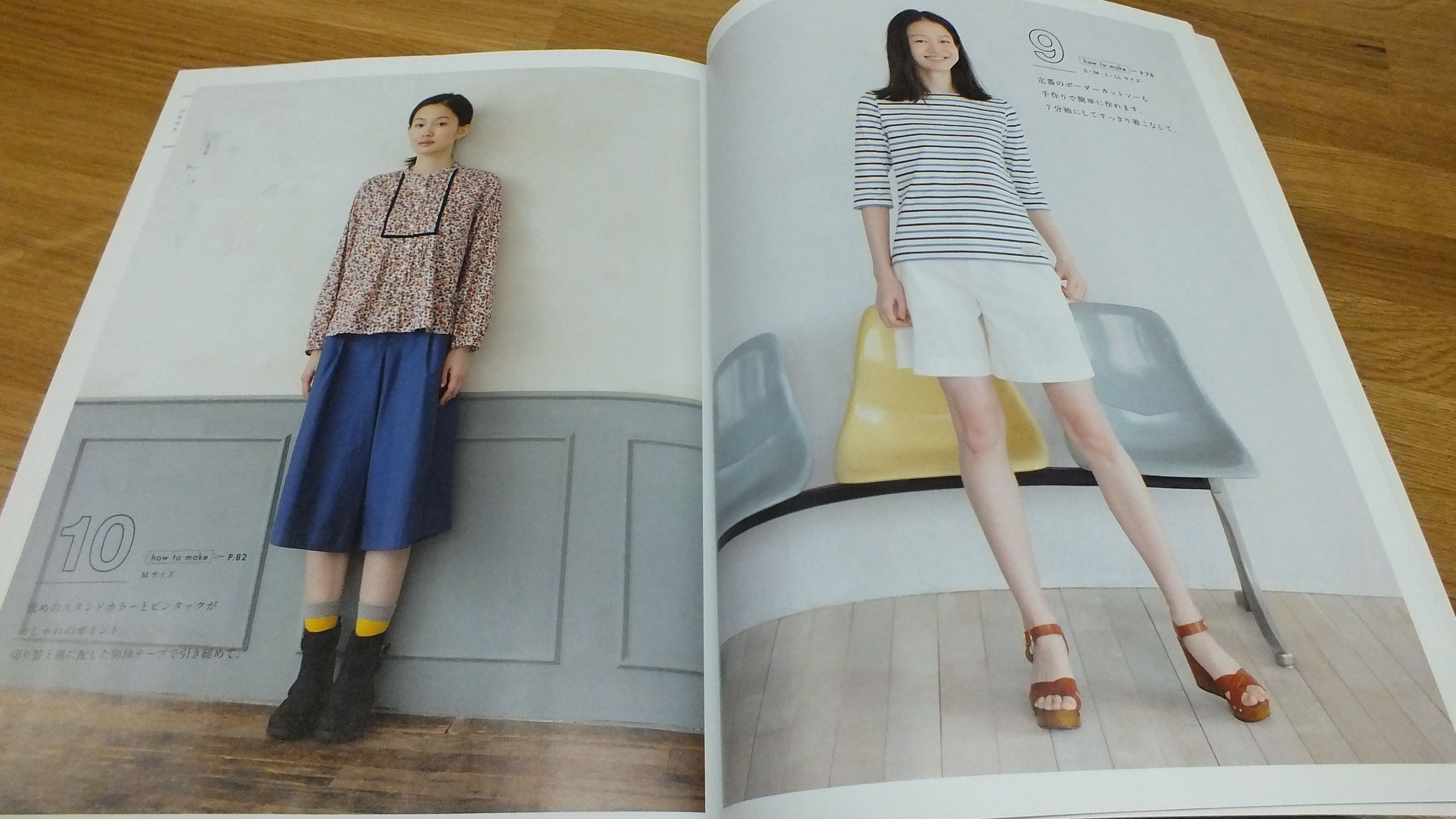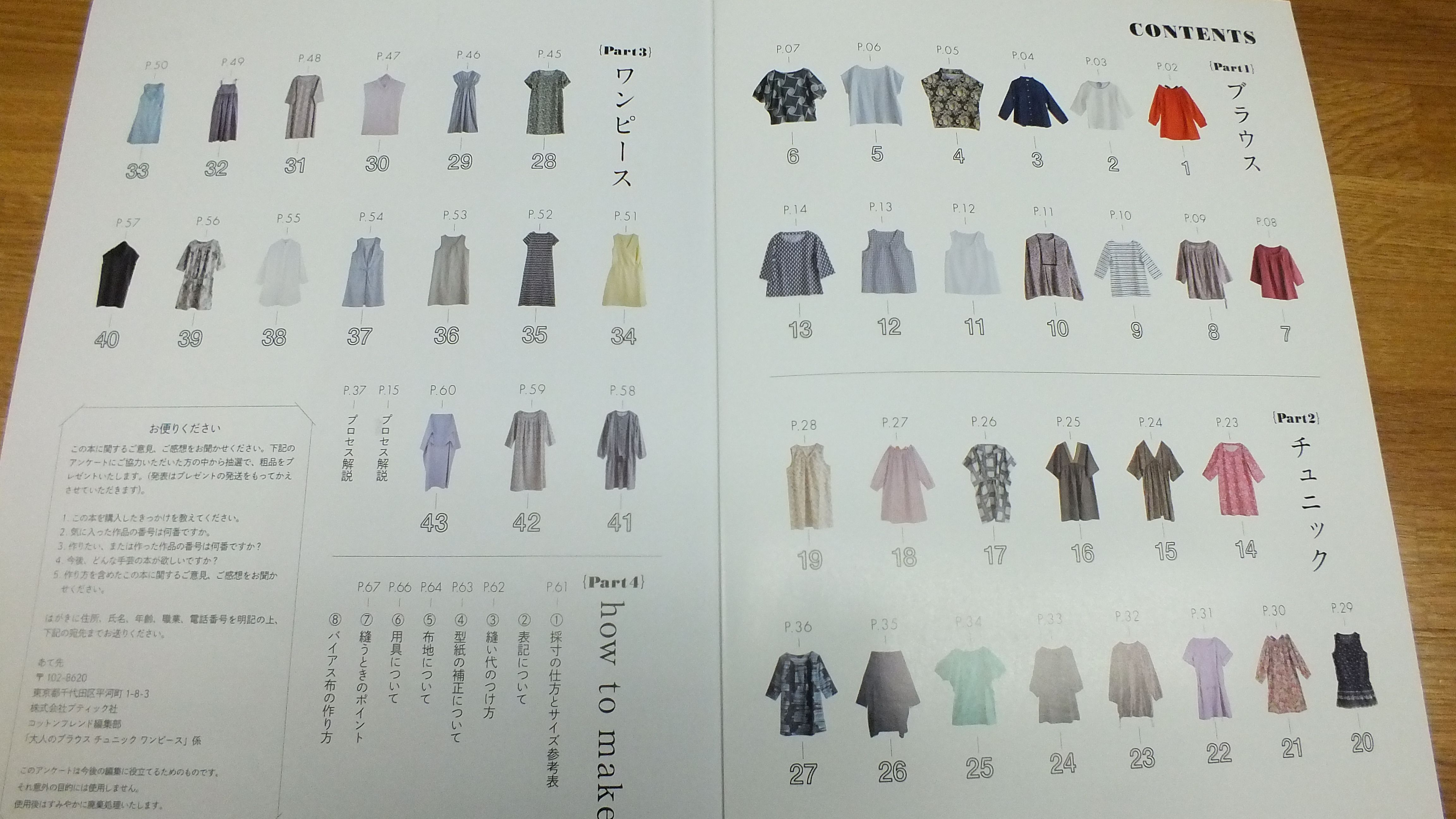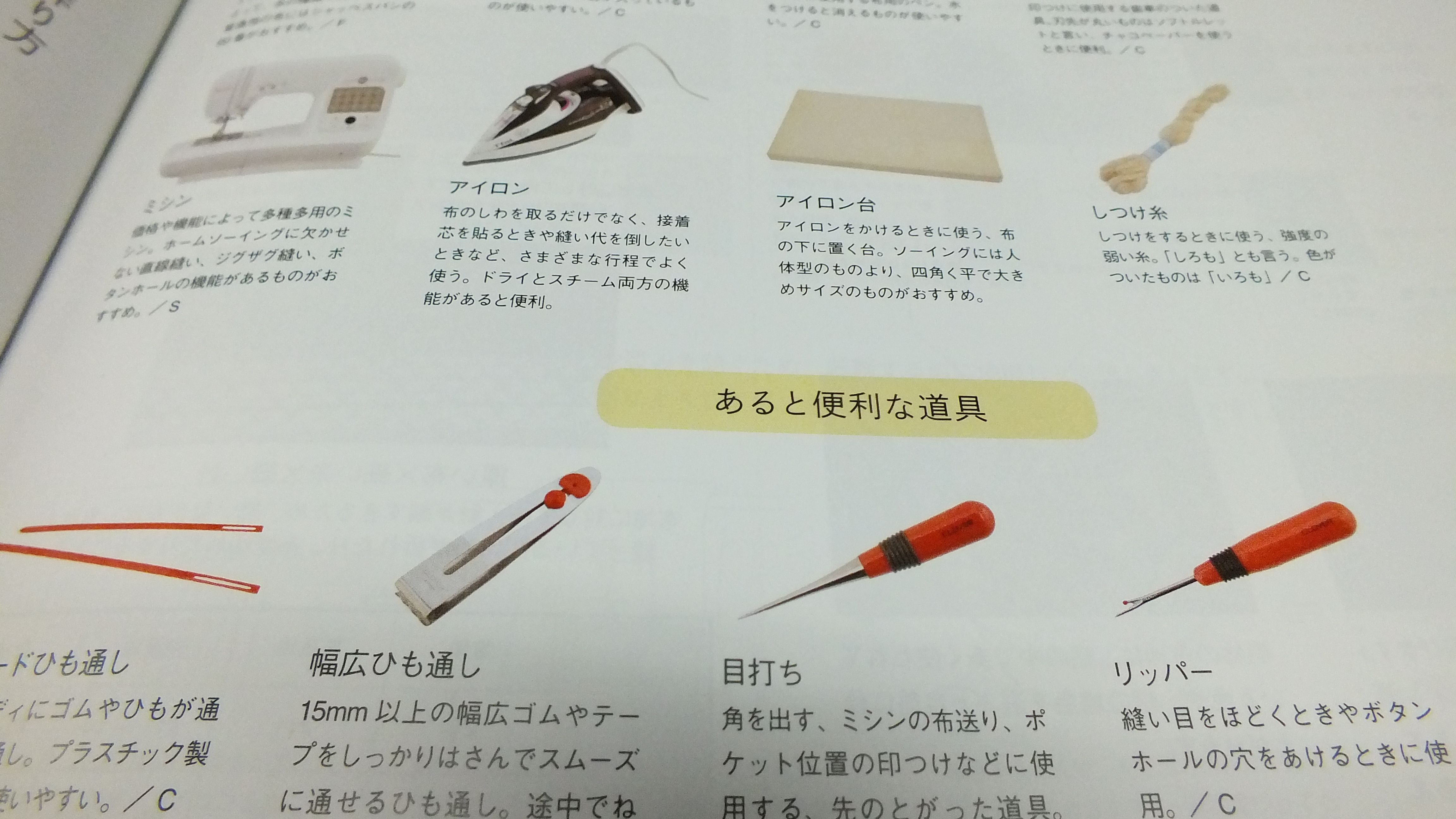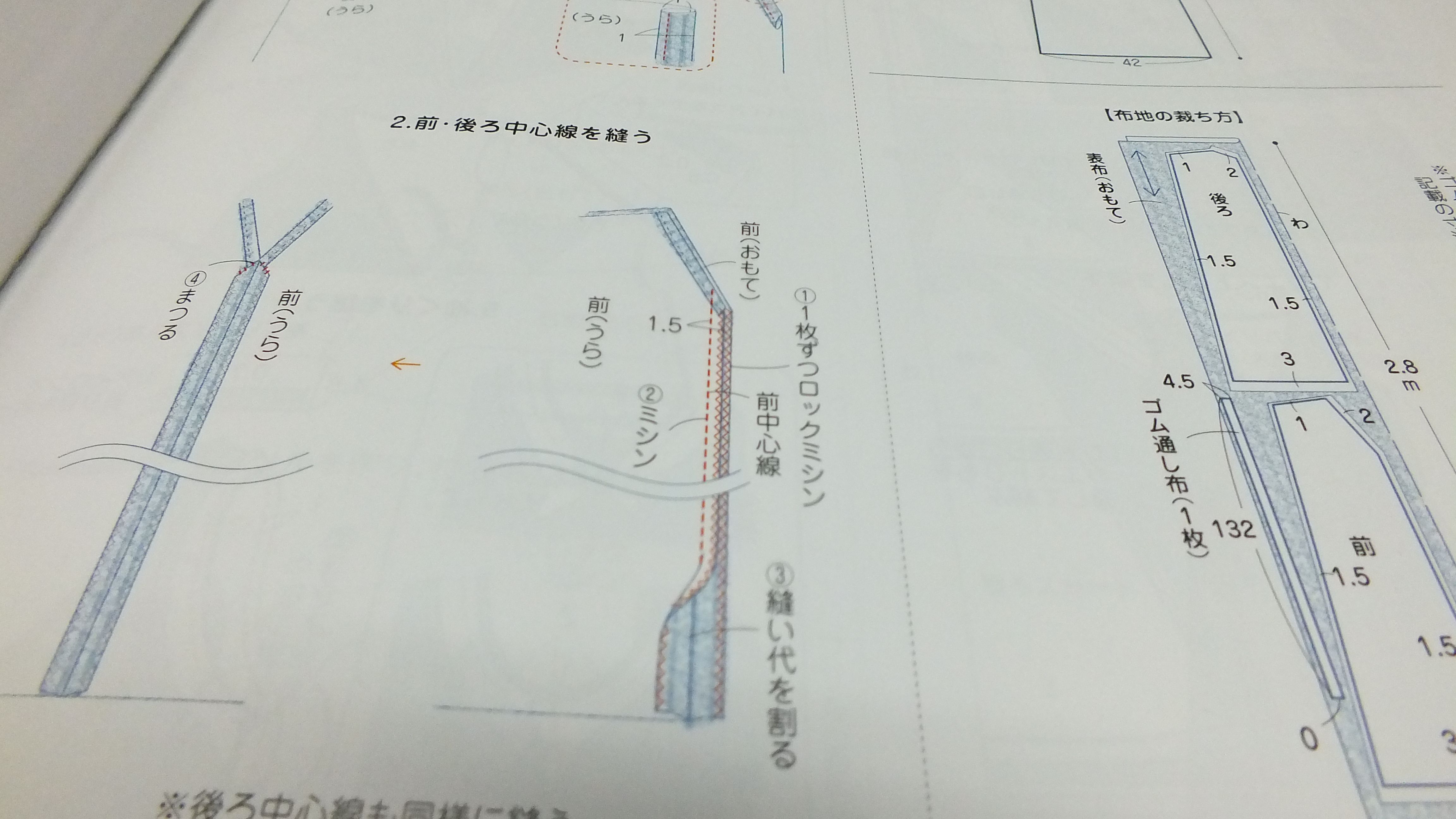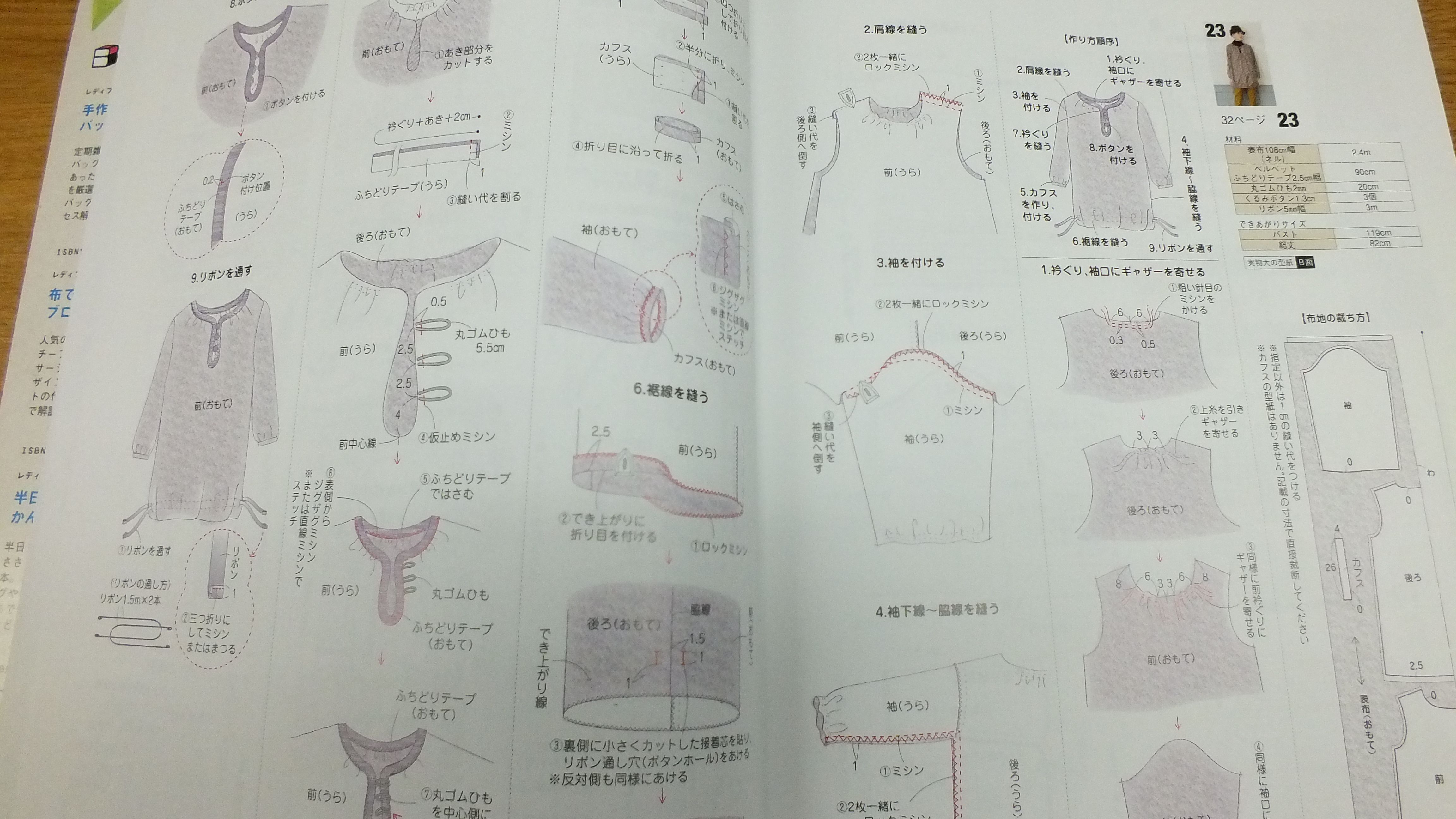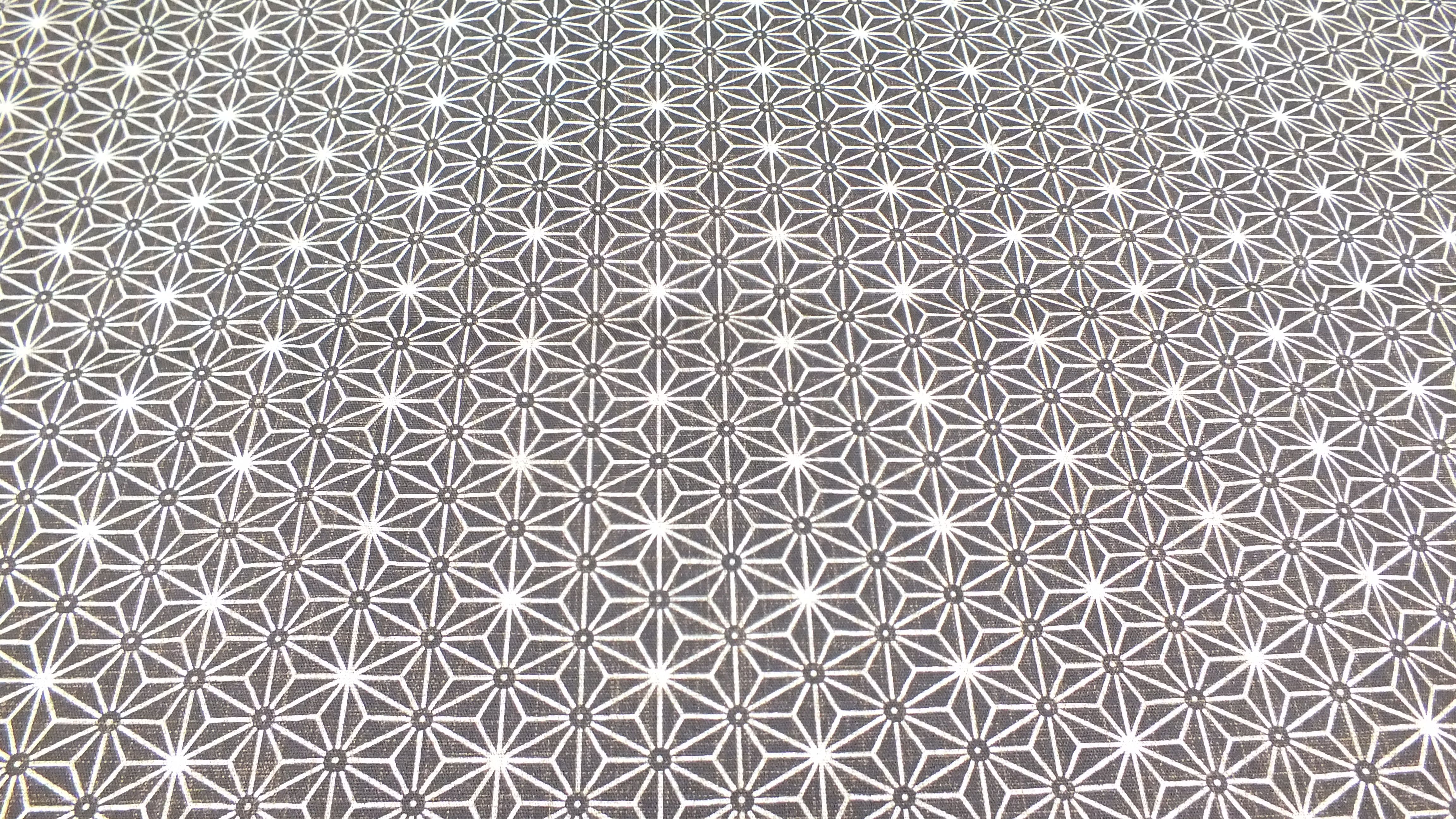 My Francoise dress
Sunday, April 12th, 2015
I'm really pleased with my new Francoise dress from a Tilly and the Buttons pattern. It's a retro design which looks great in this 60s-look cotton fabric. I love this sort of dress – not clingy (which I'm not too keen on) but it certainly flatters the figure, helping to achieve an hour glass look. It's quite short, so check before you cut that you're happy with the length – it really isn't difficult to make it longer if that suits you better.
I went for the sleeveless version which makes it feel more summery, although I'll need to be brave to wear it without tights/leggings – my legs are not in quite as good shape as they used to be!
So this was an easy make – nothing particularly tricky at all. I have been asked about the sizing a few times though. Tilly steers clear of the usual 12, 14, 16 etc. instead opting to list her sizes 1 – 8. She is very clear about how to choose which size to make, giving body measurements and finished garment measurements for each size. I measured myself and decided I was a five (I'm currently a little bigger than usual – too many visits to the coffee and cake shop) and the fit was perfect. If you're between sizes go for the larger one. If in doubt, make the dress up in cheap fabric or muslin first (a test version commonly known as a toile) and then decide if it's right or not and change and adjust accordingly.
There are bust darts which are simple enough, but on this dress you have waist darts too. I highly recommend tailor tacking or drawing these in with an erasable pen before you sew. They are quite long and shaped too and it would be easy to have a wobble if you are trying to 'freestyle.' Done properly these add lovely shaping to the dress and it would be a shame to spoil this for just a little more effort. I'm only saying this as I don't always draw my dart lines in (I shouldn't be admitting to this) but on the waist darts here I knew it would be crucial to the fitting and style. The armholes are finished with bias binding and the neckline has facings. There is a pattern piece included so you can make the bias out of the same material, but I opted for ready-made bias as, on this dress it's used as a facing so isn't really seen anyway – but either option is good. The neckline facings are easy to sew and are applied after the zip is inserted. The zip is an invisible, long zip but I also think you could add a fancy zip (lace maybe) on the outside as a feature and that would look great. It's a simple dress so any embellishments like this would work. Even a row of ric-rac around the bottom or a bit of bling would be fine.
There is an optional tab at the front of this dress which I decided to add. This is in two pieces – one you add interfacing to. Then you sew around the edge, right sides together before turning right sides out through a little opening before top stitching it shut. I would highly recommend you draw in the sewing line if you make the tab as it's quite difficult to get all four corners equal (they are rounded) doing it freestyle – mine are definitely wobbly. You attach the tab to the dress using two buttons. I found though that the tab gaped away from the dress a little, so next time I'd use maybe three buttons or put a catch stich at the top and bottom of the tab to hold it firm.
I did want to put the optional collar on the dress and cut out and made one with no bother. However when I came to fit it, the two pieces of the collar didn't meet in the middle as they are supposed to – in fact they were about three inches apart which is no good at all. So if you're adding the collar, measure carefully before cutting. Even though it didn't fit, I could see that the collar would be a nice touch, so don't be put off making one.
All in all a lovely dress and a stress-free sew which could be easily started and finished in one day. Or even an afternoon if you don't get too distracted  like I always manage to!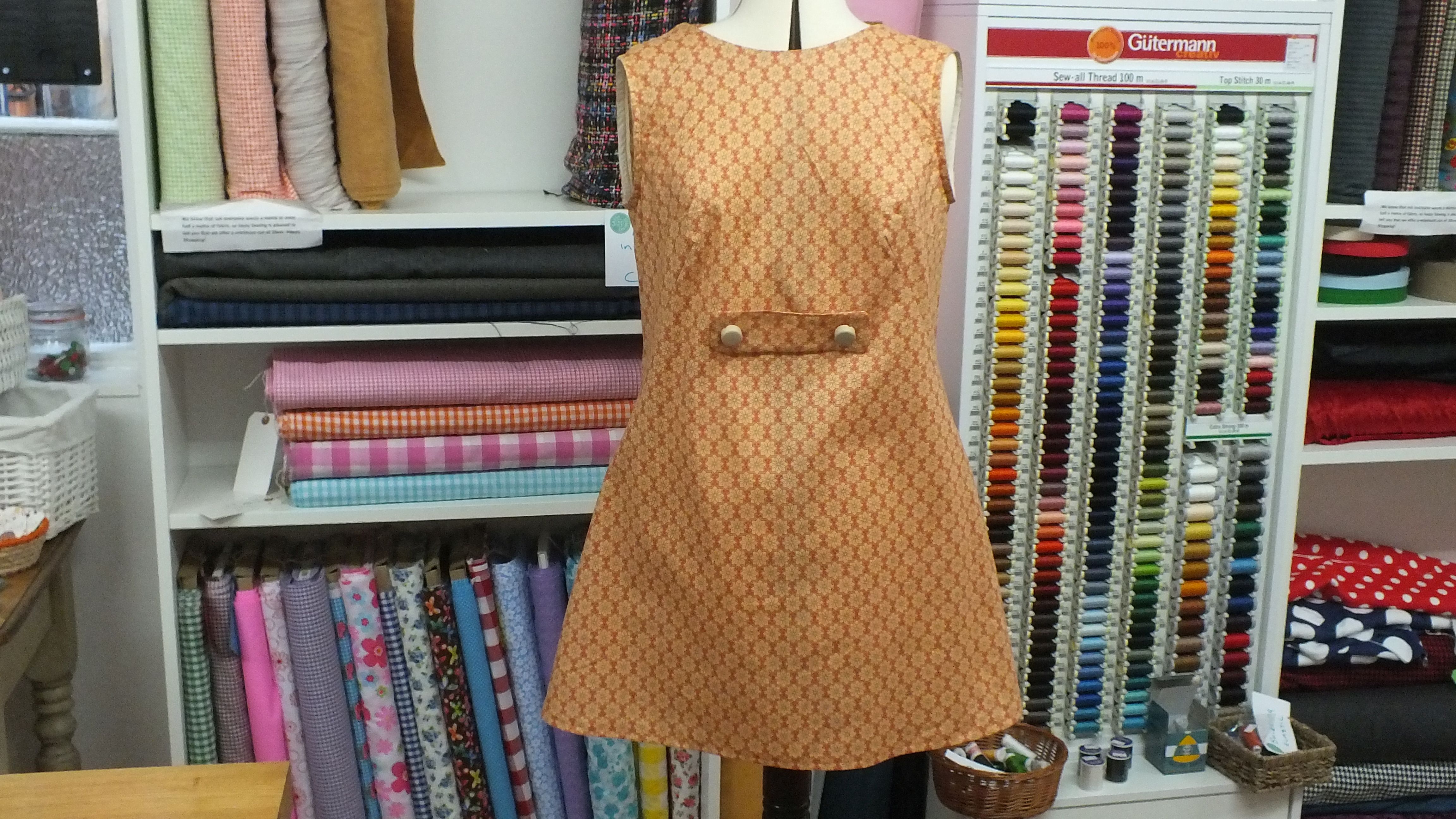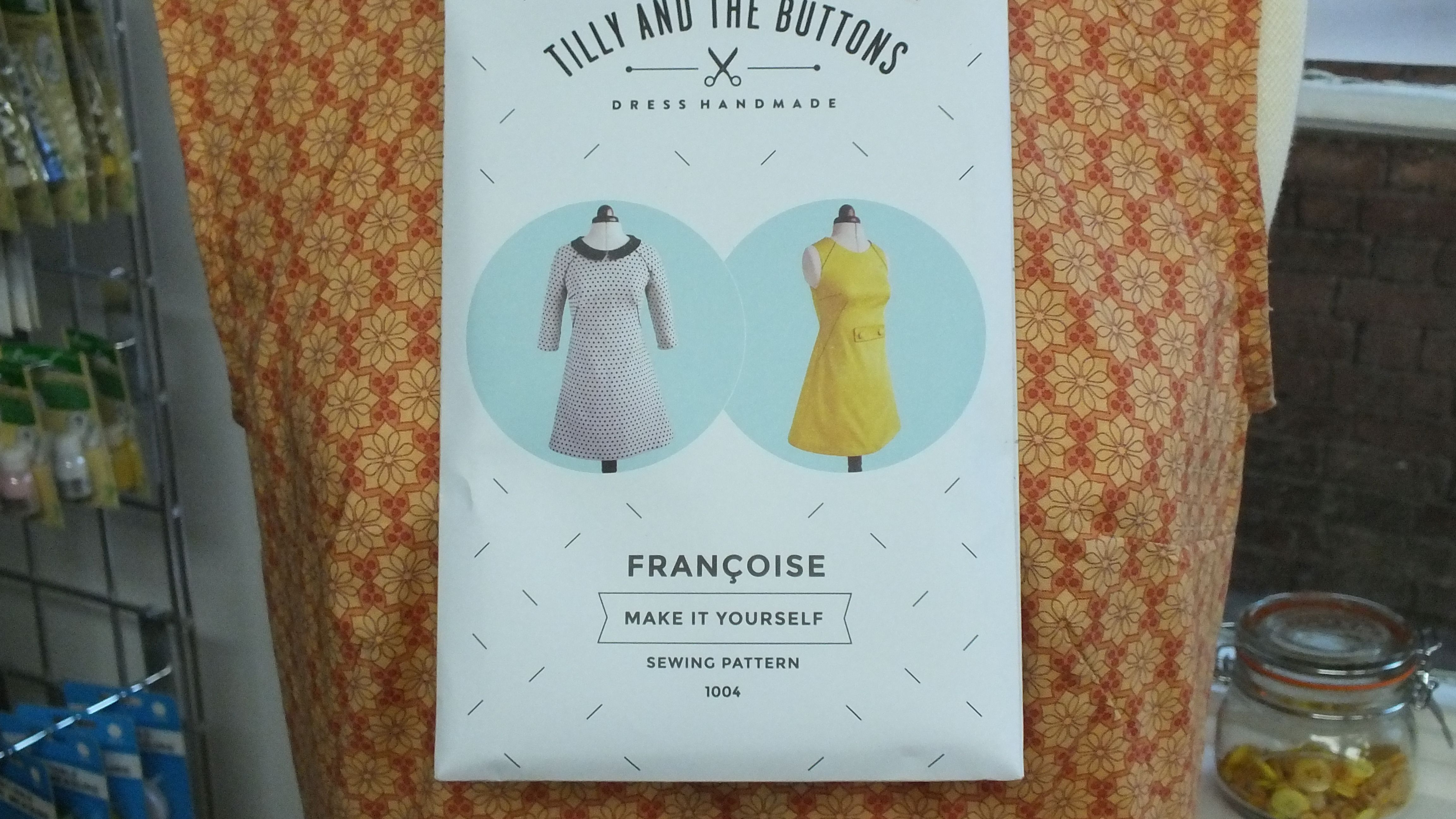 Miles!
Friday, April 3rd, 2015
The picture below shows 2% of our fabric and 52% of our Hob Nob stock! We know this because we finally finished the Sassy six month stock take. The numbers are eye-watering – hard to see how we get it all into one shop. There's more than a mile and a half of fabric, 22.7 miles of wool, 65.6 miles of thread, 3.5 miles of ribbon and binding, 1366 needles and 811 pins. Plus, 280 other items of haberdashery, more than 600 patterns and nine-and-a-half chocolate Hob-Nobs. And that's without all the new stock that's been arriving daily for the last couple of weeks.
Mr Sassy calculated that we could wrap our town at least twice in fabric and run thread around the London marathon course twice and still have enough to get to Brighton too. And that we have enough wool to get from here to the seaside. Who knows what he's got planned for all the pins and needles. I think he needs something more useful to do and perhaps at least one more Hob-Nob. Where did I leave the paintbrushes?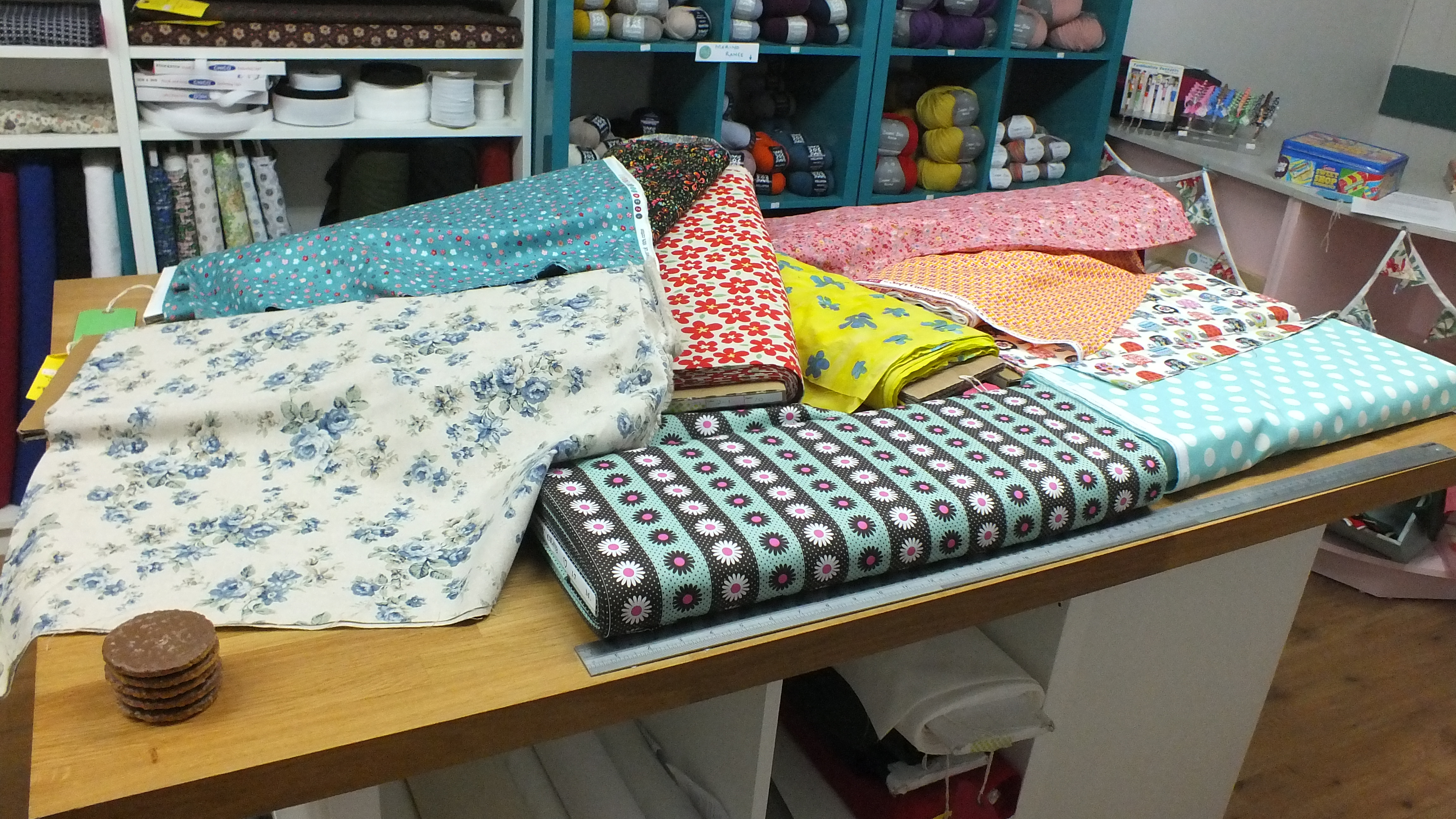 ---