Choosing wool fabric and pre-shrinking
Tuesday, January 19th, 2016
Well true winter has finally arrived and it feels, well positively cold outside and this can mean only one thing. It's time to get the wool fabrics out to make those winter essentials we all need. A lined winter skirt in my case. Although I do fancy a winter cape as well. One thing at a time Julie, one thing at a time!
Wool is one of my favourite fabrics – it's natural, breathable, easy to work with and doesn't crease (result). There are a number of different wool fabrics on offer in most sewing shops and it can sometimes be a bit confusing to match the right one to your intended project. So to help, here are five of the most popular and what they are most commonly used for.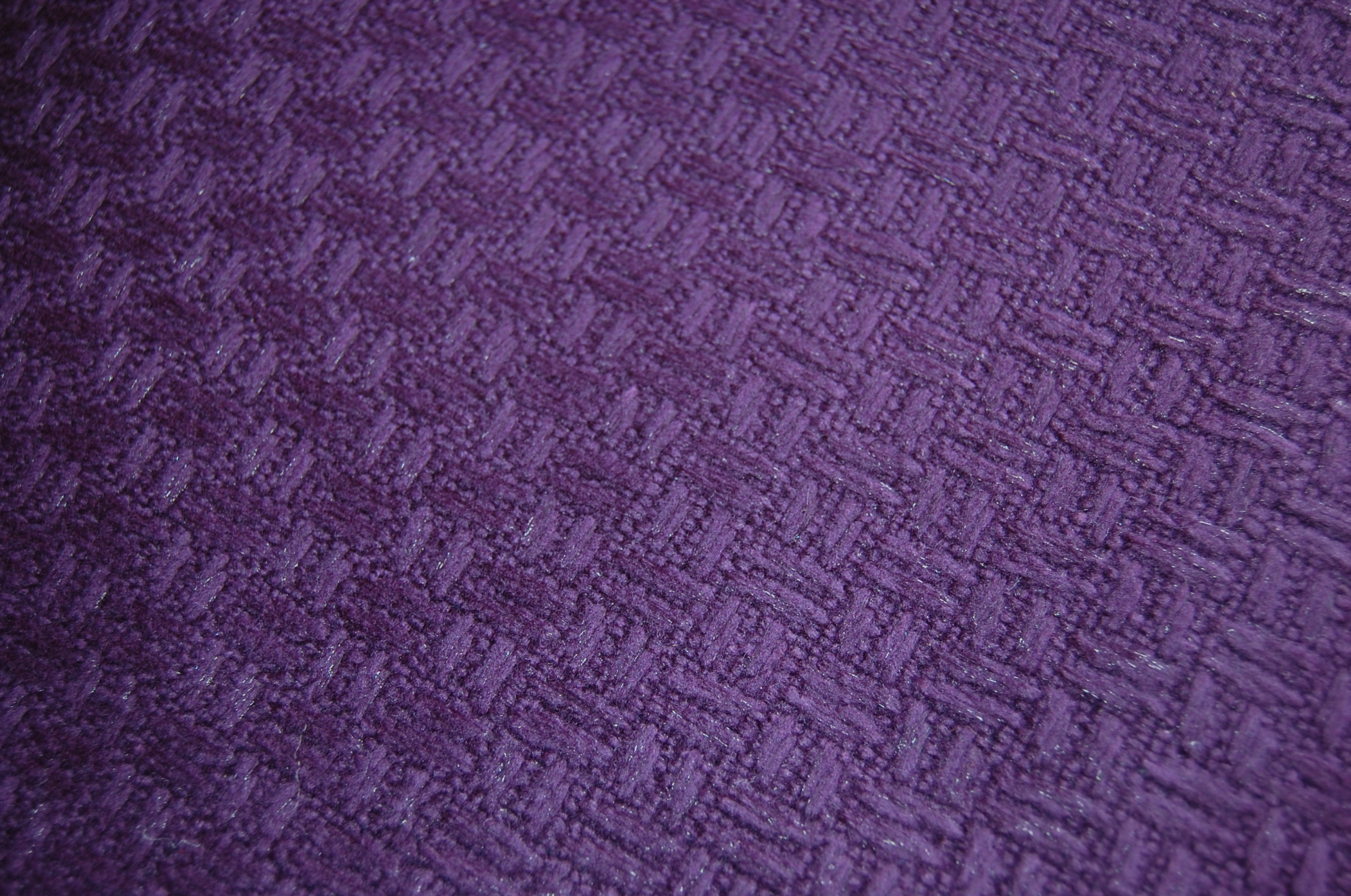 Wool coating:
This is a heavy weight fabric, which creates lots of structure so choose your project accordingly – if you're after making a drapey skirt, this won't do at all. It can be difficult to press the seams open as coating doesn't respond to pressing too well, so bear this in mind. You may want to work with a smaller seam allowance to help with this.
Wool challis:
This is a lightweight wool which drapes nicely but frays easily. When you sew with challis it can help to think of it as a sheer fabric, using the same techniques as you would for those lovely chiffons and georgettes.
Wool flannel
Flannel is a durable fabric and is mostly used to make suits although it's also a good fabric for soft jackets and skirts. It's not itchy like some wools can be, so it isn't always necessary to line it.
Wool boucle
This is a textured, mostly heavyweight fabric, which is good for lots of projects and particularly winter coats. It can unravel quite a bit when sewing so take care and try not to get frustrated with it – the result will be worth it. When using boucle its's usual to use a lining too.
Wool crepe
This is a great wool to work with and it has lots of texture and drape. It's ideal for lightweight projects and is easy to handle.
Pre-shrinking your wool
Most wool fabrics will shrink when washed (if washable) or cleaned so it's advisable (well vital to be honest) to pre-shrink it, for which there is a simple technique. And that's steaming and it's something you can easily do at home – it just takes a bit of time and patience.
Use a table or an ironing board, preferably with a cotton cloth or ironing board cover as this takes up the steam pretty well.
Open out your wool to single layer and lay on the flat surface. Take a steam iron and set it to wool, which is usually the last setting before you lose the steam. Using a sprayer, spray the area of wool on the board with water. Now it's time to dry it. Some people hover the iron just an inch or so above the wool and move it backwards and forwards across the piece but I actually prefer to put the iron on the fabric and dry it directly. Be gentle though, you don't need to press, particularly on textured wool – you're just gliding the iron from one side to the other. On some wools you'll actually see the shrinkage happen, but you may not, so just keep going anyway. Wait until the patch of fabric is dry before you move it as pulling it across the board to start on the next part could stretch it out of shape if it isn't dry. I told you you'd need some patience! But it's worth it as good quality wool fabric can be expensive and it would be a real shame to ruin your newly constructed garment when it shrinks on the first clean. After steaming I usually leave the fabric for a day or so before using just to make sure it's fully dry.
My biggest piece of advice is not to let the pre-shrinking routine put you off sewing with wool. It really is a fabulous fabric to work with and it's worth just that little bit of effort to get the fantastic results available to you.
Enjoy.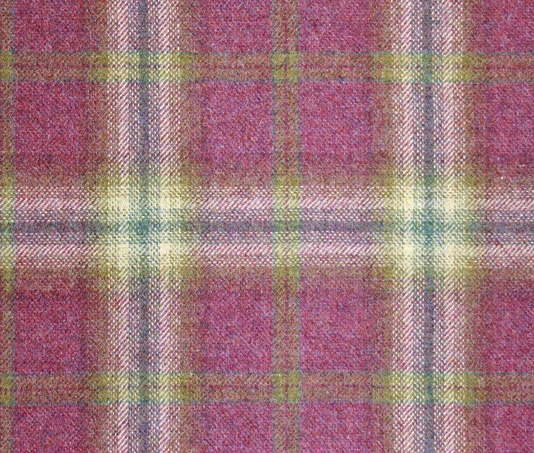 Buy a skirt. Noooo – make one instead!
Sunday, January 10th, 2016
I saw this lovely, eye catching skirt on a London boutique's website and fell in love instantly. I liked the simple look of the skirt, the way the plain yellow colour really popped and most of all the unusual shape. I had to have it! Problem is, so did everyone else and my size was just never in stock.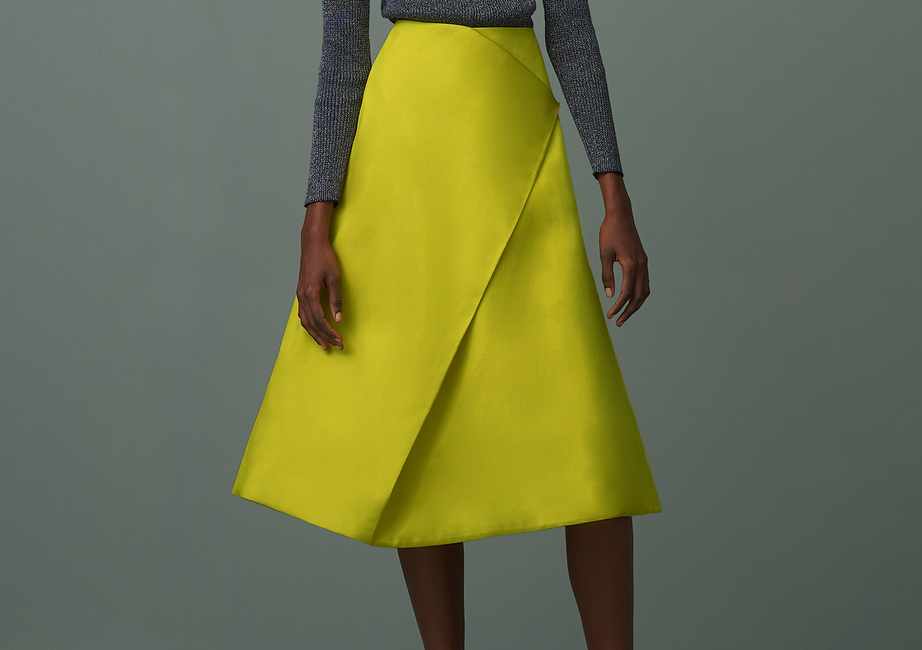 What followed was a few months of disappointed website watching then it came to me – there was only one thing for it, I was just going to have to make my very own version. I love pattern drafting my own clothes although I must admit sometimes I have no idea where to start! But that's the beauty of this skill. It's all about having a vision, playing with shapes and doing a spot of engineering to pull the perfect garment out of the bag. It's so liberating to design something from scratch, just exactly as you want it to be. And because you're not constrained by a commercial pattern, you can change your mind half way through the design and end up with something you really weren't expecting to get. Which is very exciting.
This skirt started with my normal skirt block, which I traced around on to spot and cross paper. The paper was then slashed and flared out to ensure the skirt would be wide enough to allow for the folds. It made for a very unusual pattern. Yes this picture is the right way up!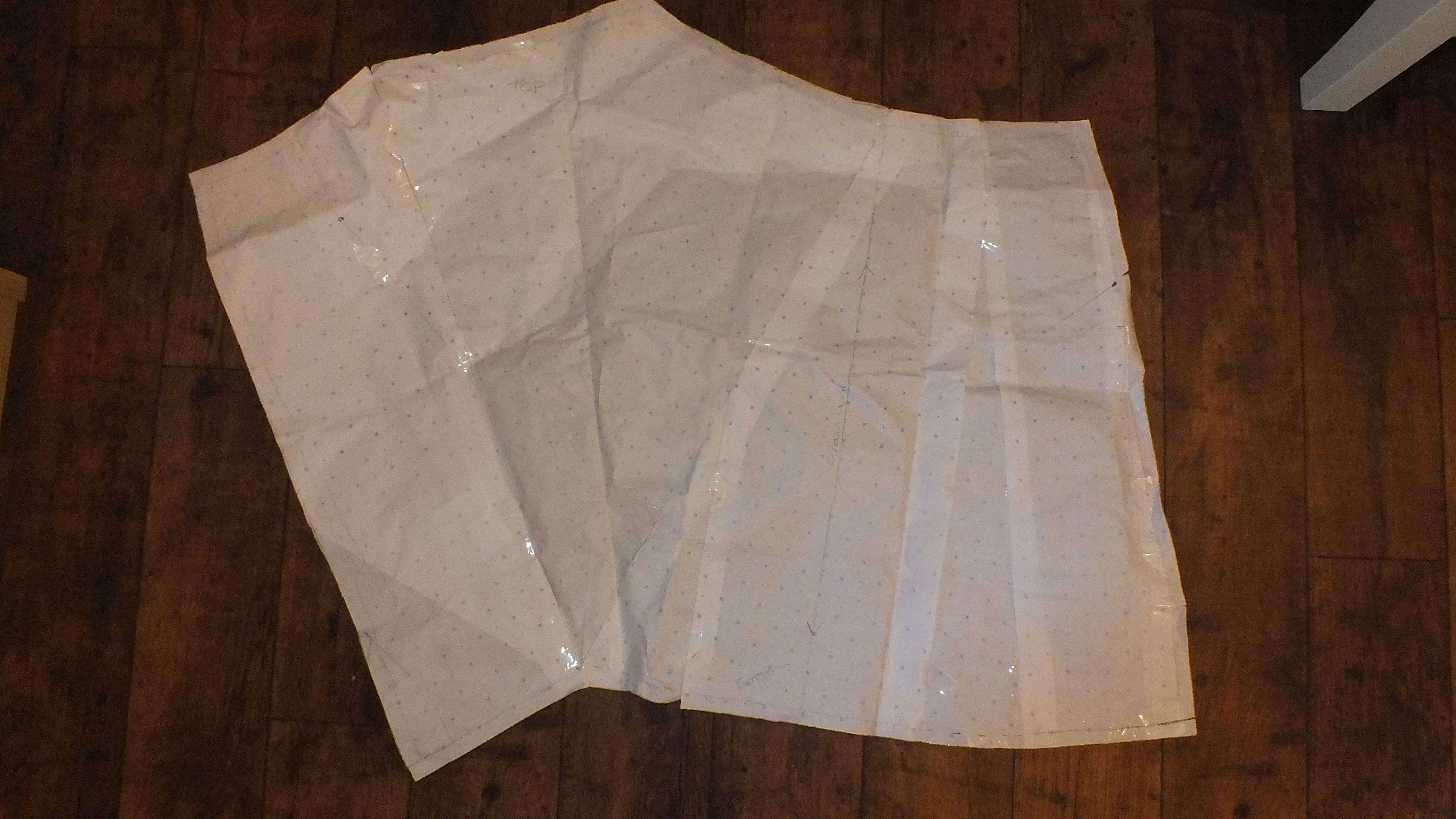 I choose a plain purple medium weight cotton for the job and used the same fabric in a light green to line it. Now some would say these are two quite unusual colours to put together. But I was pleased with the result and if I get bored of the purple, it wouldn't take much to reverse it so the green is on the outside.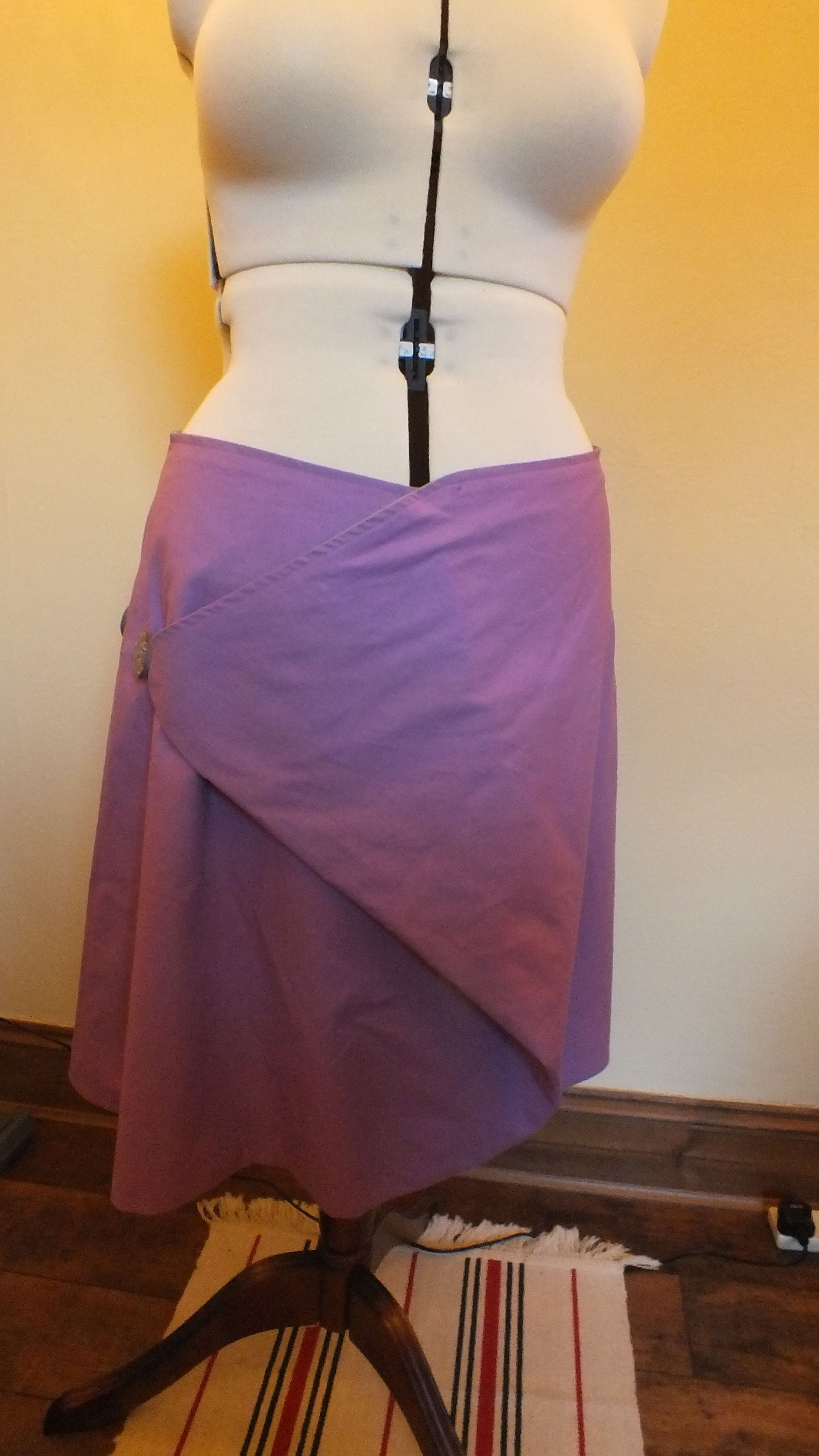 This really was not a hard skirt to make – took about four hours including making the pattern, which of course I can now use again. It made me glad that I didn't pay the boutique for one when it's such a simple skirt.
Mine doesn't look exactly the same I know, but I'm very pleased with the result and like the added touch of the buttons at the ends of the wraparound pieces. I promise, it does hang gorgeously when it's on – the mannequin doesn't do it justice.
New year, new projects
Sunday, January 3rd, 2016
Ok, so here's what's going to happen in Corrie/Eastenders/Emmerdale this year. The three people who you would never expect to have an affair will all have one with three others who you would. Two of your favourite characters will also finally get together and then fall apart when one of them has a drunken one-night-stand. Two key families will fall out, someone will battle against a horrific illness, there will be at least three implausible pantomime-type villains threatening to cause mayhem unless £20k is forthcoming (it's always £20k) and, one of the previous villains who you thought you'd seen the last of will return to cause more of the same.
Right, now that's done we can all agree that soaps are like a time-Hoover that only serve to make us think life is more miserable than it actually is and take away valuable sewing time. So this year, I'm swapping badly-scripted Meerkat-sponsored misery for sewing-related inspiration. The plan is to use the time formerly spent on the sofa in front of my machine with some uplifting soul music blasting through the speakers instead.
Apologies for a lack of blogging over the last few months. Having a few ancient injuries put to rights gave me some alternate priorities, but now, I'm back with a soul-powered whimper, if not quite a bang.
Simple, skinny jeans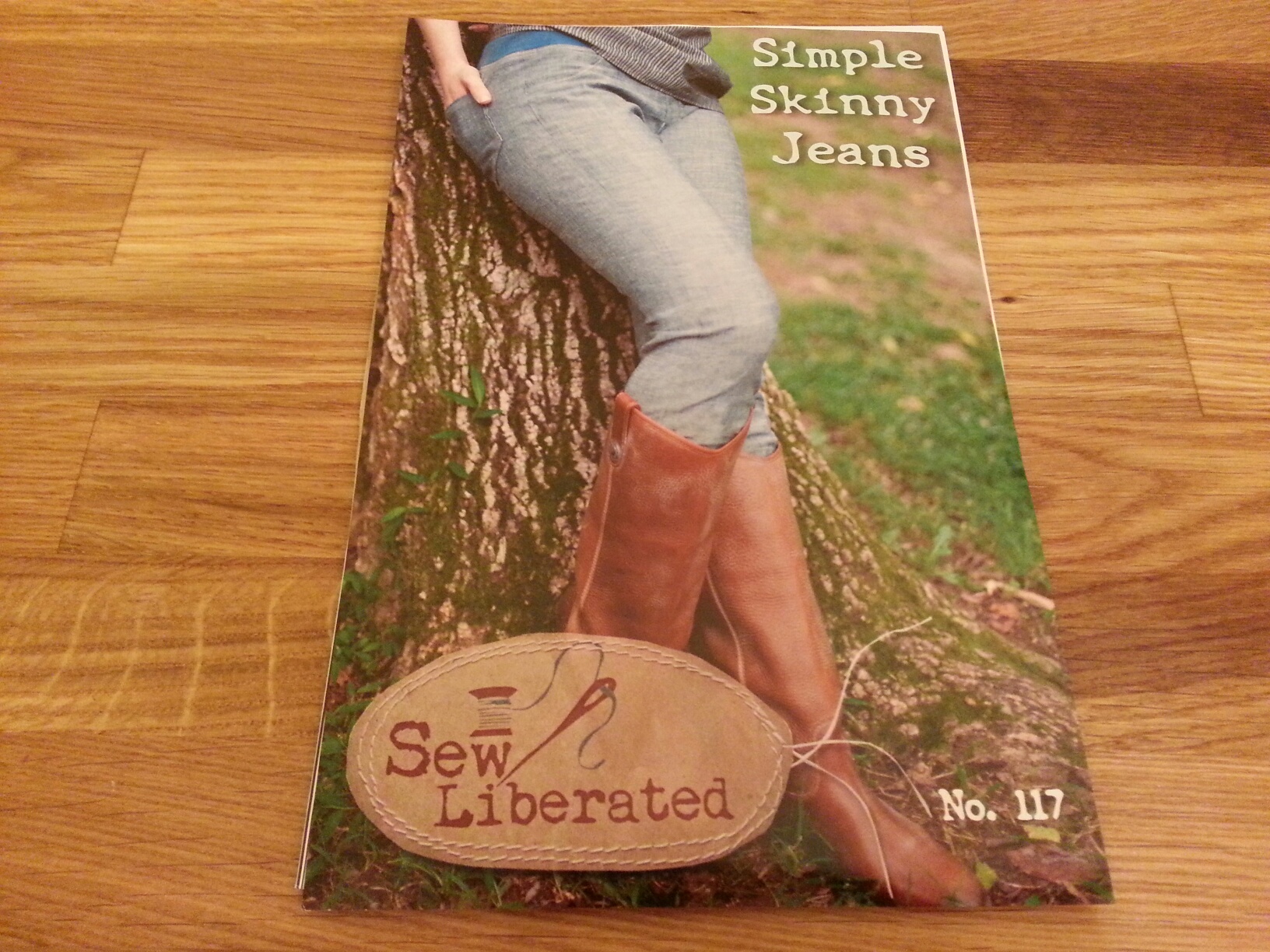 Is it just me who's fallen out of love with shop bought jeans or is it that the shops have dropped the denim ball in the last few years? I'm not sure why but I can't remember the last time I even looked at a pair in a shop, never mind actually bought some.
Truth is it's probably because they never quite seem to fit like I'd hope them to considering the price.
So, I'm going to try something different – making my own using a lovely pattern from Sew Liberated. They look adorable and the pattern is particularly simple to put together. I'm hoping this could be the start of something.
Do-anything dress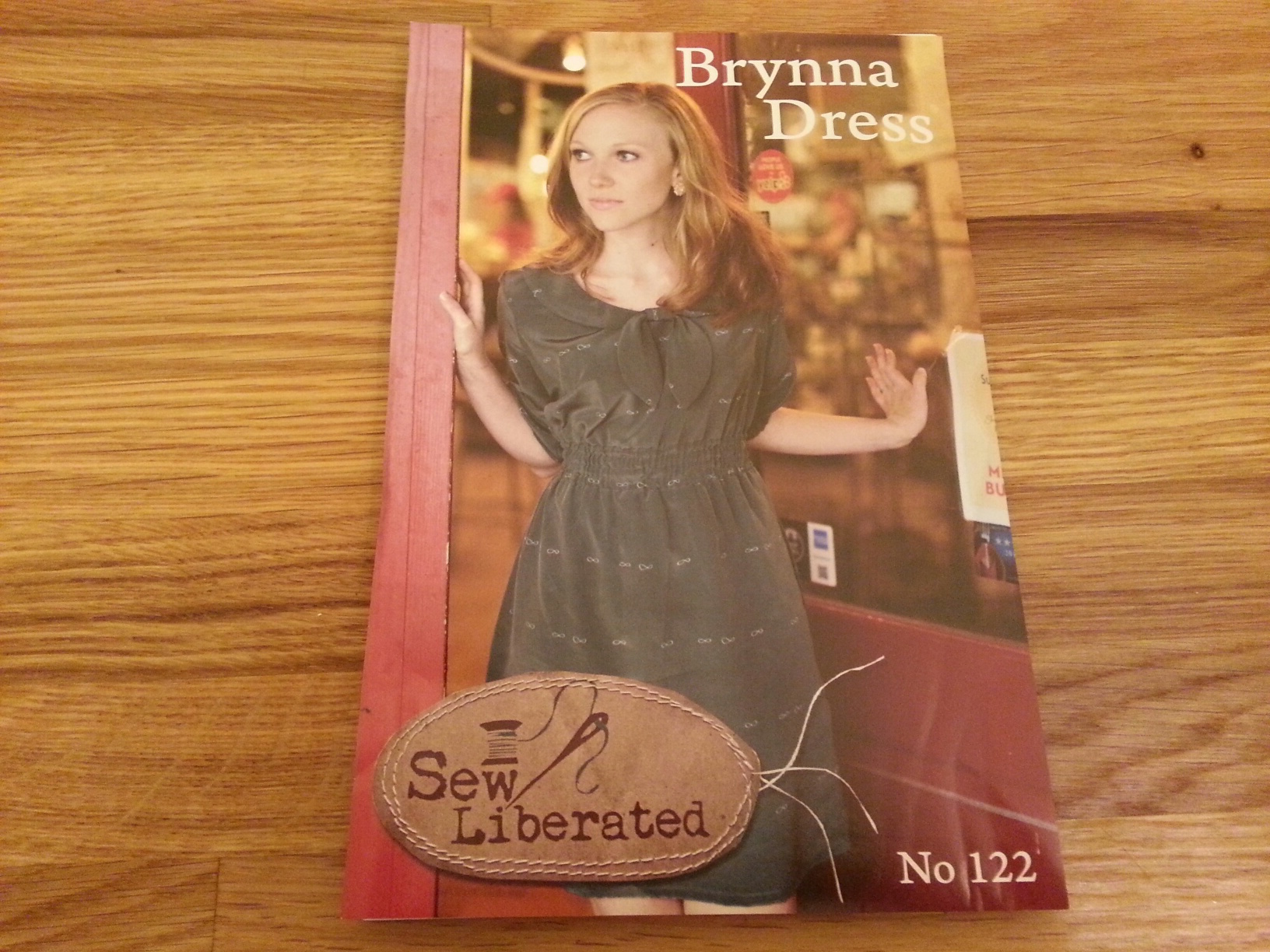 You know that feeling when you've been in a job for just long enough that everyone is, er, used to your eccentricities? Finally, that time when you can stop wearing the anonymous stuff that no one notices and allow yourself to start turning up in the stuff that really says 'Coo-ee, this is me'.
I'm just about there right now with my full time job and I'm hoping that this little number, the Brynna dress – also from Sew Liberated, made in the right fabric will be the stepping stone between the two worlds. Sort-of still conservative enough to not raise too many eyebrows, but with the potential to make an impact too (especially with the right combo of spangly tights and 'look-at-my' shoes).
All I need to do now is choose the right fabric to make it work. I'm going to start off with something subtle and simple – not too much pattern matching – until I've made it once and  got the fit sorted. And then, it'll be time for the fireworks.
These Sew Liberated patterns have great instructions with them and even more fabulous is the online tutorials that accompany them. You get a code with each pattern which allows you access for as long as you need it. I'll let you know how I get on.
---