The challenge hots up
Monday, May 11th, 2015
The 2015 challenge continues and my partner in crime Judi, fresh from moving back to the UK from Turkey has been getting busy with her new sewing machine. Regular readers will remember that for 2015 we are not buying any new clothes, instead we have to make them all. We are now five months in and both are a little behind but enjoying it all the same. I definitely need to sew faster before I run out of new things to wear (Mr Sassy would choke on his coffee if he heard me saying this as if course he thinks I've got more than enough clothes. When do us women ever have enough clothes!)
Here is Judi's latest offering. It's a lovely little 'Jackie O' jacket made from a pattern featured in Love Sewing magazine – it was an easy and quick make with nothing to catch you out.
She chose a black boiled wool fabric that's as soft as butter and doesn't need lining. A black gingham stretch ribbon around the front edges and neckline finishes the jacket off beautifully and adds a bit of interest to a gorgeous but plain fabric. She tells me the possibilities for embellishments on this jacket are endless and she's looking forward to making another, much blingier version. Now where did I put those sunglasses!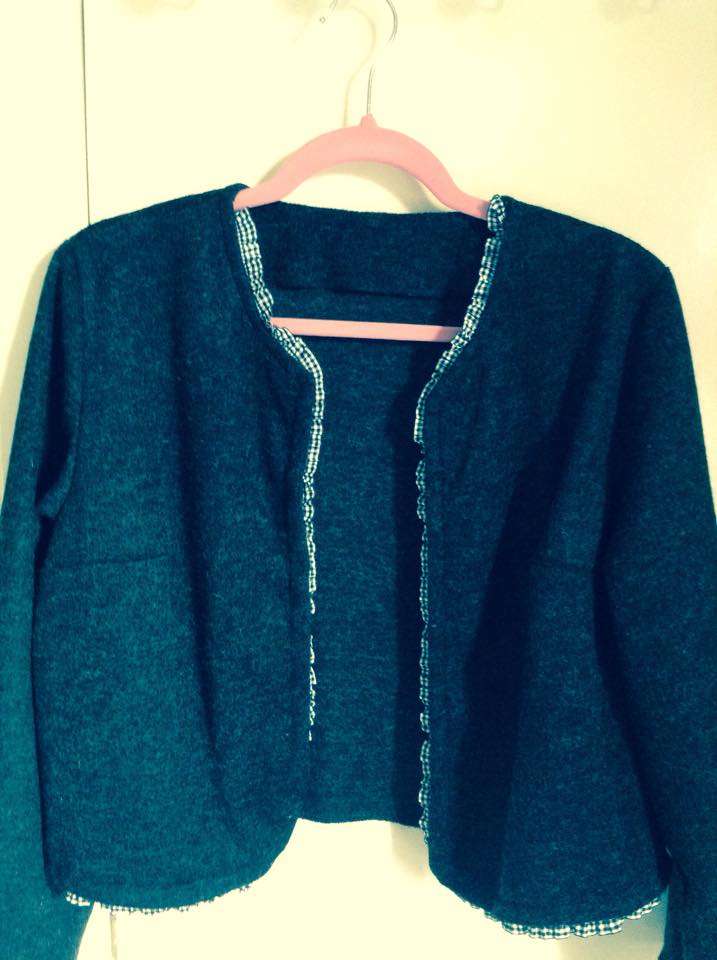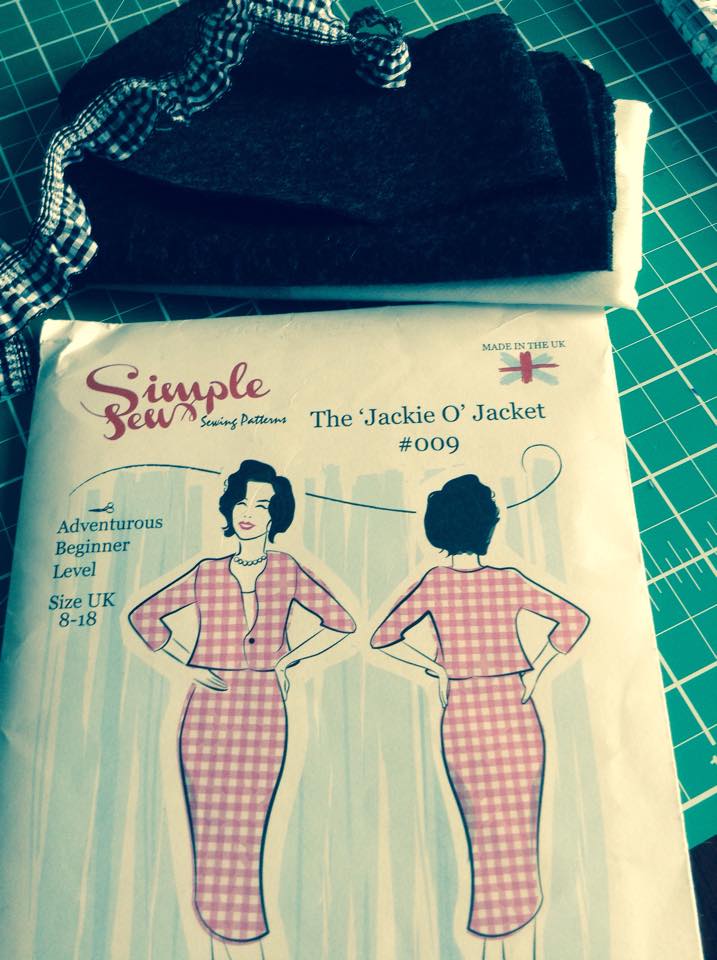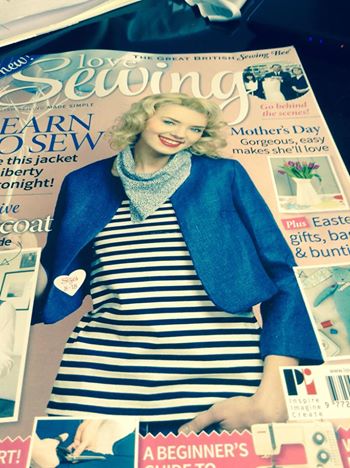 The 2015 challenge becomes reality
Tuesday, January 13th, 2015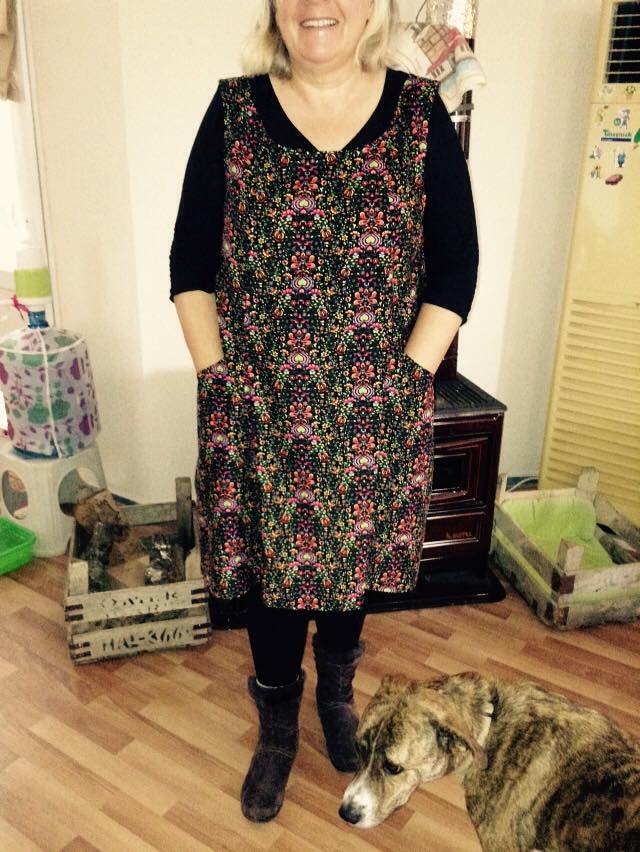 My friend Judi is out of the blocks with our 2015 challenge – to make all our own clothes for 2015 and not buy anything. She's made this lovely pinafore dress – the pattern is from Kwik Sew and is number K3955. She used a gorgeous soft, needlecord fabric with autumnal design and this is what she had to say about it.
"The fabric was lovely to work with and very forgiving. It's an easy sew, so great for beginners and can be completed in an afternoon if you put your mind to it – although I did make the mistake of putting the facings on the wrong way up which held me up a little! It's got enormous pockets which are fab and really aren't difficult to do (me and pockets have got history!) and I think the whole thing looks great with thick tights and stockings. It does require quite a bit of understitching and topstitching of seams but as most are straight, this wasn't an issue. I would definitely make this again – I think it's going to become quite a wardrobe staple."
As for me – I've finished a Vogue wraparound skirt (well I will have when I've sewn on the fastenings) and I'm halfway through a Tilly and the Buttons Mathilda blouse. I'll be blogging about them later in the week once they're ready for modelling – check back to take a peek at how they turn out.
Sassy's New Year Challenge!
Sunday, December 28th, 2014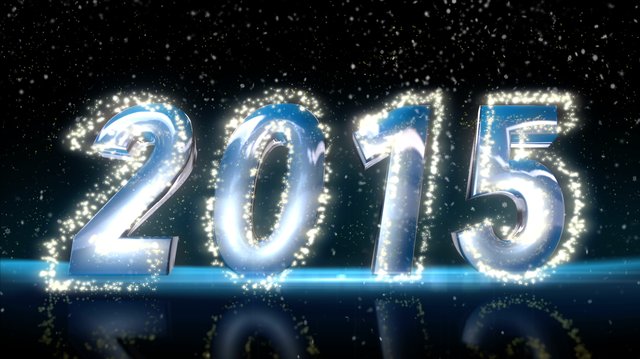 New year, new challenge. Or should that be…daft challenge. Cooked up by my lovely friend Judi, we've decided that for 2015 we are both going to ditch shopping and make all our own clothes instead. Yes I did just say 'ditch shopping.' What are we thinking?
So this is the deal. We've both decided on a few things we won't be able to make ourselves (bras and socks for Judi and work suits for me) but everything else we wear in 2015 has to be made by our own fair hands. I've already enrolled on an underwear making workshop in a bit of a panic! Knitting is also OK as is up-cycling old or second hand clothes.
I do make a lot of my own stuff, but nothing on this scale. Twelve months of boundary pushing should be a great way to progress – just think how much better dressmakers we'll be by the end of it (hopefully!) Alternately we'll just spend all year wearing the same eight old garments!
Judi has a challenge within a challenge here. Currently living in Turkey means access to dressmaking fabric is limited so she's facing the joy of creating most of her clothes with knits, which is mostly all that is available where she is. Although of course I will send her fabrics from the shop if she needs me to.
So we've got just under a week to be ready. I'm cutting out a dress today which I hope to work on over the rest of the Christmas period – thought I'd get a head start. I'm making the new Tilly and the Buttons dress – a pattern called Francoise. It's a sixties inspired mini dress and I'm doing the sleeveless version – might need a vest underneath it for the next few months!
I'll be blogging every week about the challenge, so please pop back – we'll need all the encouragement we can get!
---