Relax and unwind at a Sassy Sewing retreat
Saturday, July 2nd, 2016
Sassy Sewing has teamed up with The Elm Tree, a luxury boutique hotel in Hundleby, Lincolnshire to bring you The Sassy Sewing Retreat, A chance to have some 'you' time, enjoy the beautiful Lincolnshire Wolds, eat gorgeous food and of course sew lots – with other like minded folk and a tutor on hand too. Day tickets for the Saturday are also available if you don't want to stay over. The retreats are run from Friday late afternoon until Sunday lunch time. Full details below. For more information or to book day tickets then please contact us on 01507 524566 or email me at sassysewingshop@gmail.com 
To book a place on the full retreat please call Jonathan at the Elm Tree on 01790 753534 or email: enquiries@elmtree.co.uk
First two retreat dates are 12th August – 14th August and 2nd – 4th of September
@ The Elm Tree , Hundleby, Lincolnshire
Working together, The Elm Tree and Sassy Sewing are offering you the chance to sew in luxury on a peaceful weekend retreat! With luxurious rooms to relax in overnight, by day you can work on existing projects or start something new with tutors on hand to assist, guide and develop! Fabric and haberdashery will be available to buy in case you need anything and if you're not bringing your own sewing machine you can use ours – reserve on booking please
INTRODUCTORY OFFER – Priced at £375 per person
To include …..
Friday:
On arrival – High tea served in the breakfast room or on the terrace
Chance to meet the tutors to discuss what you want to achieve over the weekend
Light supper and sew until bedtime!
Saturday
Elm Tree Breakfast
10am – 12.30pm – Sewing with the tutors – sit and relax in the bar area, outside on the terrace, in the breakfast room or in the intimate dining room
12.30pm-1.30pm – Buffet Lunch
1.30pm- 4pm – Continue to sew!
4pm-7.30pm – Chance for you to relax and unwind or just continue to sew!
7.30pm –Three course dinner served in the formal dining room
Sunday
Elm tree Breakfast
10am-12.30pm – More sewing with the tutors to guide you all the way if needed
1pm – Depart after you've enjoyed a light lunch!
Any further questions then please get in touch with Jonathan or Sassy Sewing
Please note only one of our four rooms is a twin – so if coming with a friend you will have to share!n
Call Jonathan on 01790 753534 or email: enquiries@elmtree.co.uk
Day tickets (£40) for non-residents available at Sassy Sewing on: 01507 524566
Visit www.elmtree.co.uk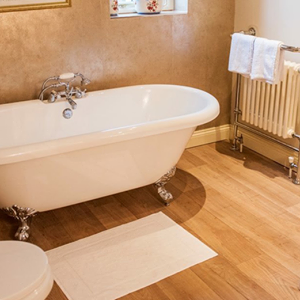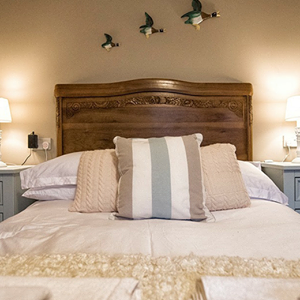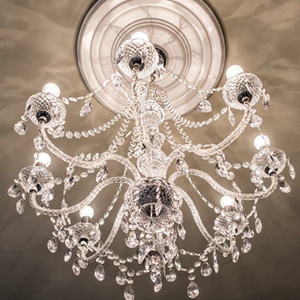 Is wooly wooly warm!
Friday, June 10th, 2016
When is the right time to put away the wool? It's a question we've been asking ourselves for the last few weeks at Sassy Sewing. Logic says now…right now in the middle of an early June heat wave. Surely, no one will be knitting in this?
Except that… just a few weeks ago it was snowing and, we are not sure that simply being wooly means you have to be too warm. Plus, we also had our first request for Xmas fabric last week so who are we to decide what people want. The smartest knits can be truly cool, just ask any man in an expensive Pennine suit or a 1950s Hollywood starlet pointing the way through a slightly-too-tight cashmere sweater.
We made a point when we started Sassy Sewing of agreeing to only stock the smoothest, plushest, coolest yarns, so for now, the wool stays out, but with an extra incentive of some special Sassy discount to make the decision easier.
Unofficially when the temperature gets about 30 degrees, we'll either put the wool away or offer a free ice cream with every ball. How about that?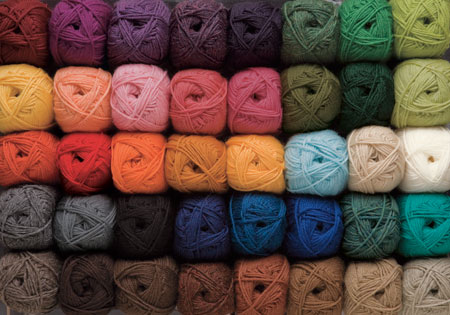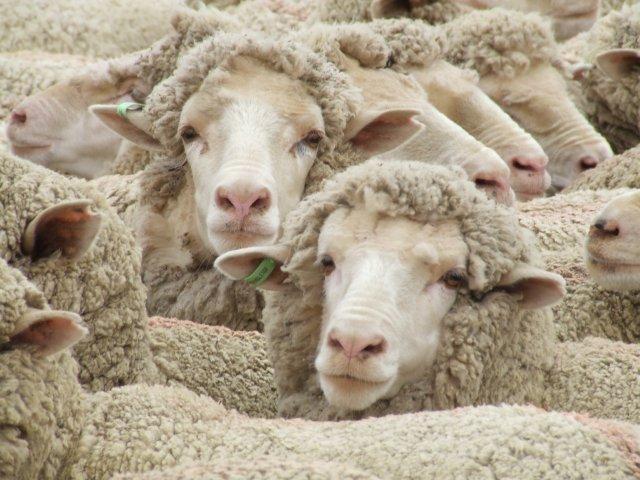 New Sewing Clubs at Sassy Sewing
Sunday, May 22nd, 2016
So here we go! Details of our new Sassy Clubs – we're so excited!
Our two clubs are open to all, no matter what level of experience and will offer the opportunity to sew in a relaxed and friendly place with instructors on hand to help you if you need it. You can come to as many or as few as you wish – you don't have to attend every one.
Club number one, The Sassy Sewing Club is for all those of you who want to sew – dressmaking, quilting, crafting – whatever you're in to. Bring a new project or finish something you've already started. – it's entirely up to you. These will run every two weeks on a Tuesday evening from 6.30pm – 8.30pm. First dates are 24 May, 7 June (TBC), 21 June, 5 July, and 19 July and each session is £10.00.

Club number two, The Sassy Quilting and Patchwork Club is for everyone interested in this fascinating craft. Bring your own project, big or small or we can work on one together from start to finish if you'd prefer. This club will run one Tuesday per month from 6.30pm to 8.30pm. First dates are 28 June and 26 July and each session is £10.00.
You can bring your own sewing machine if you like but it must have a current PAT test – let us know if you need help finding someone to do this for you. Or use one of ours at no extra cost. Numbers are limited and so booking and paying in advance is required to guarantee a place. Please call the shop on 01507 524566 or email me at sassysewingshop@gmail.com for more info or to book. Sassy Sewing is in Horncastle, Lincolnshire.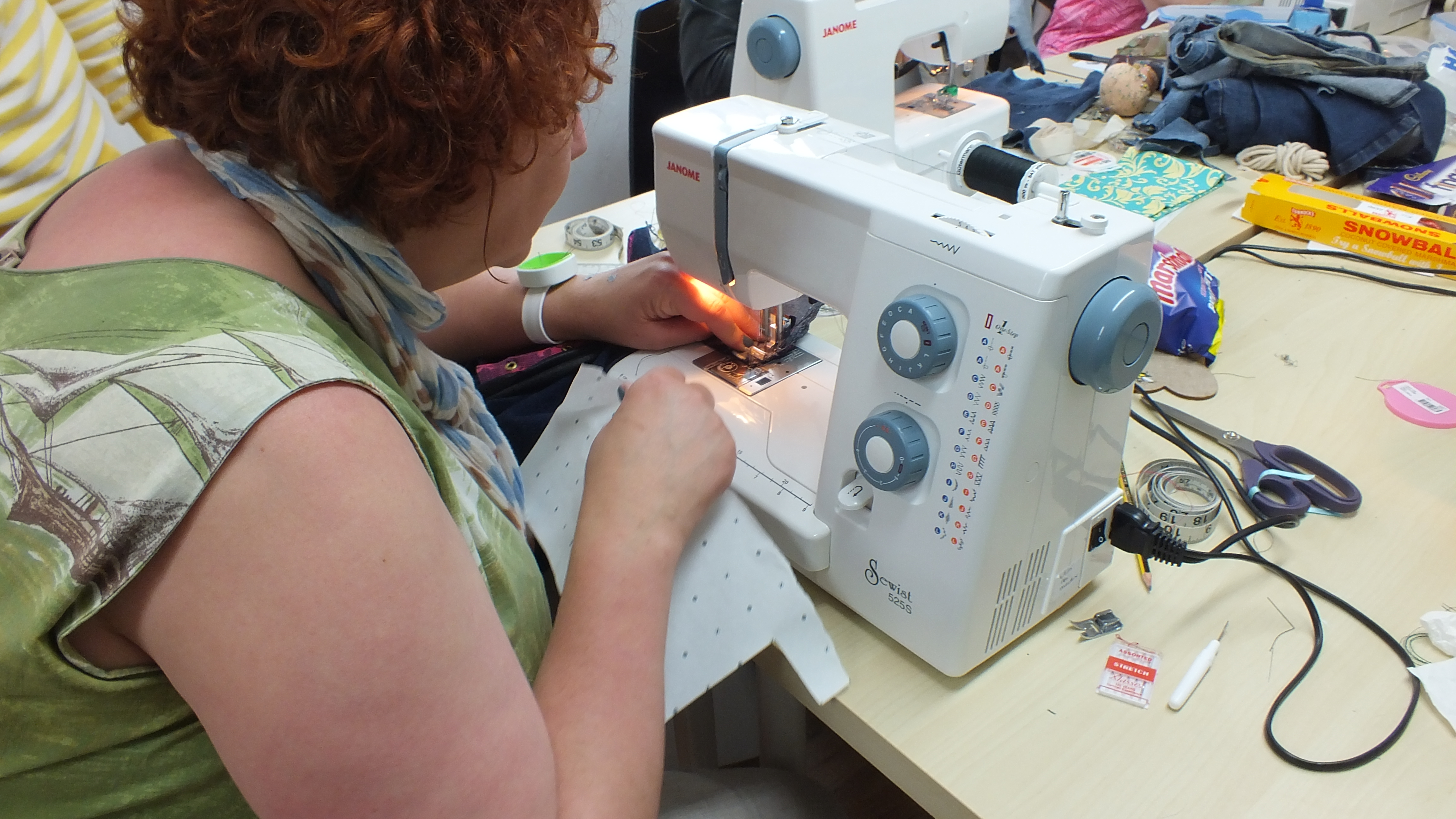 Pin wars!
Monday, April 25th, 2016
Pins. Not needles. Just pins….and pins and more pins. The measure of a good day at Sassy sewing is the degree to which our floor is glimmering at the end of a workshop. To you and me these tiny steel sabres are the most precise of precision instruments, the teeny-tools that make all this magic possible. But to those who turn up at the end to transform our workspace back into a shop (by which I mean the 'thoughtful-not-stoic' Mr Sassy) they seem to act as a prompt to run through his repertoire of second-division swear words.
Today's piece of memorable grumpiness was about how 'Isaac Newton would have discovered gravity a lot sooner if he'd worked in a sewing shop and had to pick up all those flipping pins' . And this was followed by something about how 'If Tata Steel made sewing pins at Port Talbot, then Wales would be as wealthy as the Middle East.'
So, to keep him quiet I've made Mr Sassy a deal. From now on he can keep all the swept up pins in a jar and when it gets full he can take them to the scrap merchant and spend the proceeds on beer. That should keep him happy.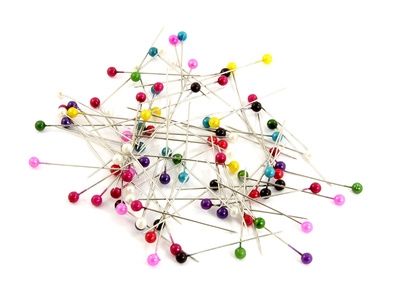 It's magic!
Saturday, December 5th, 2015
So, a man walks through the shop door. Very well dressed, manicured, we're not quite sure whether he's James Bond or a high-class sales rep.
'Do you have any red silk?' he asks. Funnily enough, we did have, but the last metre went last week to a lady lining a cape (what else?) for her husband's Xmas party.
Now, the Sassy way is to always talk to our customers and Judi wasn't going to let (sales) agent 008 leave without at least finding out what he was up to. And it turns out he was wanting to show his work colleagues a magic trick he'd learned which needed a square of fabric.
Thankfully, it turned out that we could offer him a suitable substitute so his 'man-of-mystery, licenced-to-thrill' demonstration could still go ahead.
And with that, he disappeared off into the winter mist. Who was he? We'll never know.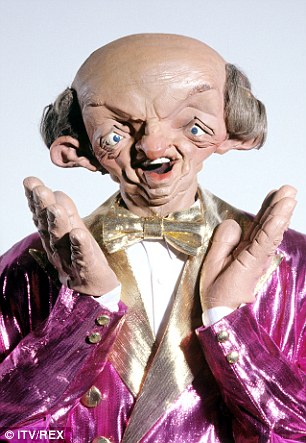 Sewing Satisfaction
Tuesday, October 27th, 2015
Looking through some recent picture we took of Sassy Sewing workshops, it struck me that this is what sewing fulfilment looks like. A simple shot taken at the end of our last 'learn to sew class'. Look carefully and you'll see the bits of thread all over the tables and floor, sense the warm glow of satisfaction from the babbling and newly-enthused group of sewists and try not to count the exact number of biscuit wrappers on the table.
This is the second time we've run this six week course and the second time we've grown a bunch of passionate crafters who didn't want to stop. So we are now planning some kind of 'next-stage' intermediate sewing course to  run in our next series of workshops early next year. Keep an eye on the website for news – it's all very exciting!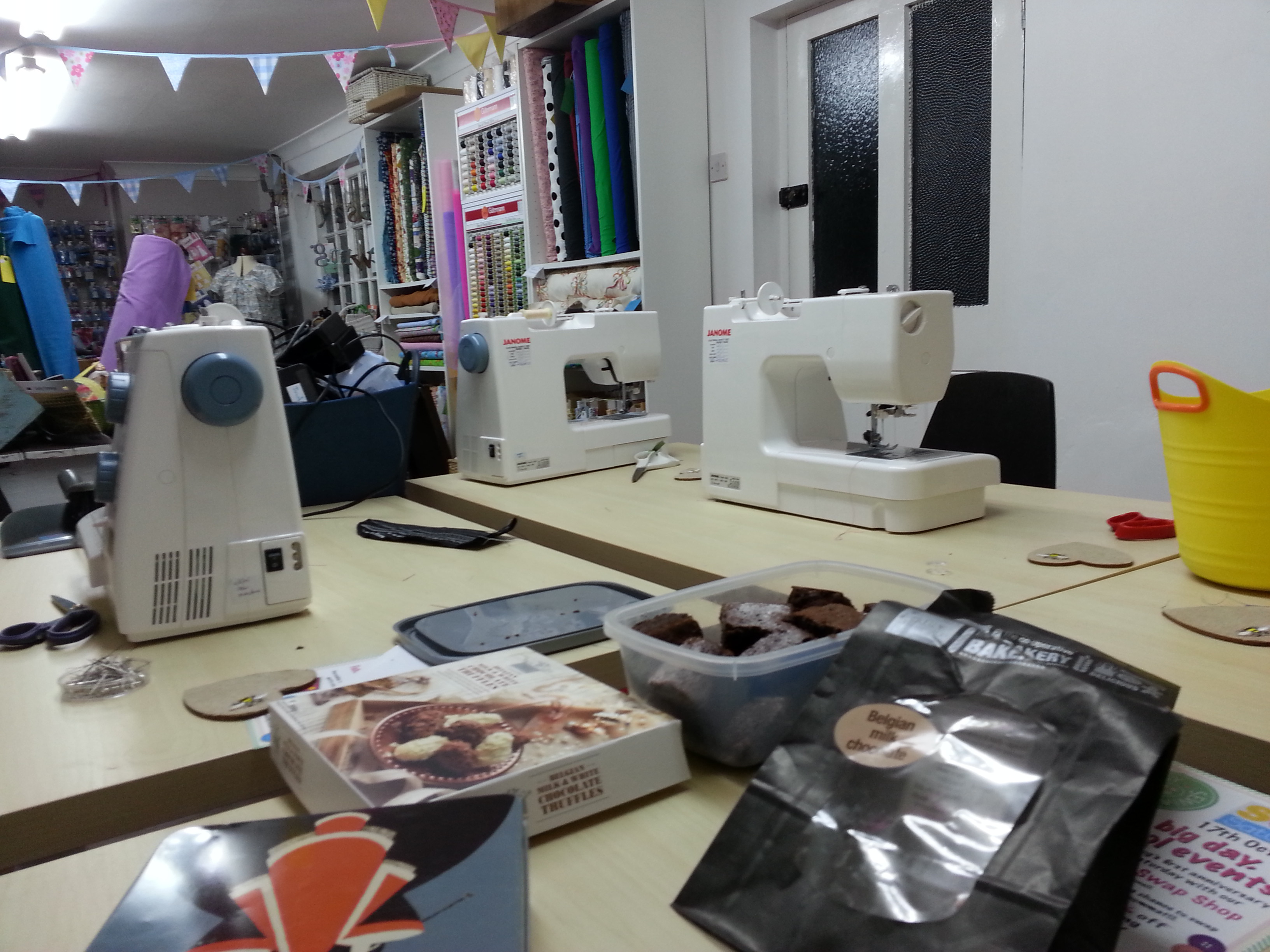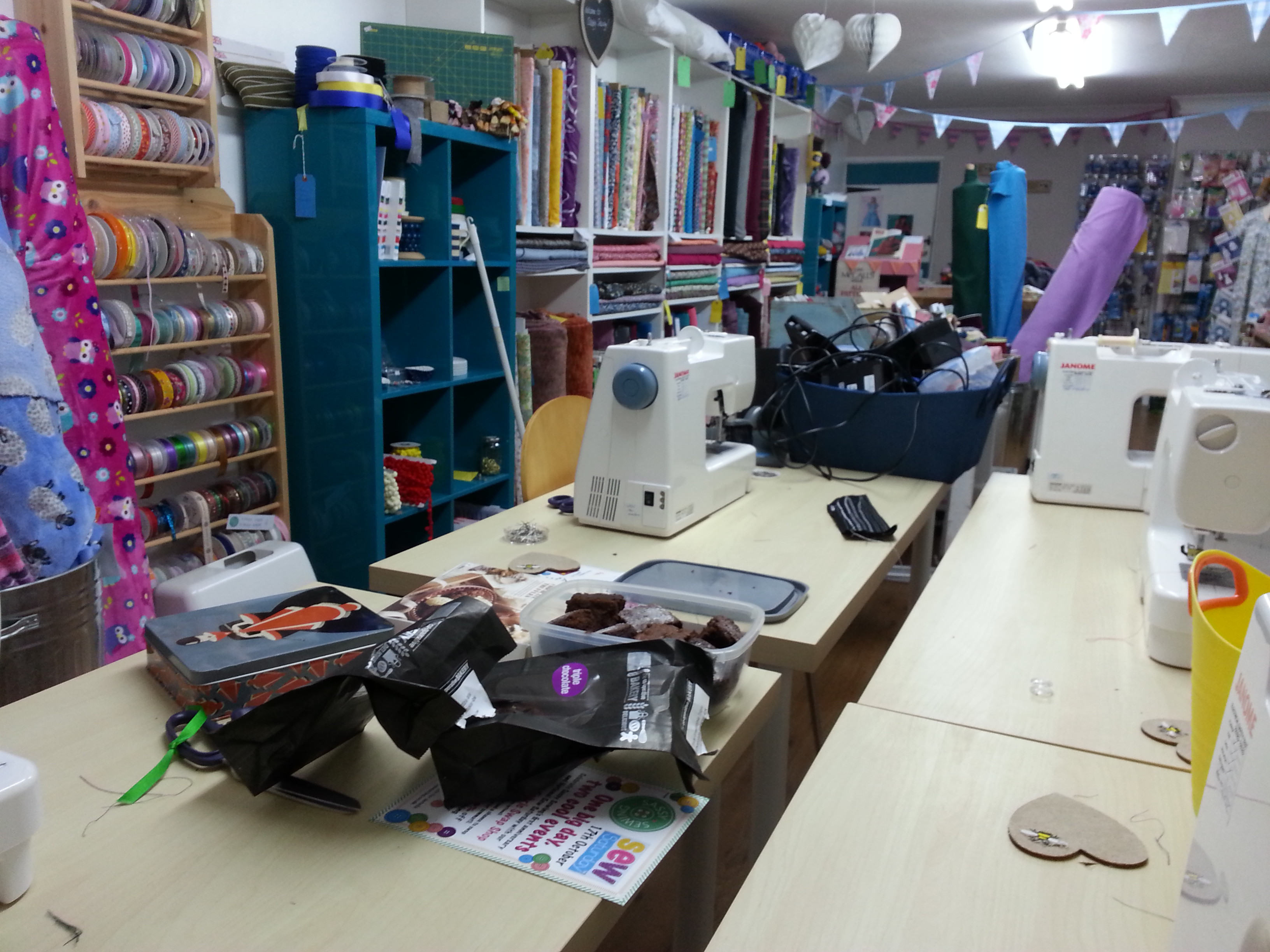 Sassy's brimming over!
Sunday, October 4th, 2015
That's it, I think Sassy Sewing might be full. The last few weeks have seen some enthusiastic stocking with dozens of new fabrics and a whole heap of new haberdashery. Maybe we've been a little too excited because our lovely little shop has every available nook and cranny full of stuff we like.
I've been into loads of fabric shops over the years, crammed to the rafters with inaccessible fabrics that look they have been there for years. In one place recently, I even spotted some novelty poly-cotton with fireworks, champagne and the words 'welcome-to-2000' printed on it.
We never wanted Sassy Sewing to be like that. The idea was always to make it an enjoyable experience and to rotate a good stock of fabrics regularly, rather than just pile more and more on top the rest.
We want our customers to look forward to seeing our new stock and so I've set Mr Sassy the task of making more space to get even more new stuff in. Cue much head-scratching and I thought I saw a pencil behind an ear the other day, which is definitely worrying.
With another 11 fabrics still to fit in before the end of this month it'll be interesting to see what he comes up with.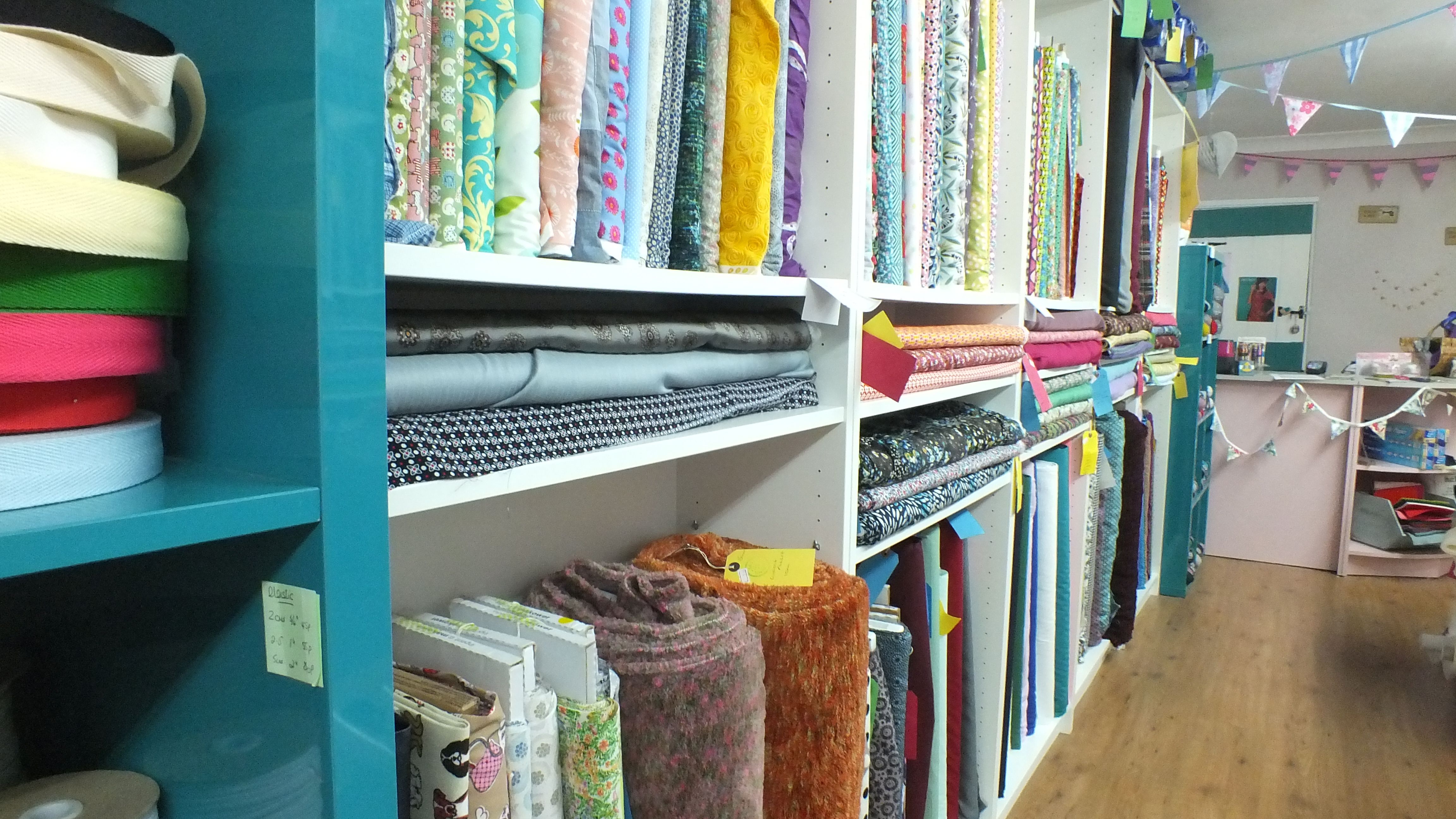 59 weeks later….
Monday, August 31st, 2015
On July 20th 2014 Sassy Sewing made our first post (see the re-post below). At the end of it was a musing on what will this blog look like in a year's time. Well, the answer is something I never thought would happen. 59 weeks later Sassy Sewing has grown from a blog, to a plan to run workshops to a proper bricks-and-mortar shop and a team of friends and it's fast approaching its own first anniversary.
We've met hundreds of new mates, some wonderful personalities, a whole load of suppliers, big and small and at least two dozen assorted animals accompanying their owners into the shop. We've had almost 500 people attend our workshops and created a whole legion of 'born-again' sewists (still can't use the word sewer without thinking about drains). We've watched our little website go up and down on Google (mostly up) and at one point Sassy Sewing was the top of the list if you searched for 'sewing workshops UK'. I can't tell you how proud that made me feel.
But most importantly we (and that growing band of sewists) have made hundreds, maybe even thousands of garments, bags, quilts, pinafores, curtains, upholstery, baby clothes and wall protectors for their classic cars. And it seems that every single one of us (and you) have enjoyed pretty much every single one.
So, thank you for reading, thank you for coming along to the workshops and thank you for sharing your sewing tales and lovely comments on Sassy Sewing. It's been one hell of a year. Wonder if I dare ask it again? Oh, why not…I wonder where we'll be in 12 months time?
July 2014:
September 28 2013. 1.25pm. We're due at a friend's wedding in 91 minutes. The church is about an hour away from here and I'm still about half an hour from finishing my outfit. Maybe leaving just a week from start to finish was a little ambitious. Maybe I should have stayed up an extra hour last night?
But somehow, in amongst the panic, this is fun. Perhaps this is a new extreme sport. Freestyle sewing against the clock. Like triathlon, but with needles. One day it'll be sponsored by Red Bull. Swearing never helps and passing the blame certainly doesn't but right now, every other person, dog, cat or bluebottle passing through our dining room is partly responsible…obviously.
And then, somehow, everything comes together. …the machine finally gives in and 'allows' me to make that last button hole ( I'm very grateful thank you!) Then that's it – the last stitch passes through the last hole and my creation (sounds like Frankenstein) is ready. Two hours later (ahem) we screech to a halt at the church, like a scene from Four Weddings and take our place, just in time. And nine hours after that, of sitting, standing, mingling, dancing, staggering and maybe even the odd drunken headbang (who doesn't love a bit of Guns and Roses?) my new outfit ends the night intact, unscathed and ready for more of the same. And no one has worn anything like it. No one has seen anything like it. And it fits. And it's mine. And I could wear some of it to work on Monday (providing the guacamole stains come out, of course).
And that, I suppose is why we all do this. To bypass the stores, skip past the rails of ill-fitting, over-priced, here-today outfits and make something that says… 'Hello world, this is me' in a not-quite-camp-but-still-slightly-diva-ish kind of way.
All of which is a long-winded way of saying 'Hello and welcome to Sassy Sewing' A blog for those of us continually surprised at our ability to make something we like that doesn't unravel around our ankles at the first gust of wind.
This is a place for those of us still learning. Still discovering new techniques and wondering what that whizz-bang-widget is for and why-the-hell-should-we-buy-one. Thank you for joining in. I wonder where we'll be this time next year?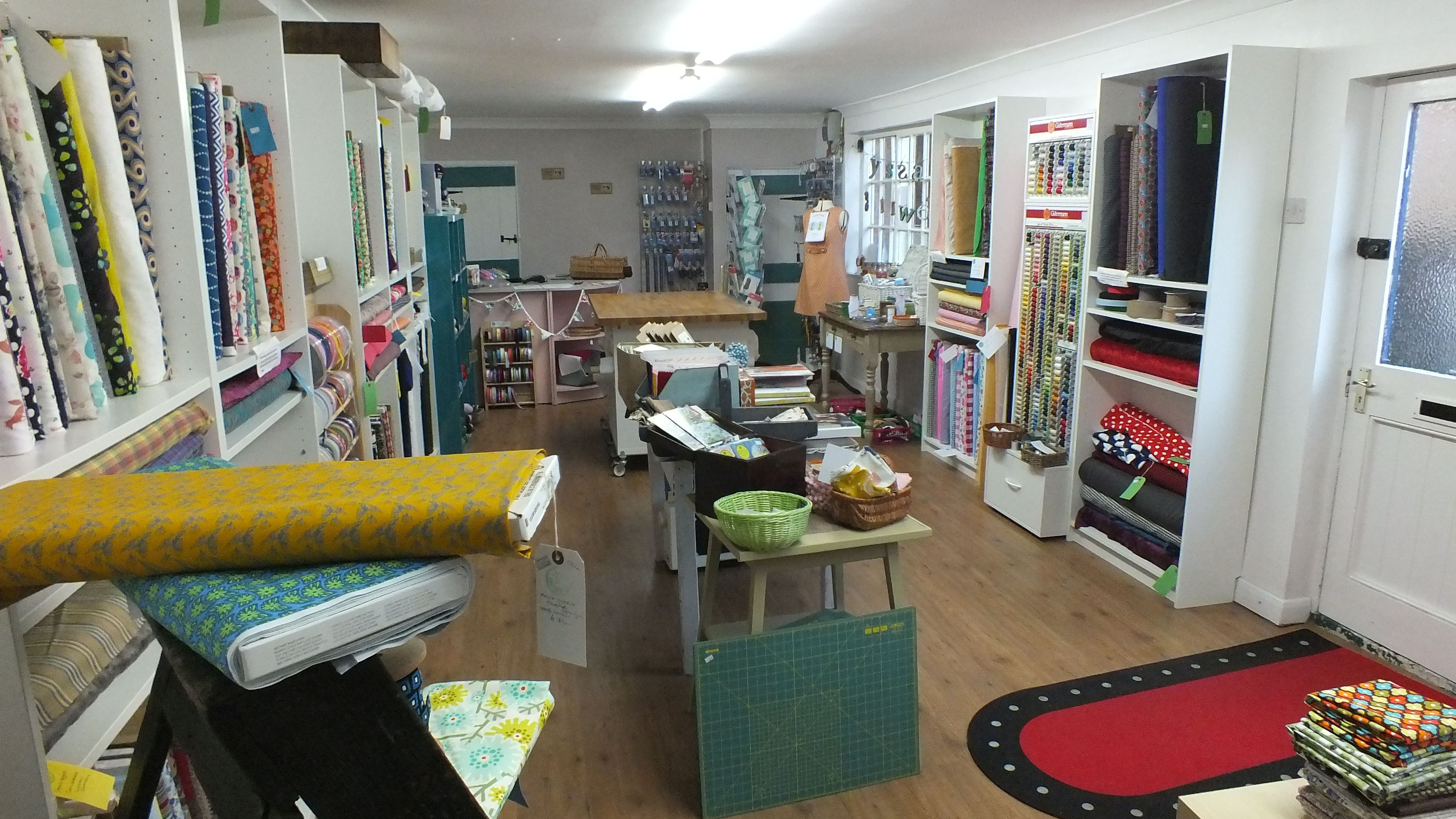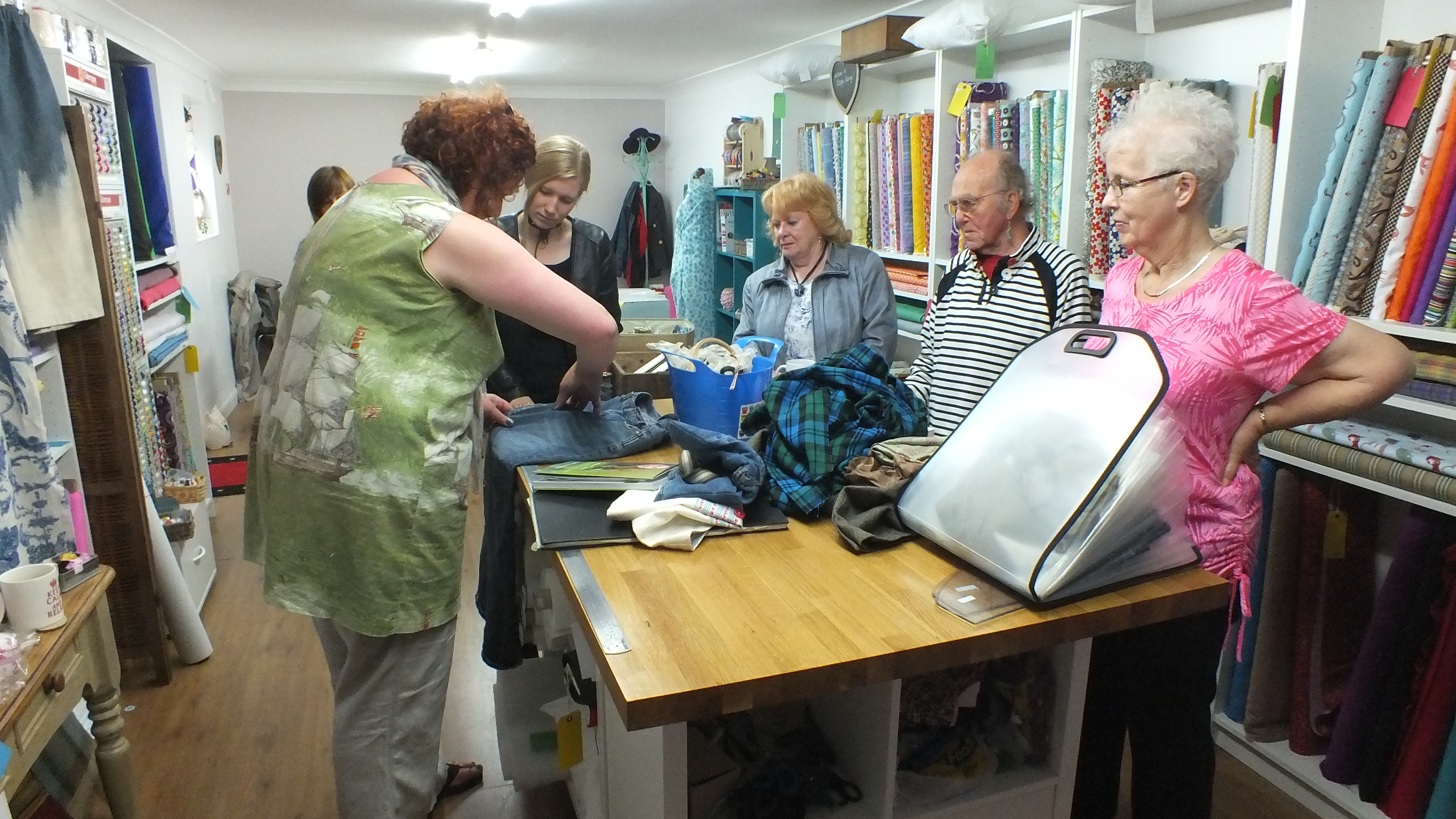 Sassy goes to Kenya
Monday, August 24th, 2015
So, a woman comes into the shop today clutching a very worn out blouse. 'I need some lightweight cotton please' she says.  As I show her what's available we get chatting and it turns out the blouse is an old favourite, finally come to the end of its days. The lady's daughter lives and works in Kenya doing very good things for charity and there are women in her village who have been taught to sew in order to earn money. One amazing woman can apparently see a garment and pretty much replicate it without a pattern, Pino Grigio or any kind of swearing at all.  Her daughter is over here right now and so the fabric is heading back on a plane to be made into a new blouse by this very talented lady. Wine coloured linen-look cotton was chosen for the job, along with a bit of tartan for a panel to go all the way round the bottom of said blouse.We had checked the original garment and had calculated the amount needed but I couldn't face the idea that her daughter might get all the way to Kenya and find that she didn't have enough. Rudimentary maths said 1.5 metres, but I gave her the rest of the bolt (about 2.3 metres in total) for nothing just to be sure.
Can't wait to see the photos when it's done – or even better, to see it in the flesh. Sassy going global – who'd have thought it!.
Into the darkness
Monday, July 6th, 2015
Dancing in the dark? Not quite, but when the lights went out in our patch of Lincolnshire on Saturday afternoon we certainly had a few new challenges. No radio actually meant a dance-free day (possibly a first for Lincolnshire's only fabric shop where you can hear Motorhead and Northern Soul during the same piece of cake). No coffee was bad enough, no cash register slightly more challenging till we found the secret manual method to open it. Customers not being able to tell if those subtle shades on our lovely Dashwood designer fabrics were red, pink or dusky rose meant a stream of Sassy customers stood blinking in the sunlight, clutching a bolt or two of their about-to-be favourite cottons.
It could have been worse – the bistro next door had a fridge full of party food for a christening the following day. And at least the sun was shining. So thanks to all our customers for your patience and willingness to skip to the cashpoint over the road (no sparks means no card machine either). We hope all your fabric was the colour you needed it to be.
Mr Sassy is drawing up plans for a bicycle powered generator in case it happens again. That should just about power the radio if we're lucky.
Taking photos in the dark with a camera phone isn't easy – so sorry for the quality of these.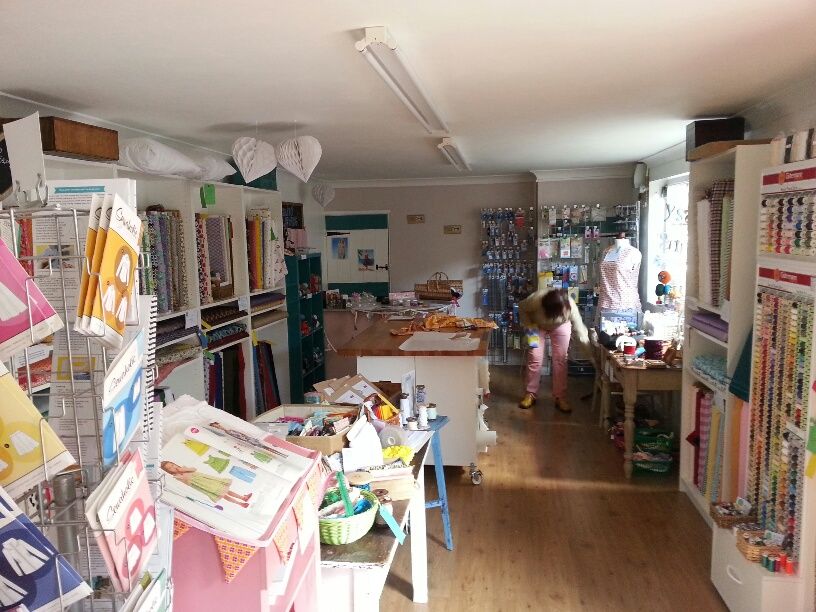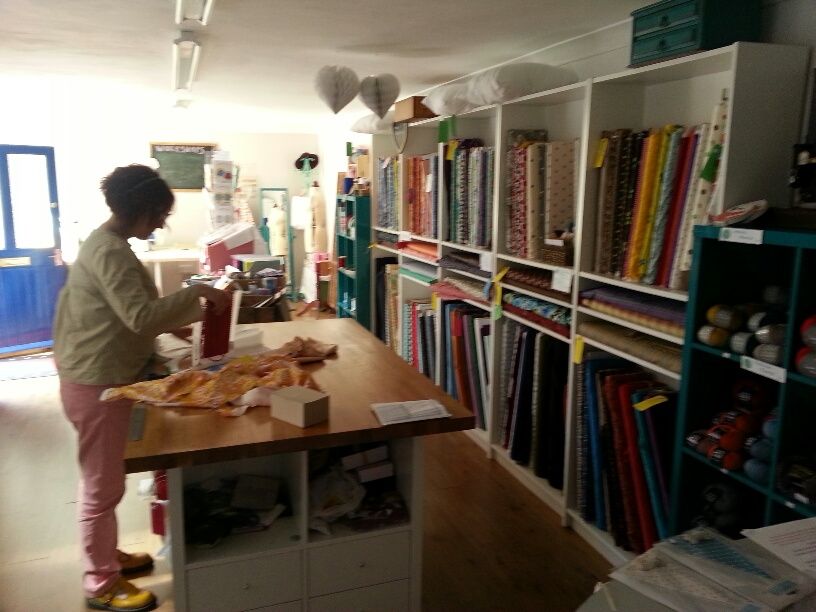 ---