Come party with us!
Thursday, October 15th, 2015
This coming weekend (18th of October to be exact) marks one whole year since Sassy Sewing opened it's doors to the sewists of Horncastle and, as it turns out, much further afield.
We're so proud of what our little shop has achieved. We've sold hundreds of metres of beautiful fabric to avid sewists, taught dozens of new sewists to sew, including children, inspired those more experienced to try something new and given confidence to those dithering on the edge to step inside and discover the joy of sewing. Our buzzing shop has become a little oasis for local sewists and tourists alike. And that's just want we wanted to achieve.
So we're having a party to celebrate and everyone, yes everyone is invited. And that means you. This Saturday we'll be offering 10% off everything and free cookies too, And as it's a double celebration –  it's also Sew Saturday where the nation celebrates the importance of local sewing shops, we're running a fabric swap. This is a simple concept. We'll put some pieces fabric out in the morning and all you need to do is bring along any fabric you're no longer completely in love with and swap it for something you do love. As the day goes on we should see some interesting fabrics swapping hands. I'm really excited. Although open normal hours (9.30am until 4pm) the celebrations will run 11am – 3pm. Can't wait to see you there.
If you're new to Sassy Sewing you can find us at 8 Market Place, Horncastle. LN9 5HB. We are just under the archway between Age Concern and the cobblers and just in front of The Stables Bistro.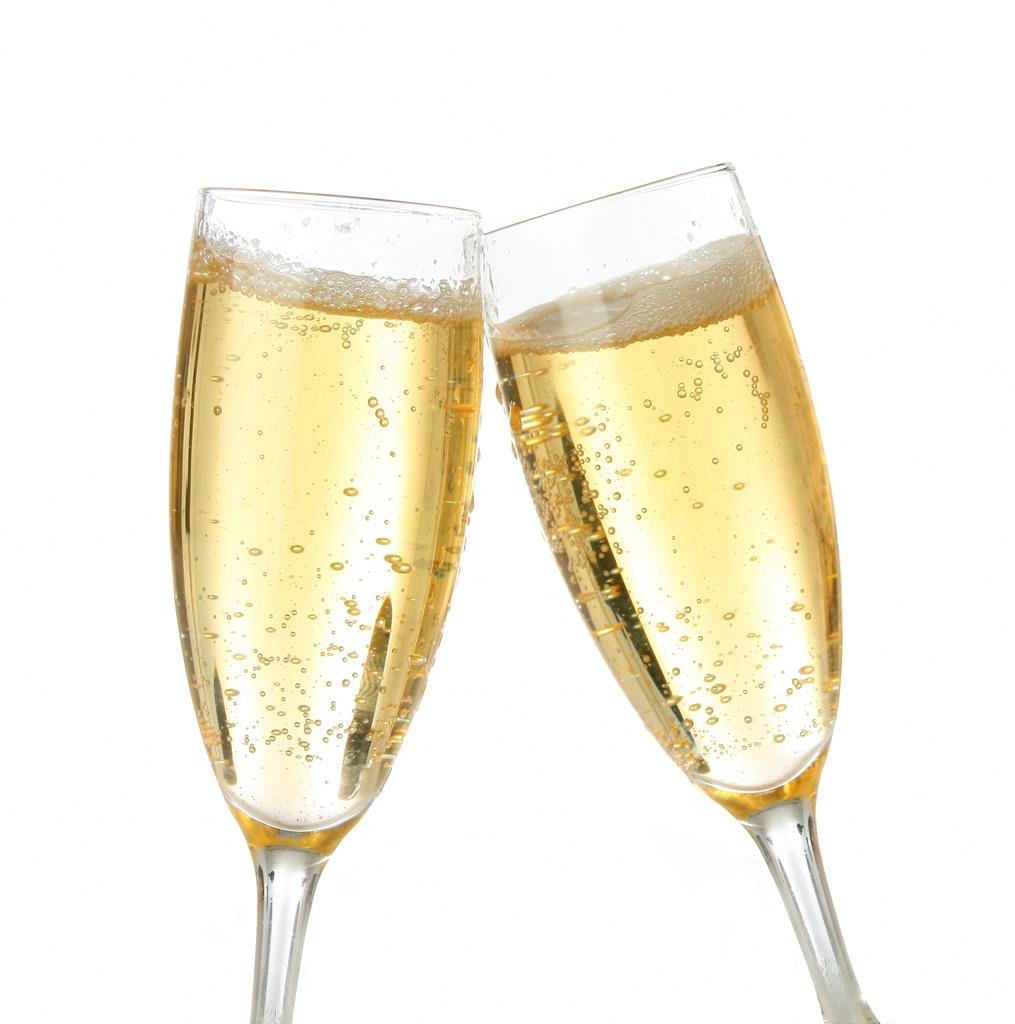 Got something to celebrate?
Tuesday, May 19th, 2015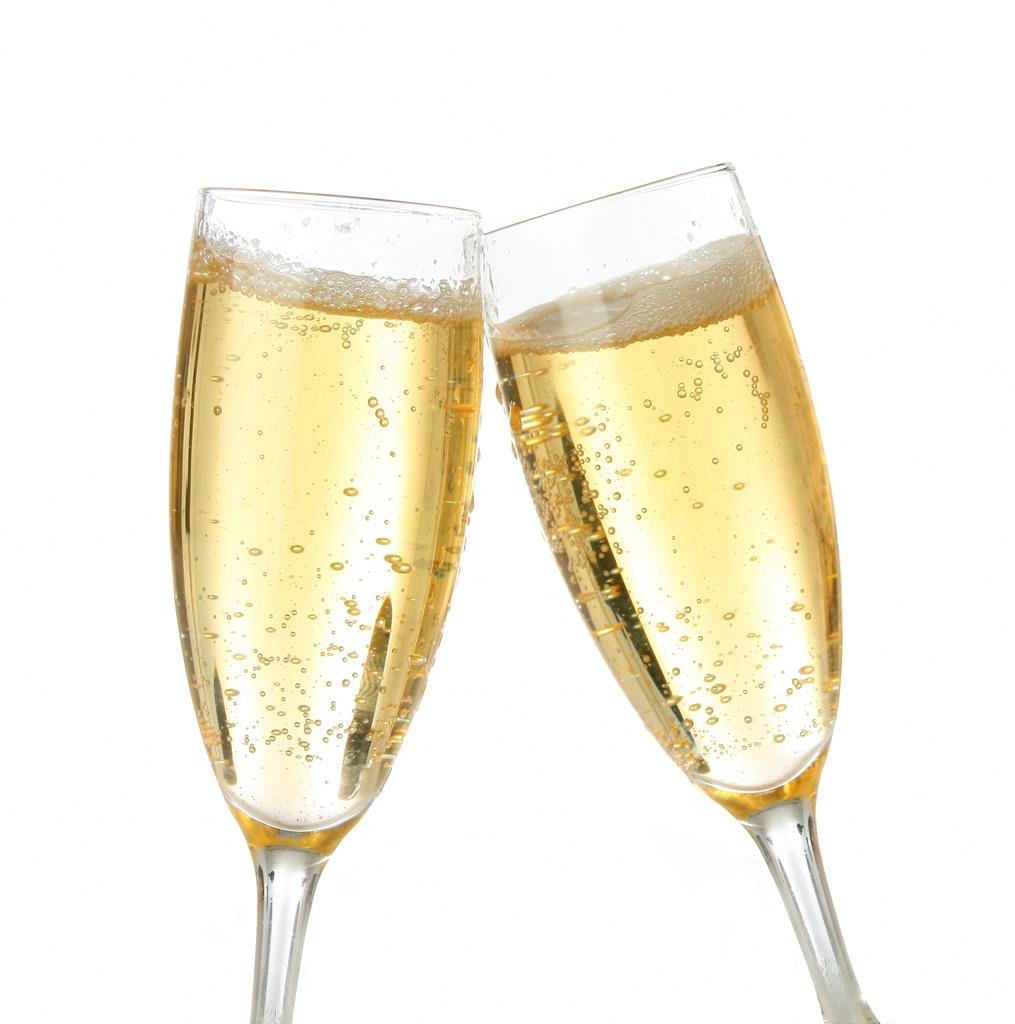 New and we are so excited about it! Why not party on at Sassy Sewing and we'll make sure it's an occasion to remember. Hen party, birthday do, baby shower – whatever it is you're toasting why not celebrate while you craft.
Make beautiful bunting for the bride, a keepsake quilt for a baby or a sash for the birthday girl – we can cater for just about anything and no previous experience is required.
Party food and drink can be included if required and we'll make sure our lovely space looks as sparkly as it could possibly be.
For more information please call us on 01507 524566 or why not call in to the shop to discuss. We guarantee to make your day special.
New sewing machine nerves
Monday, April 27th, 2015
Is there a medieval term for 'fear of a new sewing machine'? I'd like to think so. Something In Latin perhaps; scarycat dom brothernatious? I'm not actually scared of my new sooper-doper Brother computerised machine, it's just that I know my faithful Janome so well that I can just get on it and go. This new one has an instruction book thicker than a builder's buttie and more functions than a boxful of TV remote controls and smartphones.
I love it, of course…at least I will when I can find the time to really get to know it. Until then we've been playing a game of cat and mouse. I approach it, switch on, get set and then, er, find something else to do. I thought at first maybe it was feelings of infidelity towards my old faithful, but then I glanced across at Mr Sassy picking his toenails and realised that a newer model is always more appealing.
Funnily enough it was the same when I bought my overlocker. That took me almost a month, I'm determined to crack this one before the 30 day money back warranty runs out.
So any suggestions are very welcome. Hypnosis maybe, counselling? I tried Googling 'fear of a new sewing machine' and a surprising number of pages come up including one on Mumsnet that suggests I am not alone. One post-ee said it had been 10 months and she still hadn't plucked up courage.
Maybe there's an opportunity for a workshop – group therapy…. 'My name is Julie and I'm afraid of my computerised Brother' might even get on Jeremy Kyle if that one goes viral.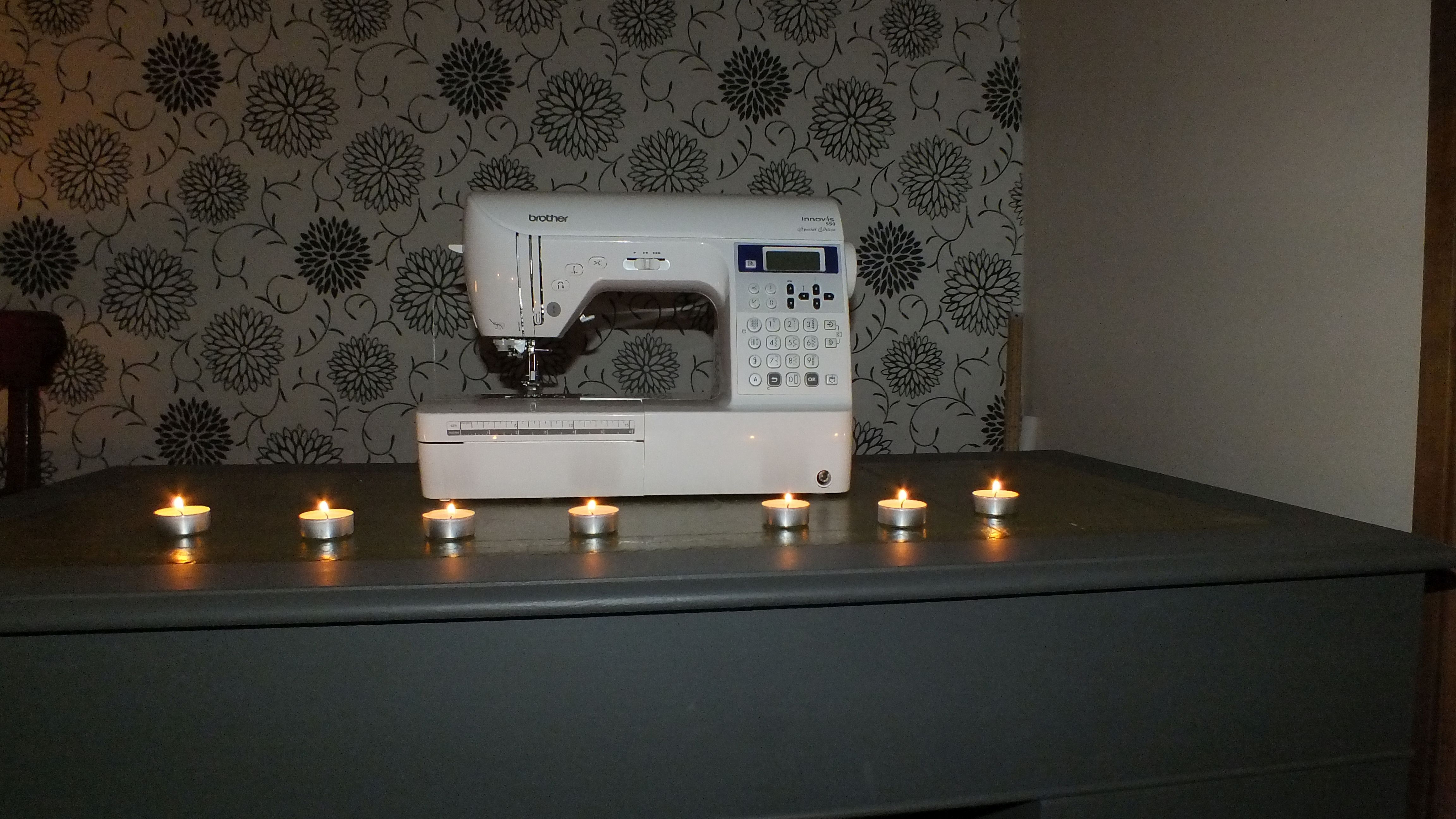 Miles!
Friday, April 3rd, 2015
The picture below shows 2% of our fabric and 52% of our Hob Nob stock! We know this because we finally finished the Sassy six month stock take. The numbers are eye-watering – hard to see how we get it all into one shop. There's more than a mile and a half of fabric, 22.7 miles of wool, 65.6 miles of thread, 3.5 miles of ribbon and binding, 1366 needles and 811 pins. Plus, 280 other items of haberdashery, more than 600 patterns and nine-and-a-half chocolate Hob-Nobs. And that's without all the new stock that's been arriving daily for the last couple of weeks.
Mr Sassy calculated that we could wrap our town at least twice in fabric and run thread around the London marathon course twice and still have enough to get to Brighton too. And that we have enough wool to get from here to the seaside. Who knows what he's got planned for all the pins and needles. I think he needs something more useful to do and perhaps at least one more Hob-Nob. Where did I leave the paintbrushes?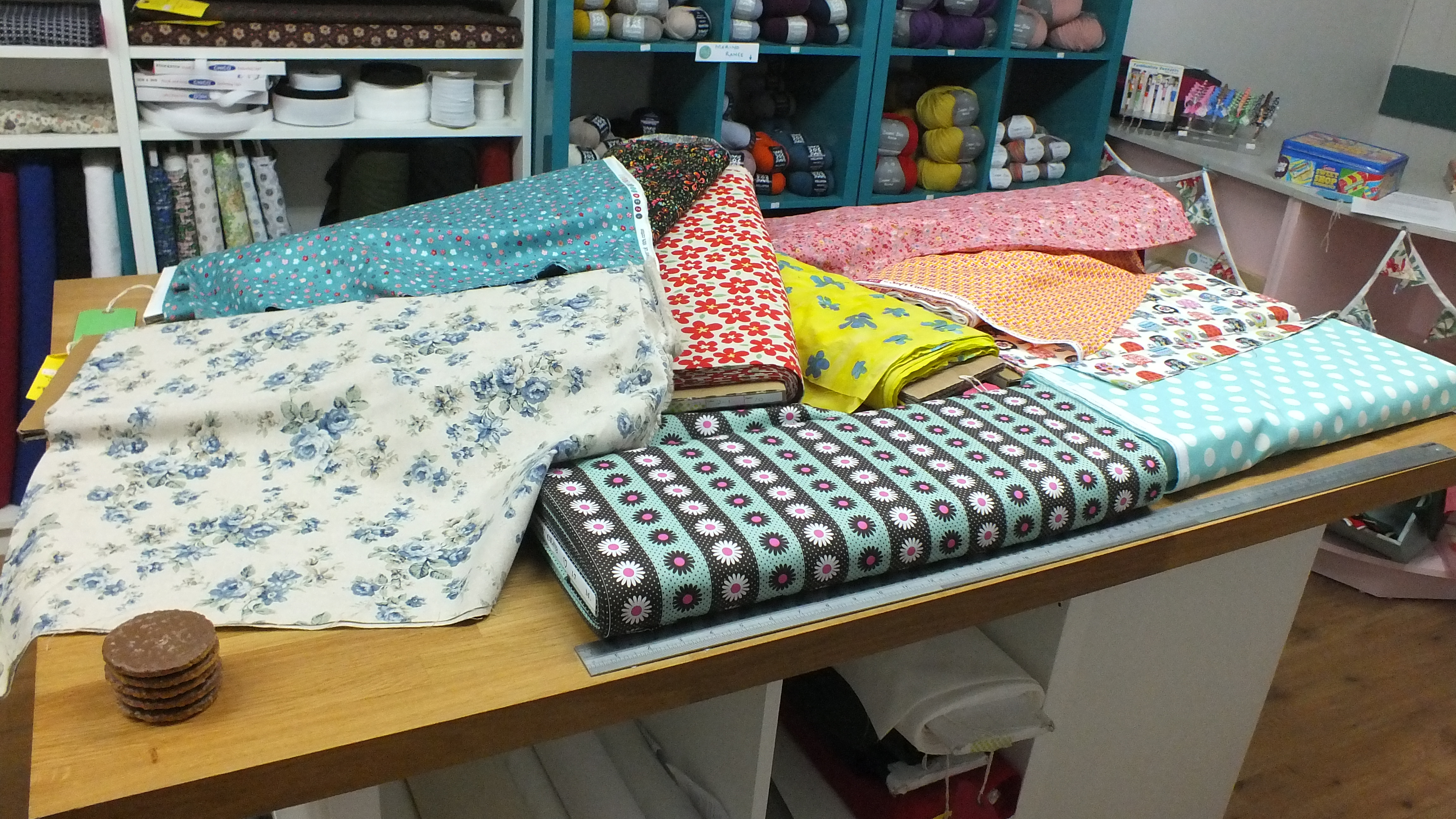 Sew by the hour
Sunday, March 29th, 2015
Got a project to start or finish and need a machine to work on? Don't forget that Sassy Sewing does machine hire. Our Janome 525S machines (the same ones as used on The Great British Sewing Bee) are available to use at the shop for just £5 an hour or £4.50 per hour if you book two hours or more. And you can drink as much coffee and tea as you like while you're with us too. If you've never used this type of machine before then a quick five minute demo will make everything clear.
You can hire a machine between 10am and 3pm and if you need it there is help at hand from either Debs on Monday to Friday or Julie on Saturday. Come sew with us!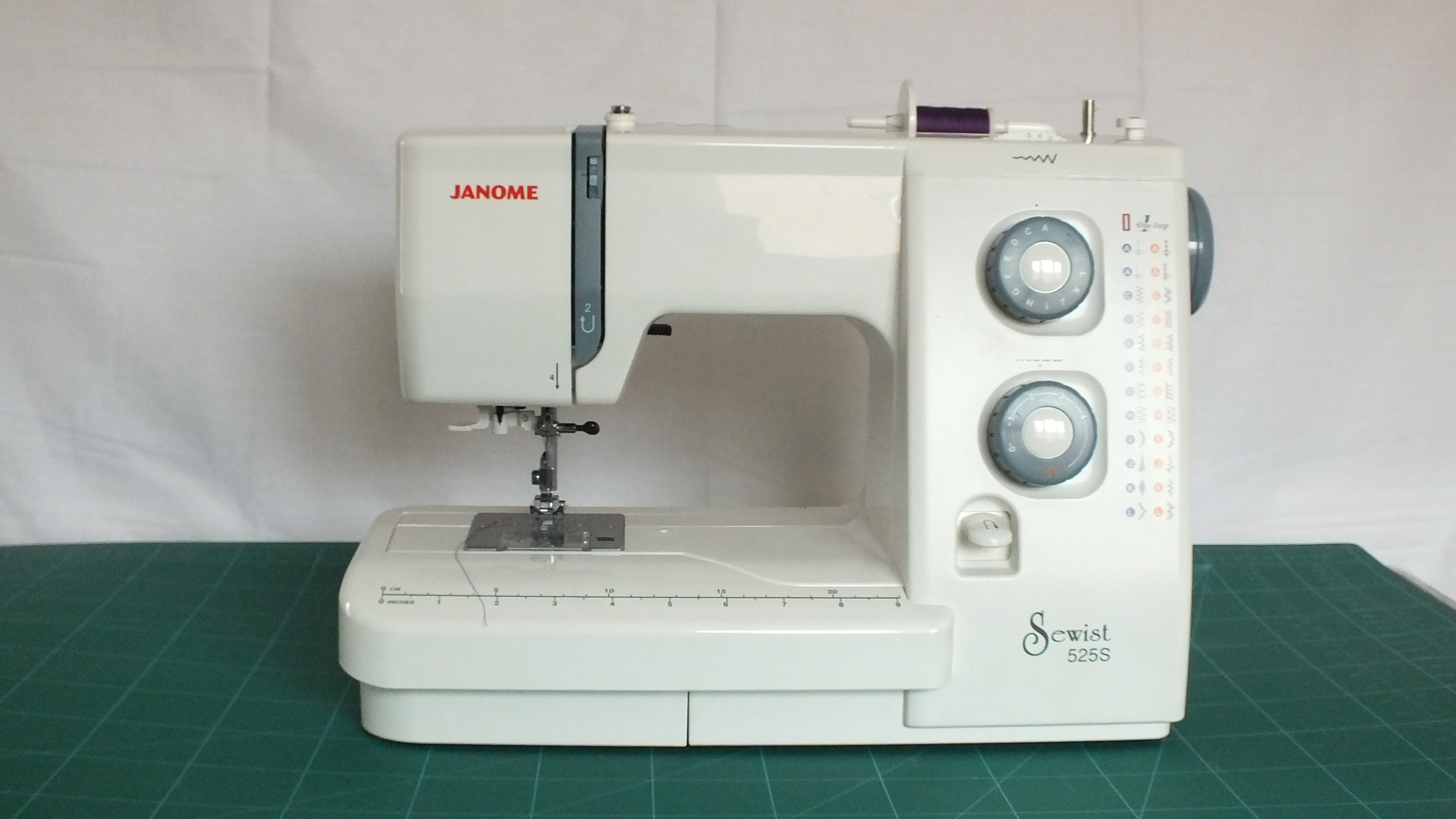 Looks what's coming to Sassy Sewing Shop
Thursday, March 12th, 2015
Pattern Drafting Workshops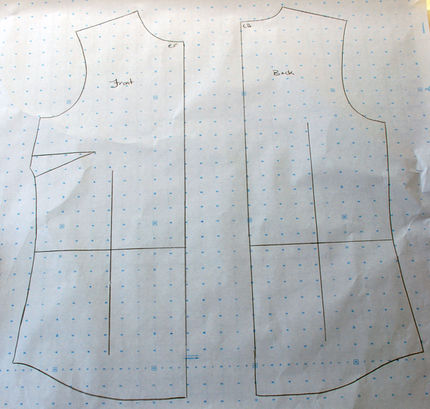 The fabulous and talented seamstress and designer that is Kate Pinfold is running pattern drafting workshops right here at Sassy Sewing and we're very, very excited.
On the day you'll learn how to measure yourself accurately, how to make a paper pattern to fit your exact size, how to make a made to measure toile and Kate will also show you how to adapt the patterns to make lots of lovely, unique garments. Everything will be supplied on the day – you just need to turn up. You don't have to be an expert sewer to attend these workshops although some knowledge is preferable. Each workshop is stand-alone so you don't have to attend all four.
April 26 – Skirt block
May 24 – Trouser block
June 28 – Bodice block (for making tops)
July 19 – Dress block
All workshops run 9.30am – 4pm and cost £45 which includes all materials required – you'll go away with everything you need to create made to measure garments. Only five places available on each so early booking is advisable.
 Tea, coffee and cake will be freely available
For more information visit www.sassysewing.co.uk or call 01507 524566.
Sewing Bee Inspiration
Friday, February 20th, 2015
So how many of you watched The Sewing Bee last night? I loved it. All that vintage loveliness – just my kind of thing. I was particularly impressed with the Walkaway Dress and was busy imagining me twirling and whirling around (like you do) in my very own version. And then I started thinking that I'd seen something like this before. One quick Google search later (how many of you were also doing this) and a Butterick pattern was adorning my screen and guess what? I've got it! It's pattern number B4790 and is part of their Retro range. It's been sitting in my pattern stash for nearly two years now awaiting it's turn to be taken out and used. How lucky am I? I was drawn to it as I love those fifties style dresses but as I hadn't yet looked at the instructions I had no idea how it went together – what an ingenious idea though. And starting it at breakfast and finishing for lunch – that's my kind of make (but I bet it doesn't quite work out like that when I give it a go).
So of course I'm now all inspired and the dress is next on my 'to do' list. I'm going to cut it out tomorrow and see if I can finish it on Sunday. There are only three pattern pieces, and it says it's 'fast and easy' so I live in hope. You need a lot of material though – my size is going to need anything between nearly four and nearly five metres depending on the width. You also need a lot of bias binding as that's how all the edges are finished. It says to use broadcloth or linen or taffeta fabric but I'll just have a browse and see what takes my fancy – probably one of the lovely printed cottons I have in the shop.
I'll let you know how I get on – hopefully by Monday I'll have a beautiful fifties style dress to swish about it – check back and find out!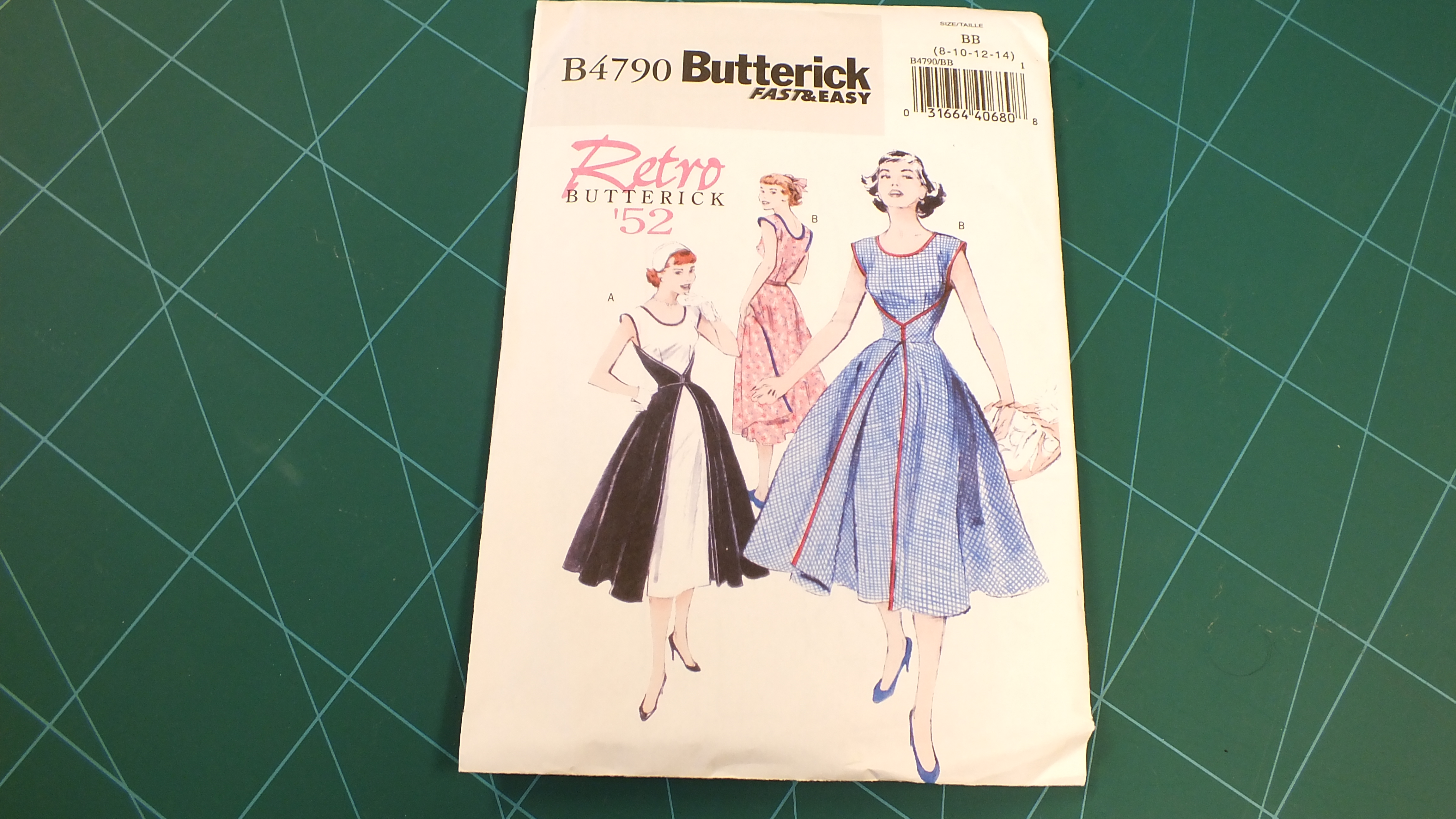 My first challenge makes
Wednesday, January 21st, 2015
So I've finally got the first makes of my 2015 'not allowed to buy any clothes' challenge under my belt and I'm quite pleased with them both. The skirt is a Vogue wraparound affair made in lovely purple buttersoft corduroy. You may not be able to tell so well from the pictures but it has a lovely fishtail to one side, which is why I chose to make it to be honest – I just loved the detail. It's a very easy make suitable for all level of sewer and because it's a wraparound, there's no reason to worry too much about fitting and there are no zips or buttonholes to trip you up either – it's fastened by hook and eye. Easy peasy. The only tiny niggle was that the pieces are all cut out as singles (so you don't fold the fabric) which means you need quite a bit of space to manage it – but I wouldn't let that put you off making it as it's so nice.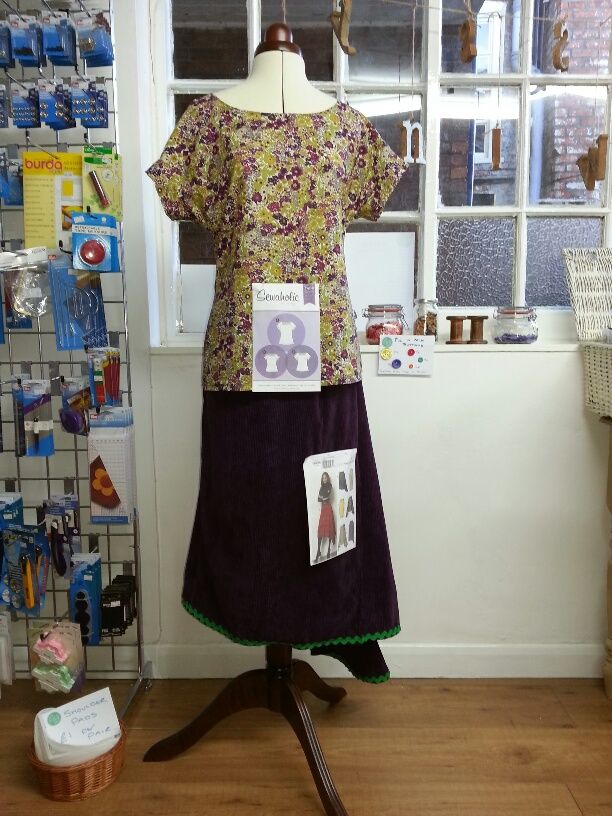 The fabric is really fab, but as with all cord types it can creep, resulting in uneven seams, so if you're using anything like this, remember to put loads of pins in to hold it as you sew (or baste it, which I was too lazy to do!) and to make it really easy, try using a walking foot – although this is not essential by any means. My only whoopsie was the waistband. Even though I cut everything to size carefully and sewed the correct seam allowance, when it came to attaching the waistband it was too small so I had to cut again. By this point I didn't have enough fabric to cut the piece along the grainline, which meant my new band was cut across the grain and so was a bit stretchy for my liking. So to firm it up a bit, I sewed a piece of green grosgrain ribbon the whole length of it, which worked a treat. I also, as you can see, trimmed the bottom with giant, green ricrac. This was because I thought the purple needed breaking up a bit as it's such a large amount of fabric – the green just draws your eyes in a little. Overall I think the skirt turned out well.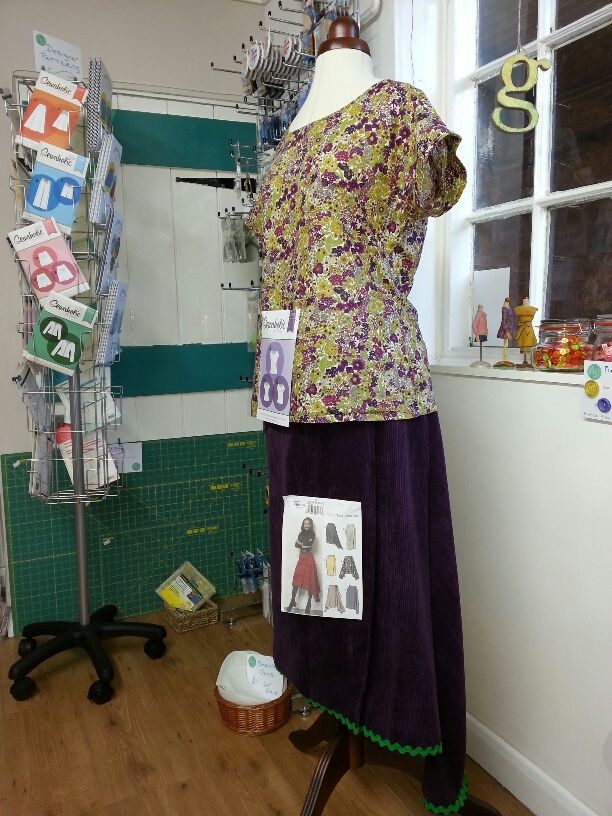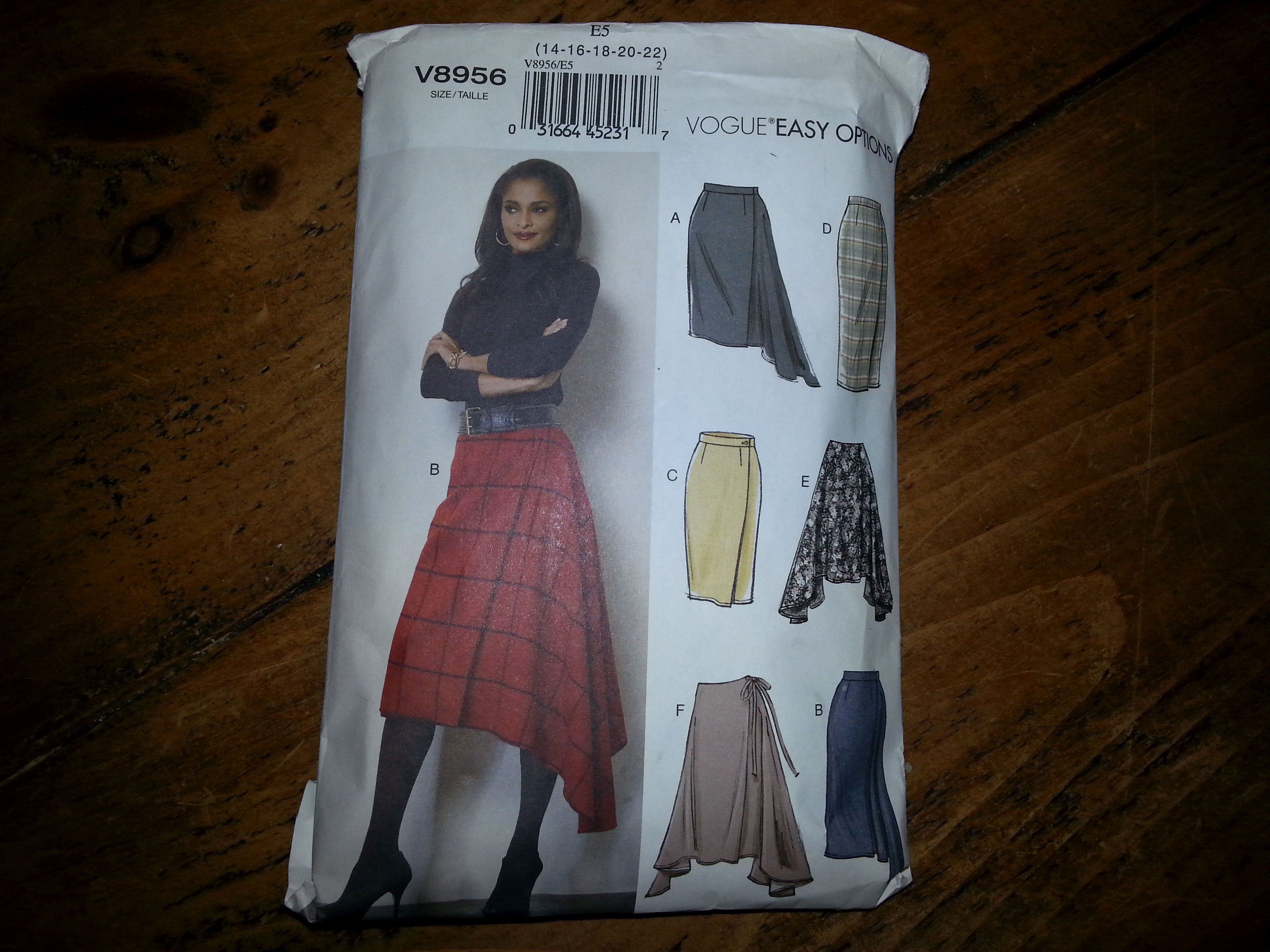 The blouse is a Sewaholic Belcarra made in a Liberty print (get me!) – the second one I've made in lovely Liberty. It's another easy make that can be made even easier by using bias around the neck and armholes rather than the facings. It's a pull on garment so no fiddling with fastenings – I made version A which is the simplest of all the options. Once you've got the pieces cut out this blouse goes together quickly so great for those impatient types. My only slight issue is the neckline – I find this pattern is a bit wide on me so I just adjust accordingly. I also made it just a tad longer – I have a long body so I often need to do this when making things for my top half. It's really easy to wear – I highly recommend it.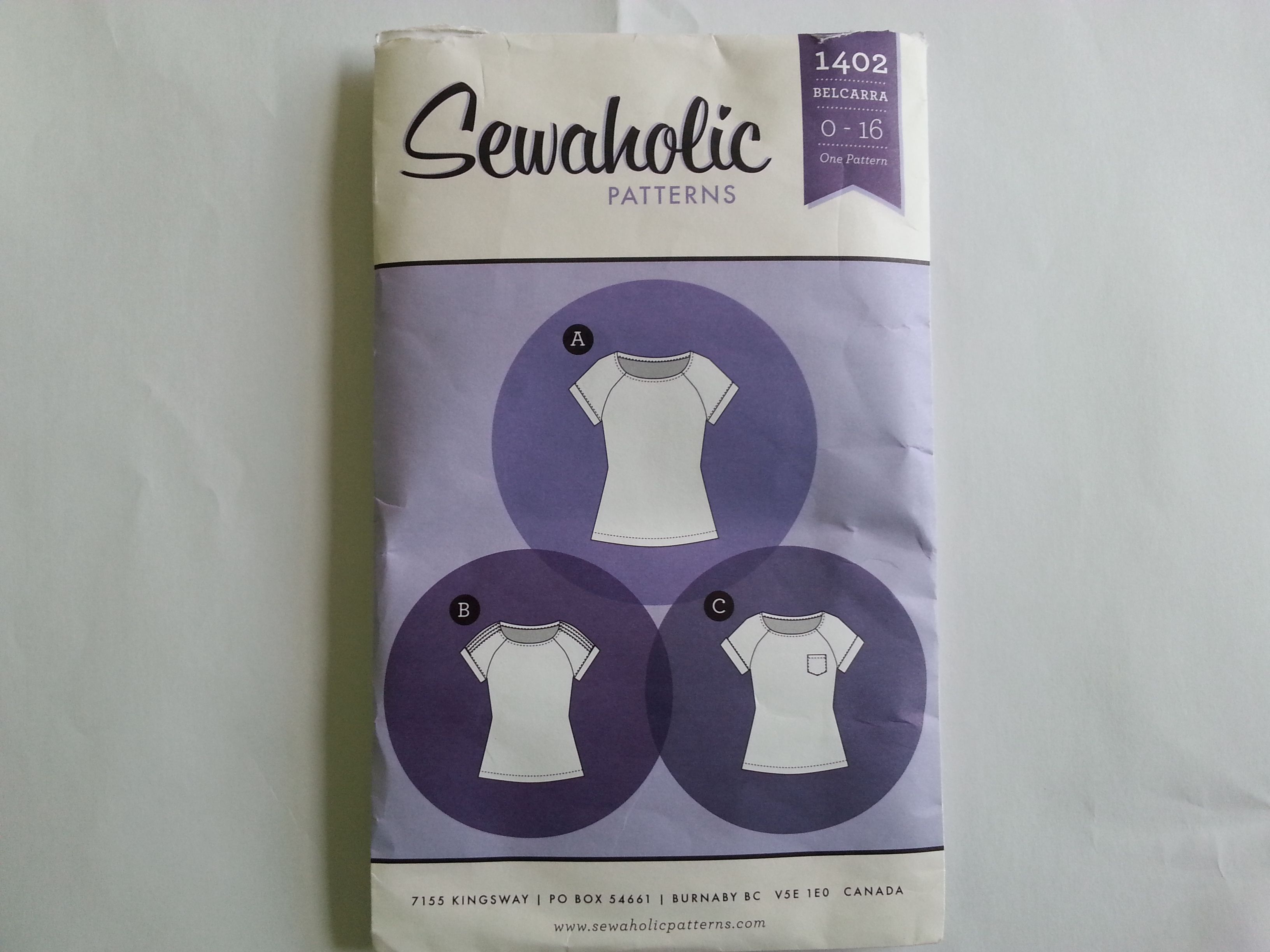 So onto my next make – a Tilly and the Buttons Mathilde blouse made out of cotton print from Dashwood's Retro Autumn collection. So far I'm really enjoying this challenge.
Sewing ringing in the ears
Thursday, November 6th, 2014
If you've never listened to a podcast before or don't even know what one is then now is the time to 'get with it' as the kids say. I've listened to one or two in the past, mostly about knitting but never really felt hooked. But I do now that's for sure after finding the glorious podcast site that is Modern Sewciety. Run by Stephanie who is chatty and humourous, the podcasts cover a multitude of sewing related topics and she interviews lots of interesting people too. So OK, sometimes they are a bit long for the amount of time I have available and often they are very USA focused, but they still offer something wonderful to listen to – especially useful for those sewing marathon sessions that I know we all have from time to time (OK – so all of the time!) Have a little listen – you're in for a treat.
www.modernsewciety.com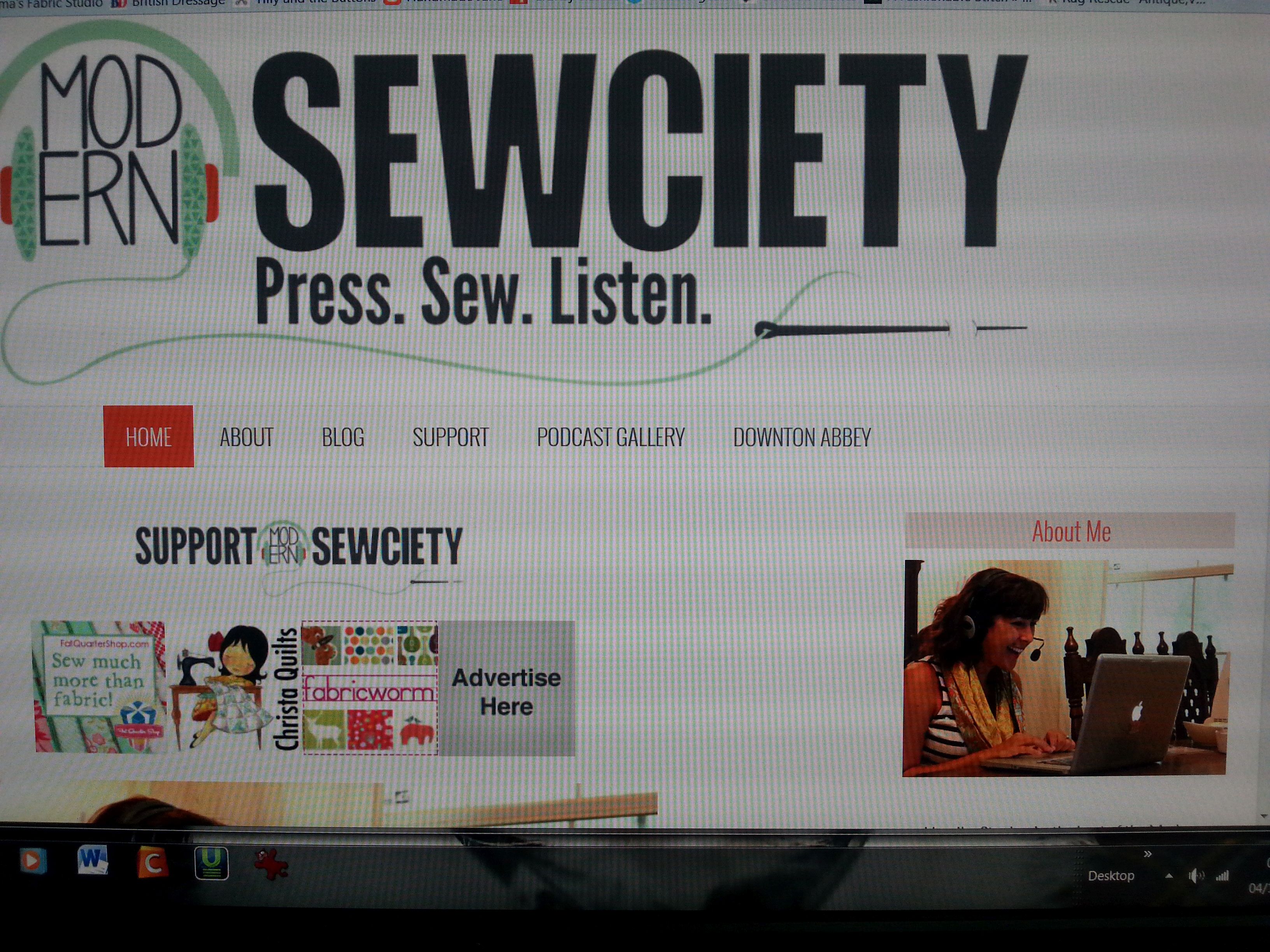 Thanks Jim
Monday, October 6th, 2014
The shop is really starting to take shape. Here is our good friend Jim putting the finishing touches to the cutting table.  Without Jim's help we wouldn't be anywhere near ready to open – so a BIG thank you – you're a star. Roll on the 18th of October.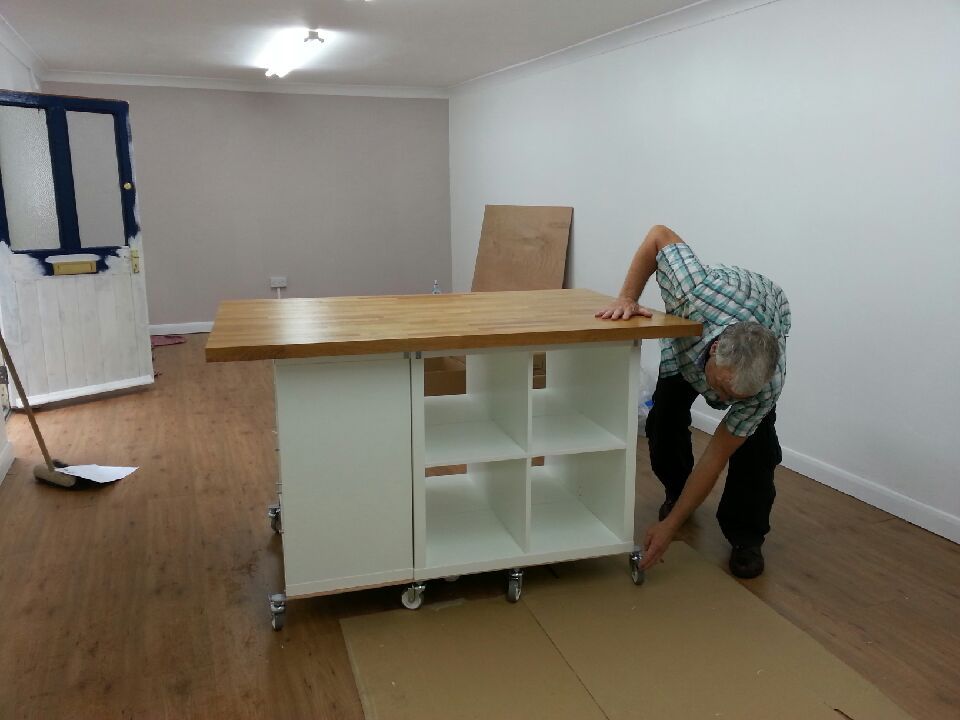 ---